Another Delay
According to foreign media reports on November 25, Rivian originally informed customers that it would start producing R1S in December and deliver to customers who pre-ordered in January next year. However, the company recently notified customers that the earliest delivery of the vehicle will be from May to July next year.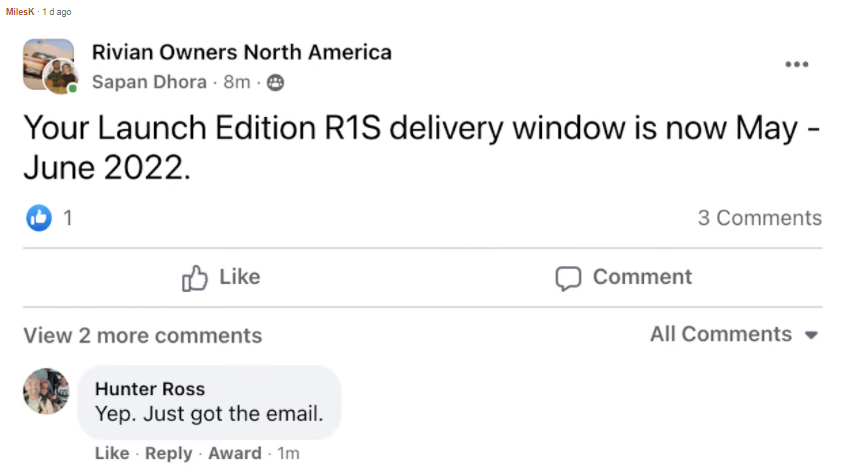 It is reported that a source who pre-ordered R1T has said that the delivery of his or her R1T has been postponed to April 2022. Meanwhile, Rivian sent an email to a member of the owners' forum, stating that this user's R1S delivery time has been postponed to June or July 2022.
The Turbulence Behind the Halo
Rivian conducted its first public offering on November 10th. In just two days of trading, its market value quickly surpassed that of many well-established auto companies such as Ford and General Motors. Although the stock price has fallen in recent days, Rivian's market value is still standing at the summit of $100 billion. As of now, Rivian, which has become the fourth largest car company in the world, has only delivered 156 new cars in small batches. Nevertheless, the enthusiasm of investors has not diminished, and the company has still achieved a market value of over $100 billion.
In its prospectus, Rivian described itself as a "growth stage company with a history of losses." Rivian lost $426 million in 2019, $1 billion in 2020, and $994 million in the first six months of 2021. It can be seen that the losses have continued to expand. However, this is a normal phenomenon for a startup company, because Rivian has invested a large amount of funds in expanding its operational capacity and production efficiency, as well as in the construction of service facilities.
Although Rivian's market value is high, as a new force in the car manufacturing industry, it also has to endure the trials it encounters. As Elon Musk commented on Rivian's first IPO, "the real challenge is to improve production capacity and achieve a balanced cash flow." Musk also stated that "Tesla is the only American car manufacturer to have achieved large-scale production and positive cash flow in the past 100 years."
🔗Information Source: TESLARATI
This article is a translation by ChatGPT of a Chinese report from 42HOW. If you have any questions about it, please email bd@42how.com.