Author: Michelin
Recently, the most frequently used word in the automotive industry may be "inward folding": the laser radar has been upgraded from one to two or four; sensors have increased from a few to twenty or thirty; and chip computing power has grown exponentially… Every company is adding horsepower to the intelligent hardware of automobiles, hoping to break through the bottleneck of autonomous driving by "piling up materials" on cars.
However, there is not only one way to intelligent driving. If the intelligence of a single car is like an eight-fold scope and an upgraded weapon, increasing the fighting power of the car; then connecting cars with infrastructure and other interconnections through intelligent platforms to provide real-time road information for vehicles, is like borrowing the east wind for Zhuge Liang, giving cars a god's perspective.
On November 20, while the Guangzhou Auto Show was underway, Ford's vehicle road coordination system was officially launched in Huangpu District, Guangzhou. Single-car intelligence plus vehicle-road coordination, can the Ford with two legs walk faster and more steadily on the road of intelligent vehicles?
Vehicle-Road Coordination, Giving Cars a God's Perspective
I don't know if you have encountered similar situations when driving: waiting at a traffic light at an intersection and looking at your phone to reply to a message, or just staring at the roadside, only to be reminded by the car behind with a "beep beep beep" that the green light has come on. Or when the green light comes on, the car in front does not move, and I can only honk to urge them… Every time this happens, I think, it would be great if there were a function to remind me that the green light has come on in advance.
In some car models currently available on the market, changes in traffic lights can be detected by cameras. However, even the most sensitive camera cannot predict the future. To give a reminder several seconds in advance when the green light comes on, it is necessary for the vehicle to cooperate with intelligent traffic signals and pass the information of the traffic lights to the vehicle in advance. This is the vehicle-road coordination technology.
The vehicle-road coordination system is based on the communication mode of the existing commercial 4G cellular network, that is, the "vehicle-road-cloud" bidirectional communication between vehicles, intelligent infrastructure, and the city's traffic cloud control platform. In this way, whether it is information on traffic lights or traffic conditions such as congestion and accidents ahead, it can be pushed to the vehicle in real-time, thus improving driving safety and traffic efficiency.
Currently, Ford's vehicle-road coordination technology provides six major functions, including the green light start-up reminder mentioned earlier, real-time display of the remaining time of the green light, and a "green wave guide" function. When you are about to pass through a traffic light intersection, the system will calculate a "green wave speed" based on the change time of the traffic light and the distance to the intersection. Driving at this speed can avoid the red light ahead and drive smoothly through the intersection.Imagine if every intersection allowed you to drive at the recommended speed, wouldn't it be smooth sailing all the way? Of course, this is an ideal state, as traffic conditions are far more complex than we imagine, such as encountering traffic jams, we may not be able to drive at the recommended speed even if we want to.
In addition to displaying real-time traffic light information, there are also red light running warnings, road information broadcasts, electronic road sign information, and so on. When the current route encounters construction, accidents, and other situations, they can also be timely transmitted to the vehicle through the data platform, preparing for route changes in advance.
These pieces of information are displayed intuitively on the dashboard and synchronized in the navigation map on the central control screen. Even if the car's central control screen is not on the navigation interface, there will still be obvious pop-ups, so drivers can see important information such as traffic light reminders, filtering speed, and green light start reminders by looking down at the dashboard, which can also issue sound warnings.
Of course, for users who are not accustomed to frequent reminders, personalized adjustments can be made based on their driving habits, such as sensitivity adjustments, sound reminder on/off settings, etc.
Intelligent Cars Cannot Be Separated from Intelligent Roads
The improvement of the level of automobile intelligence does not only bring convenience to our travel, but it also means that the cost of vehicle intelligence is increasing rapidly. Whether it is high-end sensors, high computing chips, or a myriad of software systems, they directly affect the intelligence performance of the automobile. This indirectly creates a "threshold" for automobile intelligence.
The implementation of vehicle-to-road cooperation can reduce the "smart threshold" of intelligent cars, which means intelligent cars can rely not only on their own perception hardware but also on information communicated through the infrastructure.
Taking Ford's vehicle-to-road cooperation system as an example, real-time traffic light data and road conditions information are transmitted through the data platform, which doesn't rely on the vehicle's own sensors and computing power. As long as it's a model that supports SYNC +, it can be upgraded through OTA. This indirectly reduces the cost of using intelligent functions.
Of course, to achieve the functionality of vehicle-to-road cooperation, investments in urban smart transportation infrastructure are also significant.Guangzhou, as the third city in China after Wuxi and Changsha, where Ford's vehicle-to-infrastructure (V2I) system has been implemented. To achieve the integration of V2I system, as of June this year, the "new infrastructure" project of intelligent transportation has been carried out in Huangpu District, with a total of 133 kilometers of open urban roads and 102 junctions completed for intelligent transformation, providing technical support for the mass production application of V2I system. Previously, the V2I technology has been implemented and upgraded respectively in Wuxi and Changsha, with a coverage of 482 and 177 junctions.
Although the investment in the transformation of intelligent traffic in the city may be greater and time-consuming than that of the intelligentization of bicycles, the V2I technology, as a key component of smart traffic, not only helps vehicles, but also helps the city to establish a comprehensive and efficient transportation and management system that can play a real-time, intelligent and all-round role on a large scale.
Integration of Intelligent Bicycles and V2I System
Undoubtedly, the V2I technology can provide considerable assistance to drivers, but it can only achieve 1+1>2 effects when matched with intelligent vehicles.
At the Guangzhou Auto Show, Changan Ford officially named EVOS as Ford Evos Ascendant, expanding Ford's upgrade of smart cars to gasoline-powered vehicles. The EVOS is equipped with a 1.1-meter-wide large screen and a brand-new generation of SYNC+2.0 smart interactive system. In terms of intelligent driving, the EVOS is equipped with L2+ level of active driving assistance system-BlueCruise, which can achieve active driving ability on most highways and city expressways in China.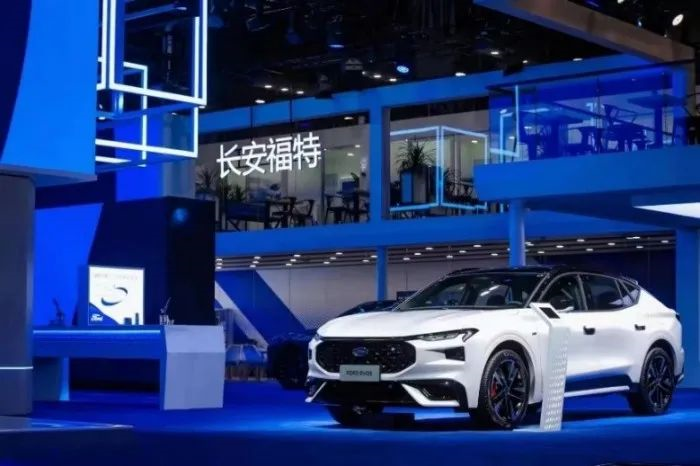 At the same time, as the first batch of models equipped with V2I systems, the EVOS can also receive traffic information ahead of the road through the V2I system and predict risks beyond the sensor range, which can help drivers avoid traffic congestion, reduce the risk of collision and running red lights, and improve the overall traffic efficiency. In the future, the V2I system will also be standard on four car models, including Ford Evos Ascendant, Mustang Mach-E, the new Explorer, and Explorer Plus, achieving full-series standardization.
Conclusion
The integration of V2I system marks another step forward in the intelligentization of automobiles, which not only relies on the individual intelligent vehicles, but also leverages the power of smart infrastructure.Imagine in the future, when the predictive information provided by vehicle-to-everything communication is integrated with the perception and decision-making system of the vehicle itself, would there be fewer corner cases that are currently puzzling people?
This article is a translation by ChatGPT of a Chinese report from 42HOW. If you have any questions about it, please email bd@42how.com.