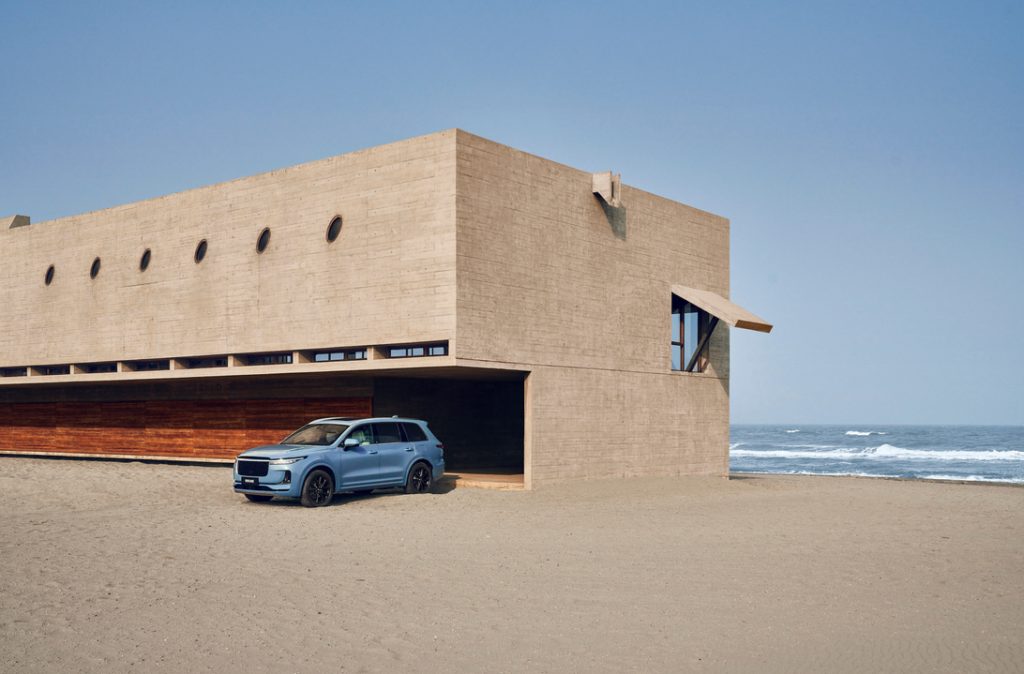 On July 16th, Tencent News exclusively reported that Li Auto had submitted a listing application to the Hong Kong Stock Exchange at the end of May and would conduct a dual listing. The Hong Kong Stock Exchange disclosed Li Auto's post-hearing data collection. The key information is as follows:
Product Planning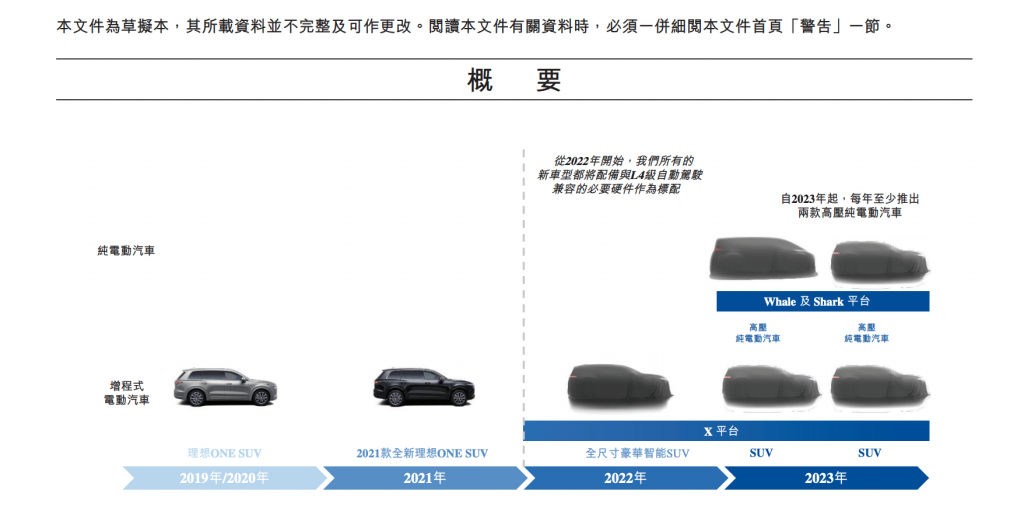 X Platform
The X platform being developed by Li Auto inherits from Li ONE's existing extended-range electric vehicle platform and is equipped with the next-generation extended-range electric power system. Li Auto plans to launch its first product on the X platform in 2022, which will be a full-size luxury extended-range electric SUV. Two other SUVs on the X platform will be launched in 2023.
Whale and Shark, the High-voltage Battery Electric Vehicle Platforms
Li Auto is investing heavily in high-voltage battery electric vehicle technology. Two platforms, Whale and Shark, are being developed for high-voltage battery electric vehicles. Starting from 2023, Li Auto plans to launch at least two high-voltage battery electric models every year.
Autonomous Driving
Li Auto believes that L4 autonomous driving will be the main operating mode of all vehicles in the foreseeable future, therefore is investing heavily in self-developed autonomous driving technology. Starting in 2022, the necessary hardware compatible with future self-developed L4 autonomous driving will come as standard on all Li Auto's new models.
Charging
Li Auto have invested in next-generation electric vehicle technologies such as high-rate batteries, high-voltage platforms, and high-power charging networks. With the self-developed, next-generation high-voltage battery electric vehicles, the charging efficiency will be significantly shortened to 10-15 minutes after 2023.
Pricing
Li Auto focuses on offering new energy vehicles with a price range between RMB 200,000 (USD 31,000) and RMB 500,000 (USD 76,000). The competitors are petrol vehicles and other new energy vehicles (including battery electric vehicles, plug-in hybrid vehicles and fuel cell vehicles) within the same price range.
Sales and Distribution
As of June 30, 2021, Li Auto has 97 retail stores in major cities in China. The retail stores are located in shopping malls that target users may visit, rather than in CBDs or landmark buildings.
As of May 31, 2021, Li Auto has 36 delivery centers and 27 service centers in major cities in China. The delivery/service center is responsible for face-to-face delivery, maintenance and repair, and is generally located in the suburb with convenient transportation.
According to data from China Insights Consultancy, in December 2020, each store of Li Auto delivers an average of more than 100 vehicles, while the average level of its Chinese counterparts is about 50.
R&D
Li Auto mainly conducts the R&D of intelligent vehicle at its headquarters in Beijing, China. On May 1, 2021, Li Auto's new R&D center in Shanghai, China was officially opened.
The R&D teams in Beijing and Shanghai are focusing on electric vehicle technologies, such as next-generation power systems, high-rate batteries, high-voltage platforms, ultra-fast charging technologies, autonomous driving technologies, next-generation smart cockpits, operating systems, and computing power platforms.
There is also a production engineering and technology center located in Changzhou, Jiangsu Province, China.
As of March 31, 2021, Li Auto has 1,633 employees engaged in R&D, including automotive design and engineering, intelligent systems and autonomous driving.
Production Capacity
At present, the annual output of Li Auto's Changzhou manufacturing base is 100,000 vehicles, and the utilization rate of the base in 2020 is about 36%. Li Auto plans to increase its production capacity to 200,000 vehicles in 2022.
The Changzhou manufacturing base will continue to produce Li ONE. Additional investments will be made in necessary mold and fixture upgrades to produce the full-size luxury intelligent extended-range electric SUV as planned.