Introduction
IHS has released a white paper on the shortage of automotive chips, titled "Managing the 2021 automotive chip famine". Without taking into account the situation of the Texas power outage and the earthquake in Japan, the paper predicts that the chip shortage will result in a reduction of one million cars globally in Q1 2021, and the shortage is expected to continue until Q3. Here are some valuable findings from the survey that are worth looking at.
IHS's overall assessment
From the end of 2020, with the peak demand at the year-end, the supply chain of automotive semiconductors has been interrupted, mainly due to the interruption of demand in the automotive industry and its subsequent recovery. This process coincided with the increase in demand for consumer electronics, and the two demands conflicted during the recovery cycle.
According to IHS's research, the shortage of components is closely related to MCUs. Due to the fact that MCUs are applicable to various fields and the demand for small and high-frequency ICs, MCUs require a process below 40 nm. Most IDM companies outsource chip production to foundries such as TSMC. Currently, TSMC has a market share of about 70% of all automotive MCUs.
At present, the market for automotive MCU chips is highly concentrated globally, and the top seven MCU suppliers account for about 98% of the demand, with only a few, such as STMicroelectronics, maintaining a high level of vertical integration. TSMC has been facing capacity constraints since 2020, and the automotive business accounts for only 3% of its total revenue. Although TSMC has announced plans to expand investment to support automotive customers, these investments are likely to focus on high-performance computing platform chips for future domain controllers.
In terms of delivery time, MCUs usually take 12-16 weeks to complete internal production, but currently, the required orders take 26-38 weeks, and the delivery time of almost all automotive chips has been extended by 1-2 months.

In terms of supply risk, the manufacturing process for high-demand chips, such as AI chips, SoCs, and GPUs (currently, only Intel, Samsung, and TSMC can produce such high-performance chips), as well as MCUs, all depend heavily on TSMC's status. The next level is CMOS chips. Other devices such as memory, analog, power discrete devices, and MEMS sensors can still be sustained by past investments as their manufacturing process requirements are not that high.From a usage standpoint, MCUs have proprietary architectures, making it difficult to switch from one supplier to another. Compared to storage chips, discrete and power devices, standard analog ICs, sensors, actuators, and logic ICs are generally more interchangeable. When MCU demand is limited, negotiations with IDM, ultimately leading to TSMC, must be made. Although the entire automotive industry seems to be less affected by device shortages, there is currently a situation where core MCUs and high-computing chips are both in the same basket.
IHS disassembled the single-chip microcomputer that Audi used in one car. Two Infineon MCUs were used in the power domain; 4 Renesas MCUs, 4 NXP MCUs, 2 Microchip MCUs, and 1 Texas MCU were used in the chassis and safety domains. As for the ADAS and entertainment domains, they are as follows: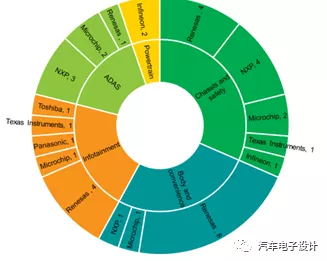 Another reason is that automotive chips were originally produced on 200mm wafers, and many companies were reluctant to invest in mature technology and turned to 300mm wafers. Automotive IDM constantly shifts towards a "fab-light" strategy, resulting in concentrated demand.
In fact, the original automobile supply chain primarily focused on Tier 1 and Tier 2, with some involvement in the chip side, but only to ensure supply. Chip IDM strategies in the manufacturing process were not involved by automakers. In fact, this chip shortage reflects a deeper problem.
Conclusion
As the development path of intelligent automobiles becomes increasingly clear, the issue of high-performance computing chips in the core computing platform of automobiles is becoming a crucial problem. If everyone goes to TSMC to produce chips, there will be more serious problems in the future.
This article is a translation by ChatGPT of a Chinese report from 42HOW. If you have any questions about it, please email bd@42how.com.