Today, SAIC R unveiled its second model, the MARVEL R, with a standard model priced at 219,800 yuan and a PRO model priced at 239,800 yuan.
Let's start with the basic information.
About body size:
Length, width and height: 4674 x 1919 x 1618 mm
Wheelbase: 2800 mm
Front trunk volume: 150 L
Rear trunk volume: 357 L
The length of MARVEL R is very close to that of Volkswagen ID.4, while the width is slightly wider. The position and price of the car are also very similar.
About power and range:
Both the standard and PRO versions mentioned above are equipped with dual-motor rear-wheel drive, with a maximum motor output power of 137 kW, a maximum output torque of 410 N·m, and a 0-100km/h acceleration time of 7.9 seconds. The car is equipped with a 69.9 kWh battery, and the corresponding NEDC range is 505 km.
After choosing the 20,000 yuan four-wheel-drive performance package, a front motor is added on the basis of the rear-wheel-drive, with a maximum system output power of 222 kW, a maximum output torque of 665 N·m, and a 0-100km/h acceleration time of 4.8 seconds. Equipped with a 69.9 kWh battery, the corresponding range is 460 km.
From the battery capacity and the data previously disclosed by SAIC, it seems that the battery used in MARVEL R is the same as the 523 large module ternary lithium battery used in ER6. This battery can achieve a range of 620 km in ER6, but it seems to be a bit inadequate for the larger and heavier MARVEL R.
It is said that there will be a car model with a larger capacity battery, so let's look forward to it together.
By the way, MARVEL R's rear dual-motor system has a clutch, and the two motors will not drive simultaneously. One is responsible for low-speed work and the other is responsible for high-speed work, just like the logic of Porsche Taycan.
About configuration:
There are two key points about the basic configuration.
First, the kinetic energy recovery system supports 100% brake energy recovery, so MARVEL R may be able to achieve one-pedal driving with energy recovery to stop the car.
Second, the standard model is equipped with an Arkamys-tuned 8-speaker system, while the PRO model is equipped with a BOSE-branded 9-speaker system.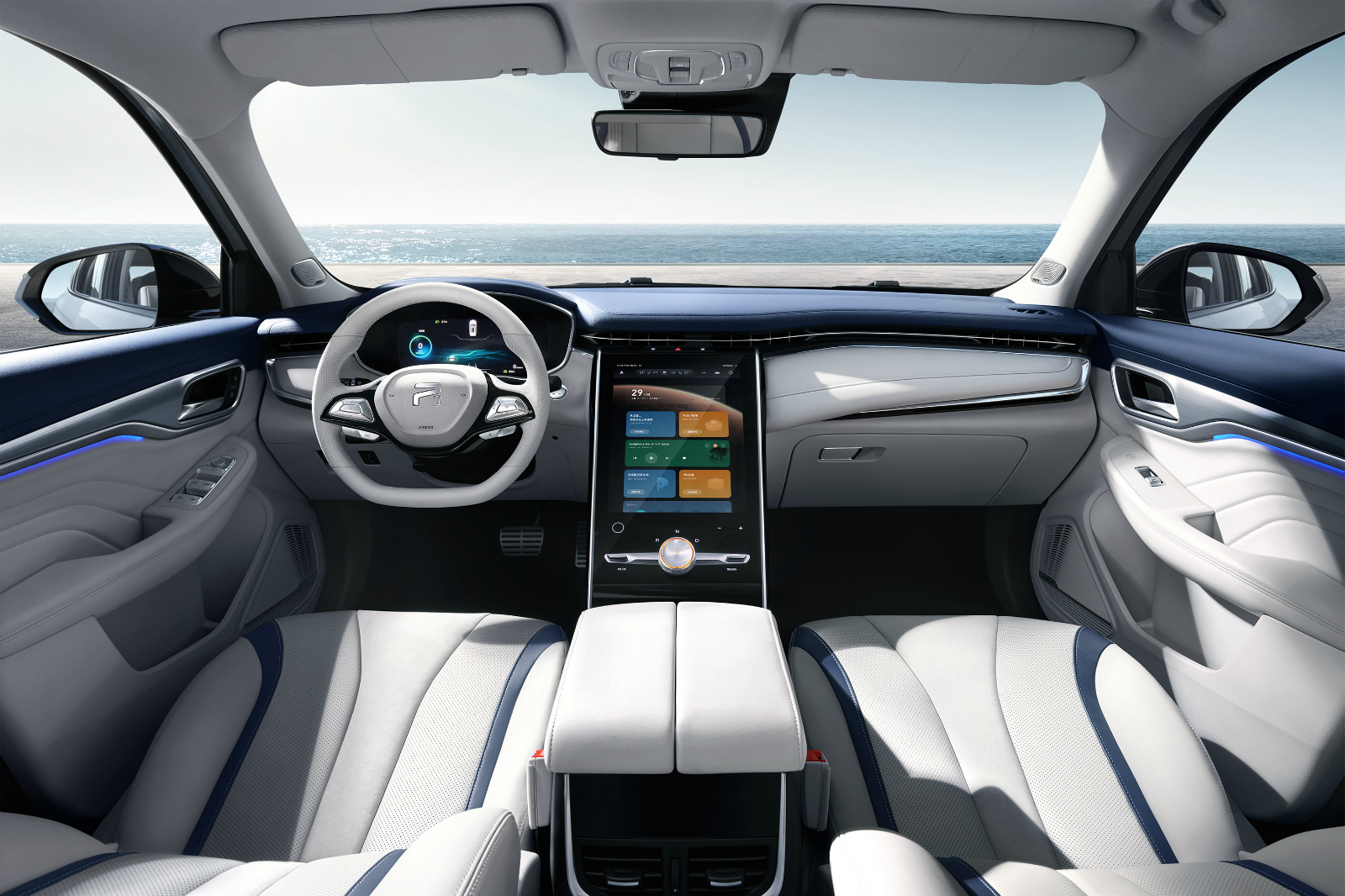 The MARVEL R's major highlight is its advanced driving assistance system.
The basic version of the system includes one frontal camera, four surround-view cameras, three millimeter-wave radars, and twelve ultrasonic radars. However, if you select the R PILOT intelligent driving growth package for an additional 30,000 yuan on the PRO model, you can upgrade to:
Dual frontal cameras
Four 360-degree surround-view cameras
Four surround-view cameras
Five millimeter-wave radars
Twelve millimeter-wave radars
Huawei Balong 5G chip
Mobileye EyeQ4 chip
Support 5G V2X
Having this hardware allows the system to perform automatic lane changing with turn signals, assisted driving with NOR (navigation-oriented driving), and fully automated parking with the driver outside of the vehicle. These three functions are the most commonly compared advanced driving capabilities among new automakers, and represent advanced driving assistance technology.
During the launch event, SAIC also showcased MARVEL R's V2X abilities, which allow the vehicle to directly display the current status of traffic lights and the location of other road users.
The development of this technology is promising, and it is now just a matter of time until it is rolled out.
Finally, two additional pieces of information from the launch event:
MARVEL R is being simultaneously released for pre-sale in Europe at a price of 40,000 euros.
SAIC R Automobile provides OEM color customization services.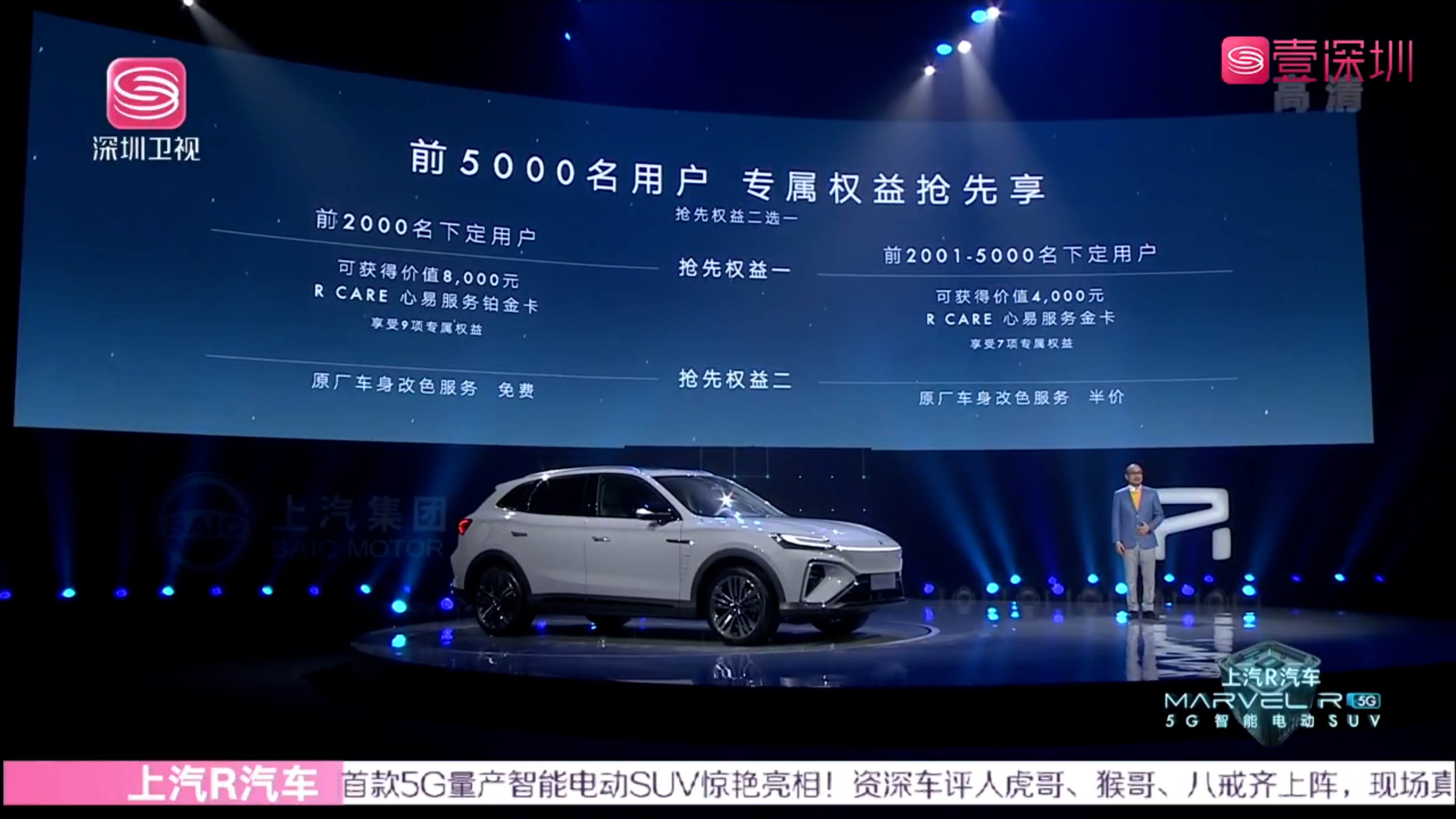 This article is a translation by ChatGPT of a Chinese report from 42HOW. If you have any questions about it, please email bd@42how.com.