On January 29, the State Administration for Market Regulation announced a recall notice for some XPeng G3 electric vehicles.
XPeng Motors, in accordance with the "Regulations on the Administration of Defective Automobile Product Recalls" and its implementation measures, has filed a recall plan with the State Administration for Market Regulation and decided to recall a total of 13,399 G3 vehicles produced from March 29, 2019 to September 27, 2020, starting from January 30, 2021.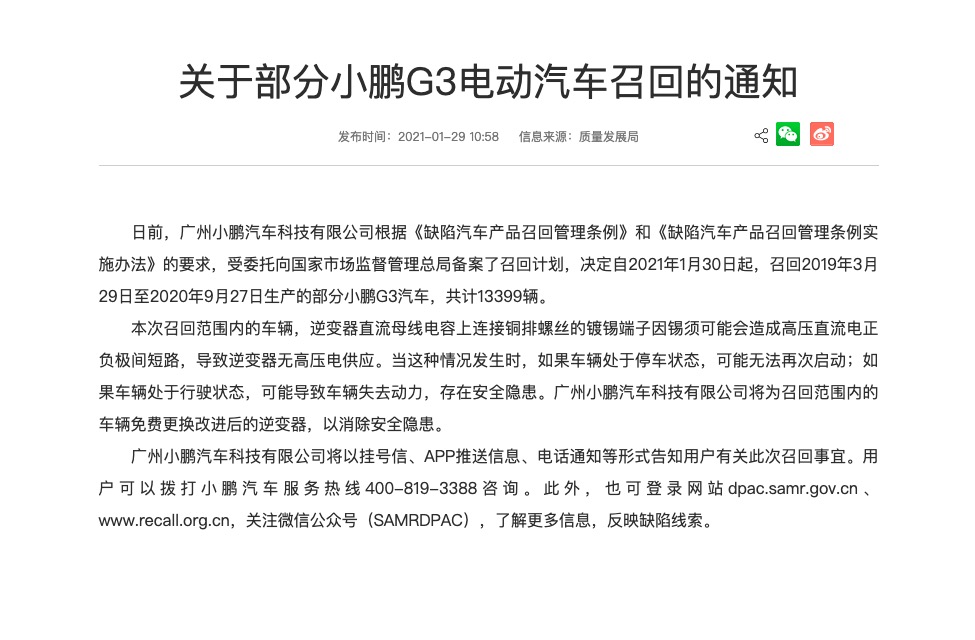 The recalled vehicles within the scope of this recall may experience a short circuit between the positive and negative poles of the high-voltage direct current due to tin whiskers on the tinned terminals connected to the copper bars by screws on the DC capacitor of the inverter, resulting in the lack of high-voltage power supply to the inverter. When this happens, if the vehicle is parked, it may not be able to restart, and if the vehicle is moving, it may lose power, which poses a safety hazard. XPeng will replace the recalled vehicles' inverters free of charge with improved ones to eliminate the safety hazards.
Source: State Administration for Market Regulation
This article is a translation by ChatGPT of a Chinese report from 42HOW. If you have any questions about it, please email bd@42how.com.