Perhaps unexpectedly, Ford made headlines with a "2021 China•Year of the Horse" poster when announcing the localization plan of Mustang Mach-E in China. After years of silence, Ford has once again caught the attention of the public.
On January 28th, Ford China announced the production plan for the localized Mustang Mach-E, which will be manufactured by Changan Ford. On the same day, Tesla announced its Q4 2020 financial results and the news of its new Model S/X.
Putting aside the marketing topic of the poster, the attention received by Ford for its product still does not compare to that of Tesla. It is worth pondering whether Ford, the company which once created the first assembly line production and made the T-model car accessible to ordinary people, is really prepared to compete with Tesla.
As we all know, Ford's situation in recent years has been declining. Its attention has dwindled since 2017. In recent years, Ford has updated its brand image, focusing more on the younger audience. Although it is leading some traditional car manufacturers in terms of intelligent electrification, it is still lagging behind new players in the industry.
The Determination to Transform
Simply by examining Ford's financial reports, we discover that its net income decreased by 52% from $7.75 billion in 2017 to $3.695 billion in 2018.
In 2019, Ford's net income for the year was only $0.47 billion, a decrease of 98.7% from 2018. This is a clear indication that Ford's transformation is urgently needed.
The only way forward for Ford is electrification and intelligence.
Four years ago, Ford realized this and announced its investment in emerging intelligent electrification fields. Judging from the amount of investment, Ford has huge expectations for electrification. It has invested $4.5 billion in launching 13 electrified vehicles before 2020, accounting for 40% of all its products, with the expectation that the number of electrified products will exceed that of internal combustion engine vehicles before 2030.
Thus, the idea for Mustang Mach-E was born. As for why they chose to use the Mustang name, it was proposed by Jim Farley, who just took over as CEO of Ford in October last year, when he said, "What if we made it a Mustang?"
Mustang is Ford's flagship, and the team knows what it means for Ford. It remains to be seen whether the Edison team from Ford will use the Mustang name to elevate it to new heights or ruin it with electrification.
When designing the new car, the Edison team focused on Mustang, as they found that Mustang fans and electric vehicle fans are alike: people who love something exciting and different.After conducting market research, this group of people named their new car Mustang Mach-E, inspired by Mustang. In November 2019, Mustang Mach-E debuted at the Los Angeles Auto Show and immediately became a hot topic among car enthusiasts. Some say that innovation within large enterprises from scratch is much more difficult, and the Edison team is carrying the intangible pressure of Mustang's 57-year successful brand history. "Either continue to shine or fall into hell." Therefore, even if Ford has to go all out, they must promote Mustang Mach-E, both actively and passively, to get a ticket to the new energy vehicle market before the door closes. "Given the crisis, act at the brink of disaster." In October 2020, Ford appointed Jim Farley as the new CEO and announced that it would mass-produce pure electric vehicles and establish a new autonomous driving business. Ford is telling people through actions: "We are working hard to change, please give us some time." On January 28, 2021, Ford once again announced that Mustang Mach-E will land in China and will be produced by Changan Ford. Currently, China is the world's largest new energy vehicle market, there is no dispute about this. If Ford wants to get a ticket to the new energy vehicle market, China is the place where they must take root. Why should Mustang Mach-E take root and germinate in the Chinese market? We all know that relying solely on the name Mustang is not feasible. Audi e-tron, Mercedes-Benz EQC, and BMW iX3 have already verified this point. Chinese new energy vehicle consumers are very demanding, and without excellent product strengths, suitable prices, or other unique service capabilities, consumers will not easily buy it. Moreover, this is a medium and high-end product. Zhu Jiang, the Chief Operating Officer of Ford Motor (China) Electric Vehicle Division, also thinks the same: "We hope to bring real driving pleasure to consumers, instead of just having intelligent interconnectivity. Many cars now only emphasize acceleration for several seconds. This is not everything in a car." As for Mustang Mach-E product strengths, we can actually compare them with some known information.Ford claims that the Mustang Mach-E is a direct competitor to the Tesla Model Y. Previously, we also created a comparison chart between the Mustang Mach-E and the Model Y for the North American market.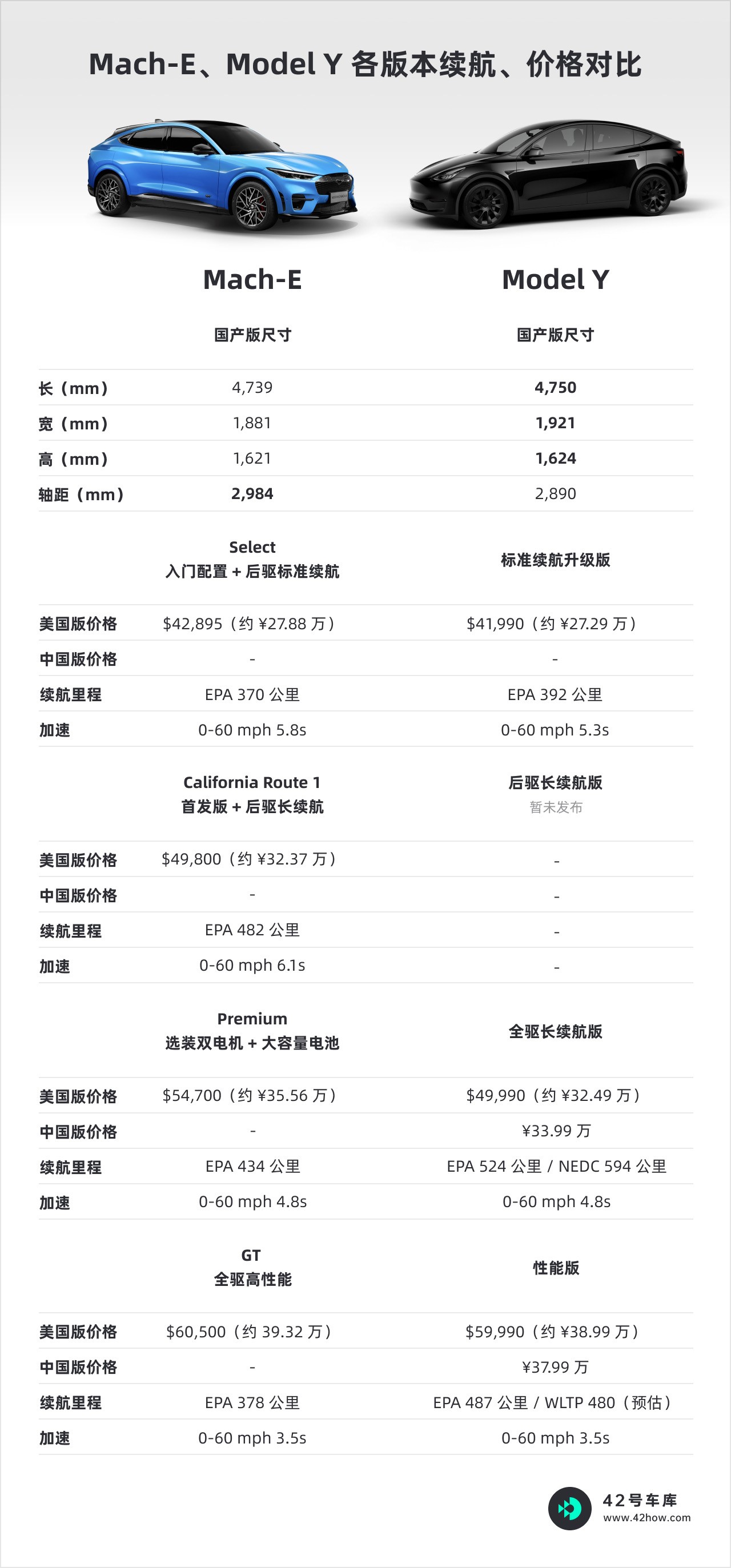 Based on the comparison chart, it can be seen that in versions with similar prices, the acceleration performance of both is basically the same, and the range is also very similar.
As mentioned in our previous article, the Mustang Mach-E long-range version is the only non-Tesla electric car that has run for 300 miles in the EPA cycle test under stringent testing conditions in the past period.
In terms of acceleration, Ford also lives up to the Mustang name, and the GT high-performance version even broke into the 3-second club. Achieving this result is relatively rare in the current market.
In terms of size, the dimensions of the domestic Mustang Mach-E are 4739/1881/1621 mm in length, width, and height respectively, with a wheelbase of 2984 mm.
It is worth mentioning that the wheelbase of the domestic version of the Mustang Mach-E has increased by 12 mm compared to the overseas version, making it 94 mm longer than the Model Y. However, I can't help but recall my colleague's words, "When did Mustang also talk about wheelbase?"
In addition, the Mustang Mach-E supports FOTA and comes equipped with Ford's Co-Pilot 360 TM advanced driving assistance system (supporting OTA iteration to add new functions) and C-V2X Ford vehicle-road collaboration system, which meets the basic needs of current users for intelligence. This contrasts with many people's stereotypical impression of Ford as a traditional manufacturer.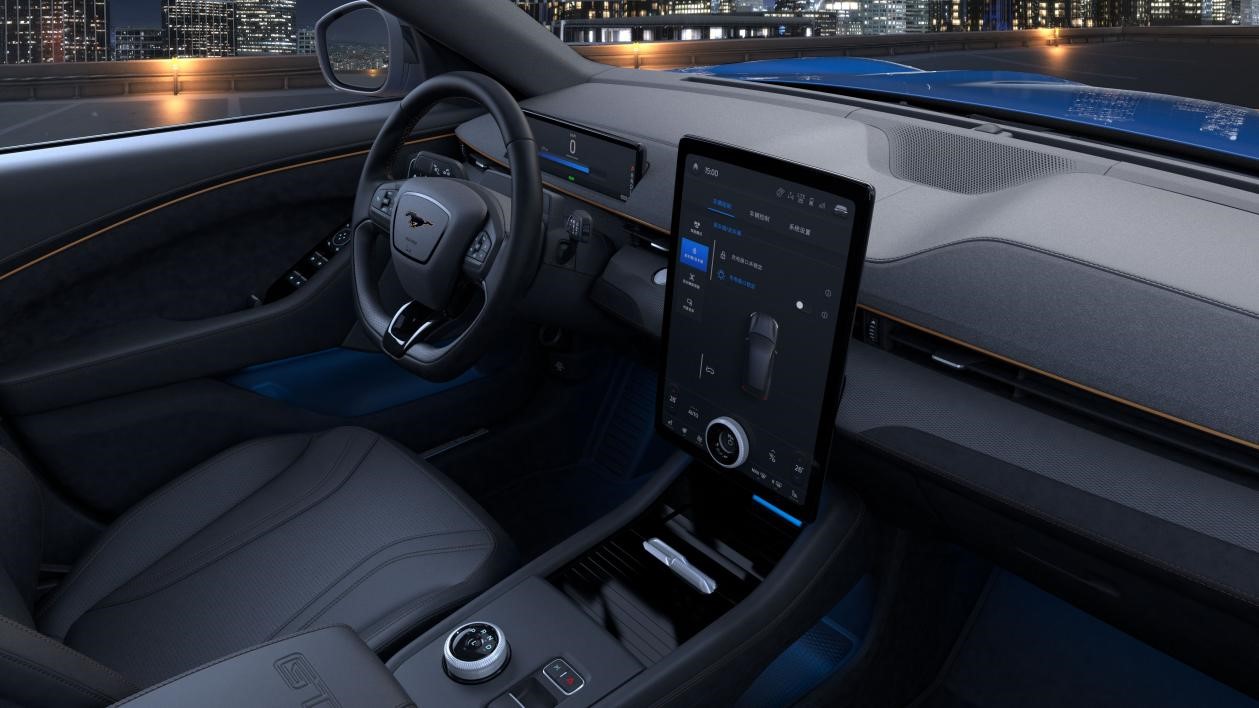 However, the key issue is whether the actual experience can have a leading advantage in today's market. After all, for users like me, there is no such thing as intermediate level for things like driving assistance, either it works well or I don't use it.
So, can the Mustang Mach-E take root and sprout in the Chinese market? The core issue still depends on whether Ford can make a painful determination to comprehensively rebuild from branding to sales network. Whether it is a direct-operated model or brand promotion, it needs to start over. Let's not try to replay the Audi e-tron, Mercedes-Benz EQC, Jaguar I-PACE and others from the past.
The pricing of the domestic Mustang Mach-E is also crucial. It is not feasible currently if it cannot maintain a certain gap with or stays higher than Model Y. Only by widening the price gap can more users get close to and experience the vehicle. After all, Mustang Mach-E has the strength to compete with Model Y.
A minor phenomenon is that after we initiated the poll "Will you consider Ford Mach-E at the same price level when challening Tesla?" there were far more people choosing Model Y than Mach-E at the same price level.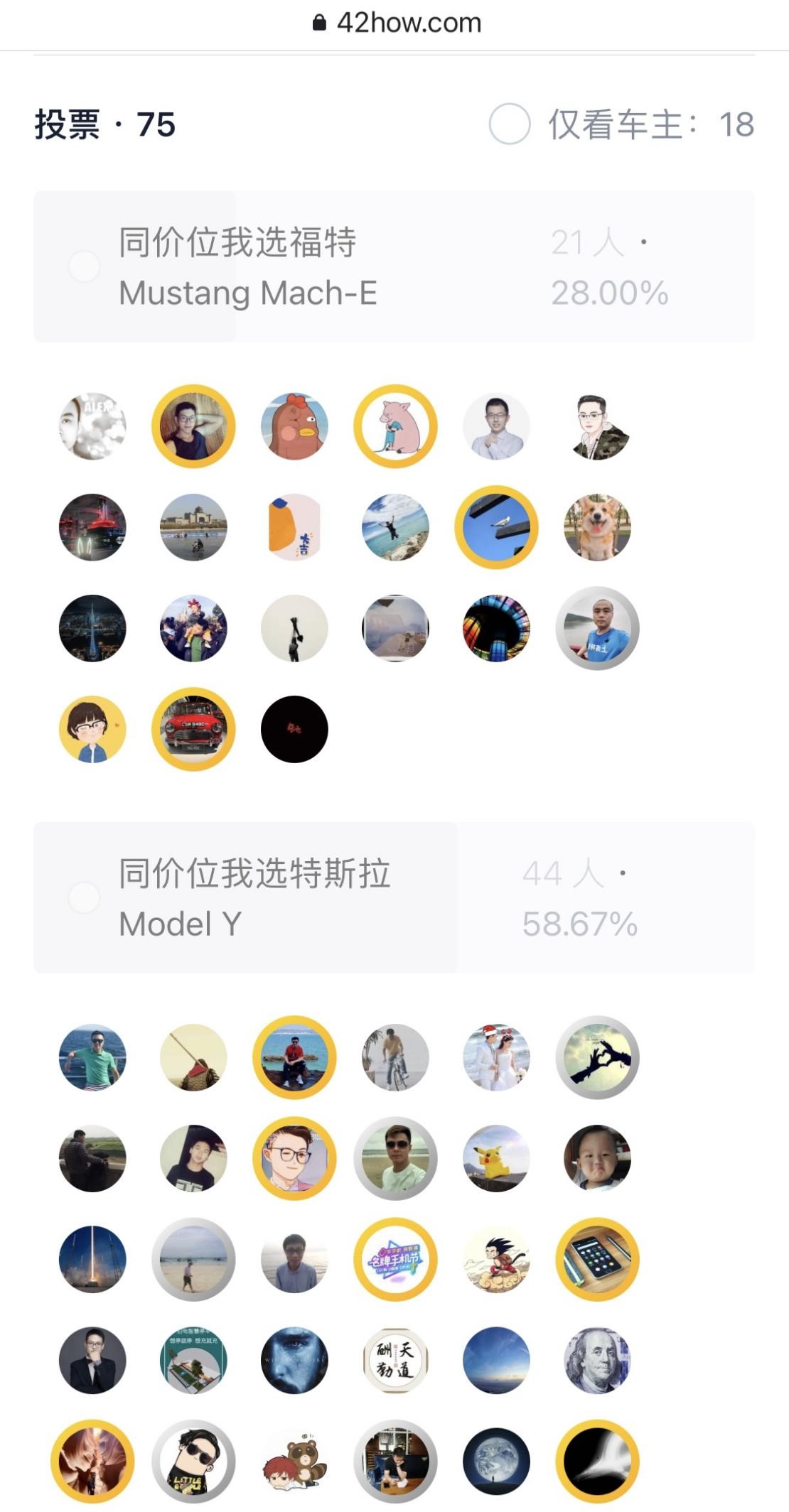 Conclusion
In the era of "Speed King," Ferrari was the leader in the racing field. As a new player, Ford did not immediately beat Ferrari when it first participated in Le Mans.
Tesla is the leader of this era, in a different field, but it also resembles the wind of Ferrari in those years. For Ford, it just changed its rival.
As for Mustang Mach-E, what I want to say is, don't expect too much from it to beat Model Y, just like what was mentioned above, everything has just begun. Let's wait and see.
This article is a translation by ChatGPT of a Chinese report from 42HOW. If you have any questions about it, please email bd@42how.com.