On January 27, 2021, Tesla released its Q4 and full-year 2020 financial report. The long-rumored new Model S and Model X also made their debut in the report.
After the financial report, Tesla CEO Elon Musk, CFO Zachary Kirhorn, President of Automotive Jerome Guillen, and Senior Vice President of Powertrain and Energy Engineering Andrew Baglino participated in the earnings call.
Let's take a look at the exciting and informative financial report.
The New Model S Is Here
Rudely speaking, here is a bombardment of basic parameters:
Coefficient of aerodynamic drag: 0.208 Cd
Acceleration from 0-100 km/h: 2.1 s
Acceleration from 0 to 400 meters: 9.23 s
The common prefix for these parameters is "first in mass production cars." Not "first in the same class," not "first in the same price range," but first in all mass production cars. This four-door sedan, which can accommodate up to seven people, has beaten all top sports cars, including the Bugatti Chiron, and become the most powerful mass-produced car ever.
Many people may have forgotten that on September 23, 2020, at Tesla's Battery Day, the company announced that the Model S Plaid had beaten all gas-powered cars, setting a new record of 1 minute 30.3 seconds at the Laguna Seca raceway in California.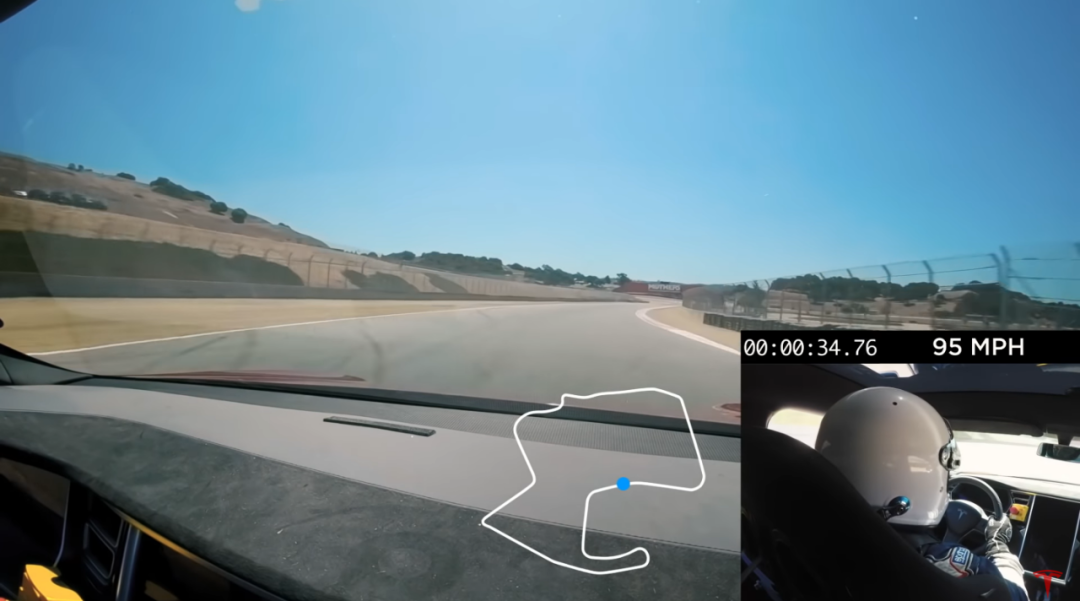 In addition, it has a three-motor powertrain with a total output of over 1100 horsepower, an EPA-rated range of 628 kilometers, a top speed of 320 km/h, and a supercharging power of 250 kW. Behind these impressive parameters, the vehicle's weight has reached 2162 kg.
In 2017, Elon Musk stood in front of the Tesla Roadster and said that it would "give a hardcore smackdown to gasoline cars." Today, the Model S Plaid leads the charge.
Lower parameters, higher speed, stronger performance, heavier weight, longer endurance, lower price. It's time to say to those CEOs of family-owned top traditional supercar brands:
"Sir, the times have changed."
If you think Tesla's ambition ends here, you may underestimate Tesla.
Before we get into the 17-inch central control screen with a resolution of 2200 x 1300 and the redesigned, aggressive steering wheel, let's talk about a more important question: Where is the shift lever?
According to Tesla's internal documentation, the Tesla system will make automatic decisions about gear selection based on real-world scenarios:
"The vehicle will intelligently determine the expected driving mode and perform the selection using Autopilot sensors. For example, if the front of the Model S/X is facing a wall in the garage, it will detect the situation and automatically switch to 'reverse' after the driver steps on the brake pedal, eliminating yet another step for the driver in the world's smartest mass-produced car."
From manual to automatic, from "throttle, brake, clutch" to "accelerator, brake," to "single-pedal" driving, the control behavior of human-driven vehicles has been evolving towards "liberating drivers and improving system automation."
Today's automatic transmission technology is also in line with Tesla's standard implementation of "strong regenerative braking to partially replace mechanical brake systems" since June 2020.
In the era of autonomous driving, human control over a vehicle's lateral (steering wheel) and longitudinal (accelerator, brake, P, N, R, D gear) movements will be taken over by the system.
However, on the road to autonomous driving, Tesla hopes to further liberate drivers and actively utilize system intelligence to improve driving automation behavior.
Elon tweeted today that once drivers get used to the system's automatic gear selection, manually shifting gears will become very frustrating.
Of course, similar to Autopilot, the algorithm's understanding of the scenario needs to be continuously iterated, so Tesla also provides alternative solutions as a backup.Underneath the wireless charging pad in the center console of the new Model S, Tesla has equipped a Force Touch trackpad to control the car's P/N/R/D, allowing drivers to solve extreme vehicle control situations with this trackpad. Alternatively, shift controls can also be performed by clicking on the central touchscreen. Nonetheless, as Tesla's website stated, the physical shift lever is gone for good.
For the center console of the Model S Plaid, Tesla claims it can "rival the latest gaming consoles on the market." There is good reason for this claim, as Tesla has installed a GPU with computing power reaching up to 10 Teraflops, comparable to the Sony PS5 and Xbox X. Compared to Tesla's second-generation MCU with a weak Atom A3950 from Intel, this new platform has a high degree of destructive and insulting potency.
What changes are there in the new Model S?
Hmm, other than tweaks to the front and underbody aerodynamic features, side-sill design, and the car's lower diffuser, there is no new design inspiration.
If we compare the 2021 Model S Plaid to the 2012 model, the 2021 version has a new motor, battery, power electronics, interior, as well as several major upgrades to its self-driving and intelligent cabin systems, but the exterior design has remained largely unchanged.
Such an iterative strategy seems out of place in the automotive industry. However, the smartphone industry has been accustomed to this for a long time.
In the world of "smart cars", what's more important- intelligence or the car itself? At Tesla, intelligence is more important than the car.
In Q4 2020, Tesla achieved its sixth consecutive profitable quarter, making it the first profitable fiscal year ever. By December 31, 2020, the company's cash reserves had reached a record-breaking $19.384 billion, a year-on-year increase of over 200%.
In short, Tesla has completely resolved the existential crisis caused by Model 3 production and is now in the most healthy operational position. It's time to talk about development issues.
Perhaps we should first talk about Tesla's presence in China.In the past year, Tesla has made great progress in its large-scale expansion in China. In terms of sales distribution, this is reflected in Tesla China taking the steepest annual market share growth of the three major regional markets in Tesla globally.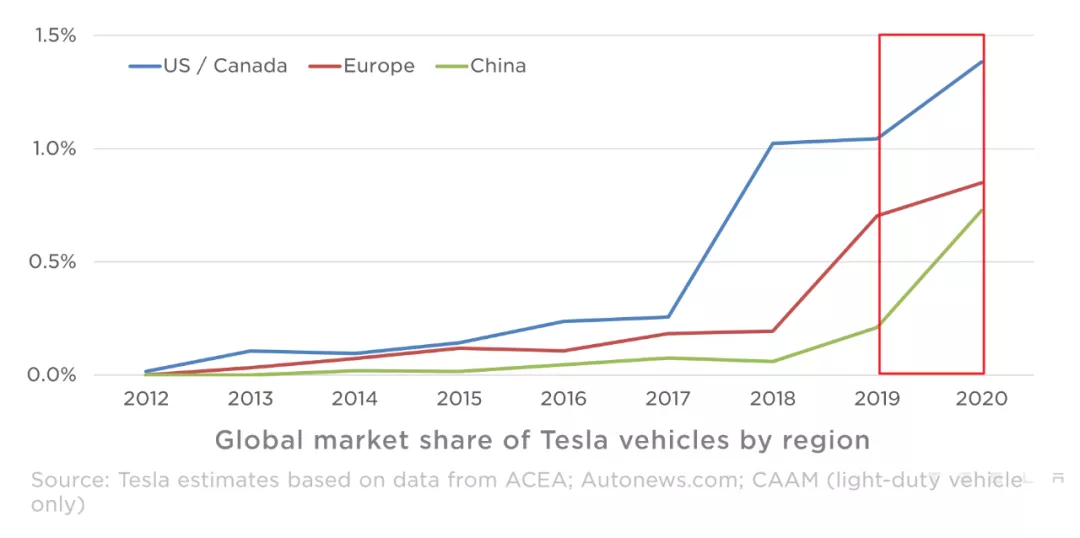 In 2020, Tesla China built more than 410 supercharging stations and more than 4,000 supercharging piles, while Tesla's global figures were 743 stations and 7,173 piles, respectively.
In addition, almost all of Tesla's new stores in 2020 were from China.
Therefore, a practical perception is that after ample food and grass, China has surpassed the United States and become the focus of investment in Tesla's global service system, accounting for more than 50%.
In January 2021, Tesla's next move in China, the domestically produced Model Y, began delivery. In terms of production capacity layout, in Q4 2020, the total production capacity design of Model 3 and Model Y in Tesla Shanghai factory reached 450,000 vehicles per year, of which Model 3 was 250,000 vehicles per year and Model Y was 200,000 vehicles per year.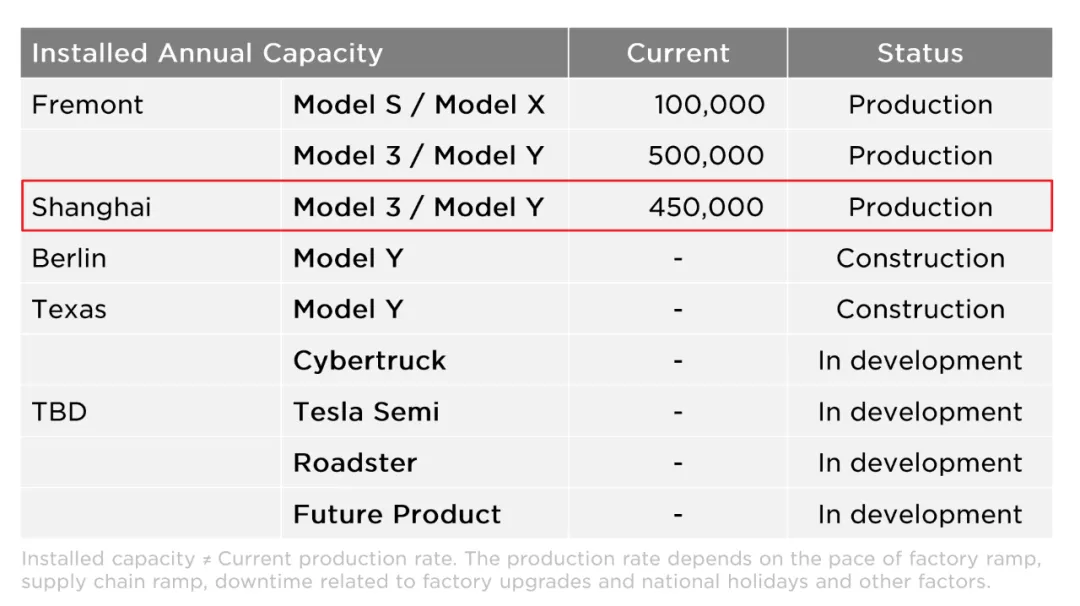 Of course, if you compare it with Tesla's production capacity layout released in Q4 of 2019, you will find that just a year ago, the production capacity design of Model 3 was only 150,000 vehicles per year, and Tesla did not add new Model 3 production lines in the past year. This means that Tesla's production capacity planning disclosed in its financial report has a lot of room for upgrading.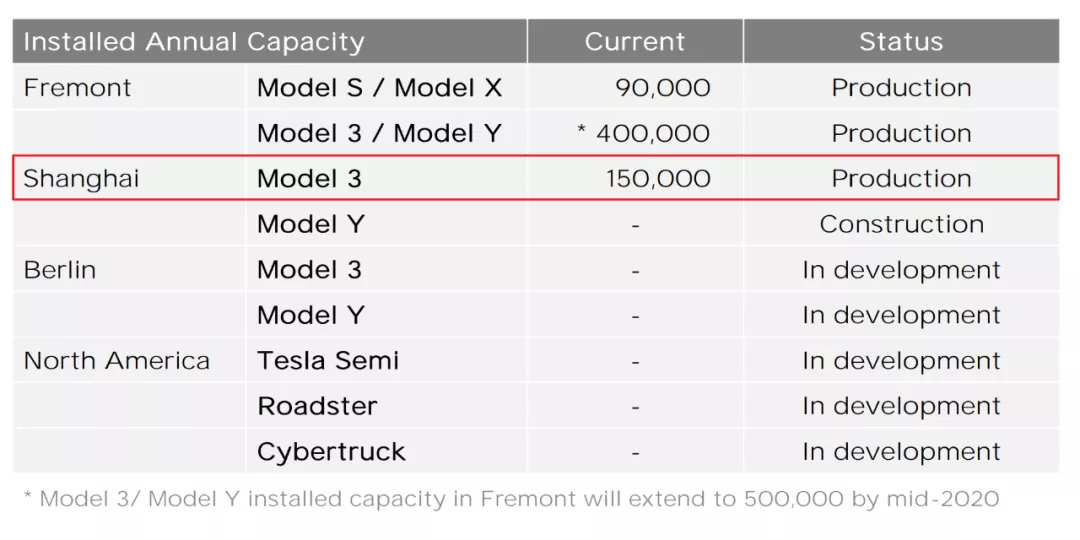 Considering Tesla China's supply chain planning, Tesla's production capacity planning in the Chinese market should be between 450,000 and 550,000 vehicles in 2021. Compared with 2020, this is a more than 400% aggressive plan.
However, at the same time, new automakers such as NIO, XiaoPeng, and Ideal are working hard to accumulate food and grass and sharpening their knives, hoping to have a head-on confrontation with Tesla.
So, how does Elon Musk, who is far across the ocean, view these Chinese competitors?
Before this, Elon Musk publicly expressed affirmation of Chinese competitors:
Many Chinese companies are very, very, very fast (in action). For Tesla, the most competitive company may be a company from China, where market competition is very fierce.There are some very good companies out there that work very hard.
Today, Elon reiterated his praise for Tesla's China team:
"We are winning, we are currently the leader of the electric vehicle market in China. So I think since we are China's best-selling electric vehicle, we must have done most of the things right."
However, he did not shy away from acknowledging the lackluster performance of Tesla's killer feature, FSD full self-driving capability, in China, and stated that Tesla will focus on optimizing the FSD experience for the Chinese market, with plans to launch FSD Beta functionality in China later this year.
"Only a very small percentage of our Chinese users, maybe 1% to 2% of users, have opted for FSD, which is much lower than other markets. So we must make FSD work well in China. If some of the functions of FSD work well in China, we will get a good FSD upgrade rate."
"I have noticed that Tesla owners in China are the most demanding in the world. Their attention to detail is incredible. But I am confident that once FSD runs smoothly, they will buy it. We hope to launch FSD in China later this year."
Next is Tesla's top priority and the cornerstone of its global strategy: the 4680 battery and FSD full self-driving capability.
The 4680 battery is the foundation behind today's Model S Plaid's range of up to 840 km and is a key supply constraint for the upcoming Tesla Cybertruck and all-electric semi-trucks.
Many people don't know that Tesla's Battery Day in September 2020 was not just a PPT release. Since the official acquisition of Maxwell in May 2019, Tesla's proprietary battery (4680) production line at the nearby Tera factory, which focuses on dry electrode preparation, has undergone four complete iterations.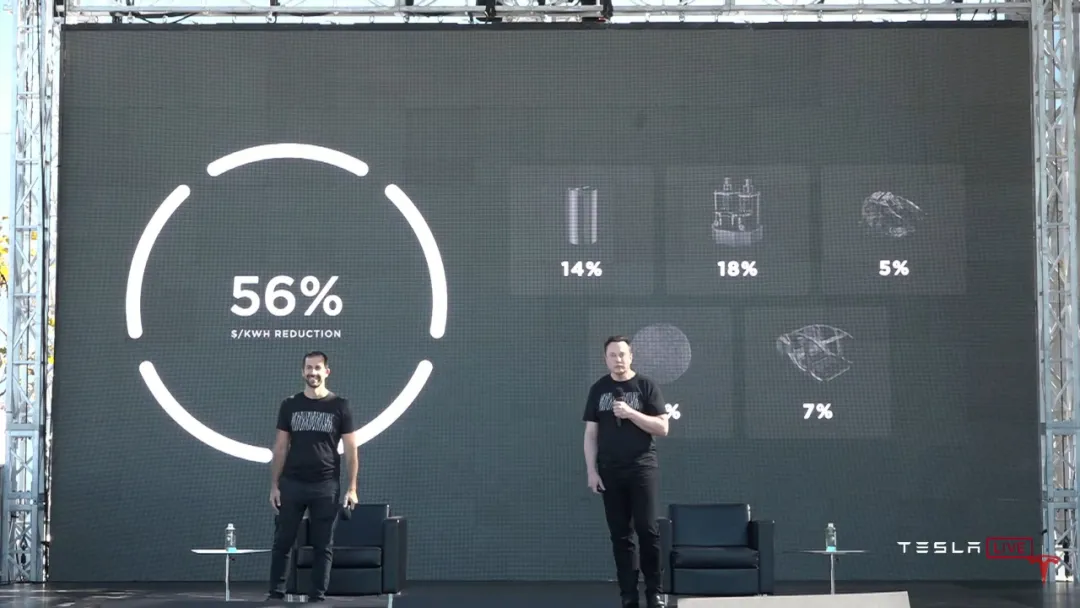 According to Drew, Tesla's senior vice president, it is expected that after two to three more iterations, the problem will be truly resolved.
At today's earnings conference, Drew updated the progress, saying that some expected technical challenges had been exposed, but the Tera team had solved every problem that had been exposed so far. As the S-curve of production capacity climbs, weekly and monthly production capacity is continuing to grow.
Elon said that the design capacity of the Tera factory is 10 GWh/year, and it may expand to become one of the top ten power battery factories in the world in the future.Tesla maintains its goal of achieving a self-developed battery production capacity of 100 GWh/year by 2022 as proposed on Battery Day, but provides more detailed production capacity plans. By 2022, the global production capacity of Tesla's self-developed batteries will reach 200 GWh/year, but actual production capacity depends on the progress of production ramp-up, with a current goal of 100 GWh/year.
In addition, Elon emphasized the relationship between Tesla's self-developed batteries and the company's three major power battery suppliers: Panasonic, LG Chem, and CATL:
Tesla's self-developed batteries serve to relieve supply bottlenecks and continue expansion. Tesla hopes to increase battery procurement and expects the suppliers to produce as many batteries as possible. However, because the suppliers are either unable or unwilling to increase capacity, Tesla has had to establish battery production capacity as a supplement to the suppliers.
Elon stated that the engineering design of Tesla Cybertruck has been frozen. The Semi tractor-trailer project is also waiting for battery production capacity ramp-up. In the long run, Tesla will certainly enter the electric van market, but currently focuses on higher priority models due to supply constraints.
As the company with the largest global battery consumption, Tesla has become the most anxious and invested automaker in battery supply.
Here is the progress of FSD Beta:
In the past quarter, Tesla has pushed more than ten FSD Beta updates at a version iteration frequency of 7-10 days. According to Tesla, FSD Beta has been sent to nearly 1,000 owners for testing.
Elon mentioned that the biggest challenge of video training data lies in turning everything from annotation, inference to training to video in the entire FSD architecture, including automated data annotation.
Dojo is Tesla's self-developed supercomputer based on FPGA programmable chips. It is designed to train FSD algorithms based on video data collected from the Tesla fleet.
According to Elon, Dojo will become the world's best deep neural network training computer, and Tesla will open this platform to the public in the future, providing AI training services. Dojo's business model will be independent.
In addition, Tesla has made good progress on the next-generation chip platform for FSD. The new platform will be three times more powerful than the current platform, matching the computational demand of the next-generation high-pixel cameras. However, as this is a significant software and hardware change, Tesla will not enable the next-generation platform for now.
In the long run, Tesla's market value is mainly supported by two factors: the vehicle ownership and the scarcity of fully autonomous driving technology. As of now, no automaker has achieved or approached the technical progress of FSD Beta, and Tesla is still iterating rapidly.
Let's look forward to the release of FSD Beta in China "later this year".## When Will the CEO Resign?
Ben Kallo, Senior Analyst of Robert W. Baird & Co., covers energy technology and resource management. On September 23, 2020, he informed clients that Tesla was a stock worth investing in for the next ten years, and if you were willing to wait, you should buy Tesla.
It is evident that Ben, who witnessed Battery Day (September 22), highly recognized Tesla's long-term strategy.
During Tesla's earnings call, Ben presented a question unrelated to the short-term business of Tesla: "If I'm not mistaken, ten years ago, you said that once Tesla entered the mass-market vehicle market, you would resign as CEO and become the Chief Product Architect."
Elon Musk gave the longest answer to this question during the conference call. Let us end with his response:
"I hope to continue serving as the CEO of Tesla for the next several years. I'm still super-excited about a lot of the upcoming initiatives. And I think it would be hard to leave at such a point because things are quite exciting. So I'm hopeful about the future, and I'm still energized."
"Obviously, nobody's forever, and I don't expect to be, nor should anyone else. It's worth noting that being the CEO of Tesla requires an immense amount of effort and a lot of hard work. I think I do more technical work than is typical for CEOs. And if I had a little more free time, I could spend more time on innovation."
"But I think the mission isn't over yet. We have a long way to go before we can really accelerate sustainable energy. Sustainable energy is Tesla's fundamental purpose from the beginning. And if you look at how many cars are driving around today, how many of them are electric? It's still basically zero. We're talking less than 1% of global vehicle fleet is electric."
"So, there's a long way to go. Solar power has a long way to go too, even though wind and solar and geothermal have really come down in terms of cost competitiveness. And, of course, we need a lot of battery storage. You need a lot of batteries because once the wind stops blowing and the sun goes down; you have to store the energy. It needs to be really long-lasting and high cycle-life. And then you need to have the electrical transport. If you can do those three things, we will have a truly sustainable future with energy generation and consumption. So there's still a lot to do, and I'm still fired up about it."
This article is a translation by ChatGPT of a Chinese report from 42HOW. If you have any questions about it, please email bd@42how.com.