The Tesla website updated the pages for Model 3 and Model Y this morning.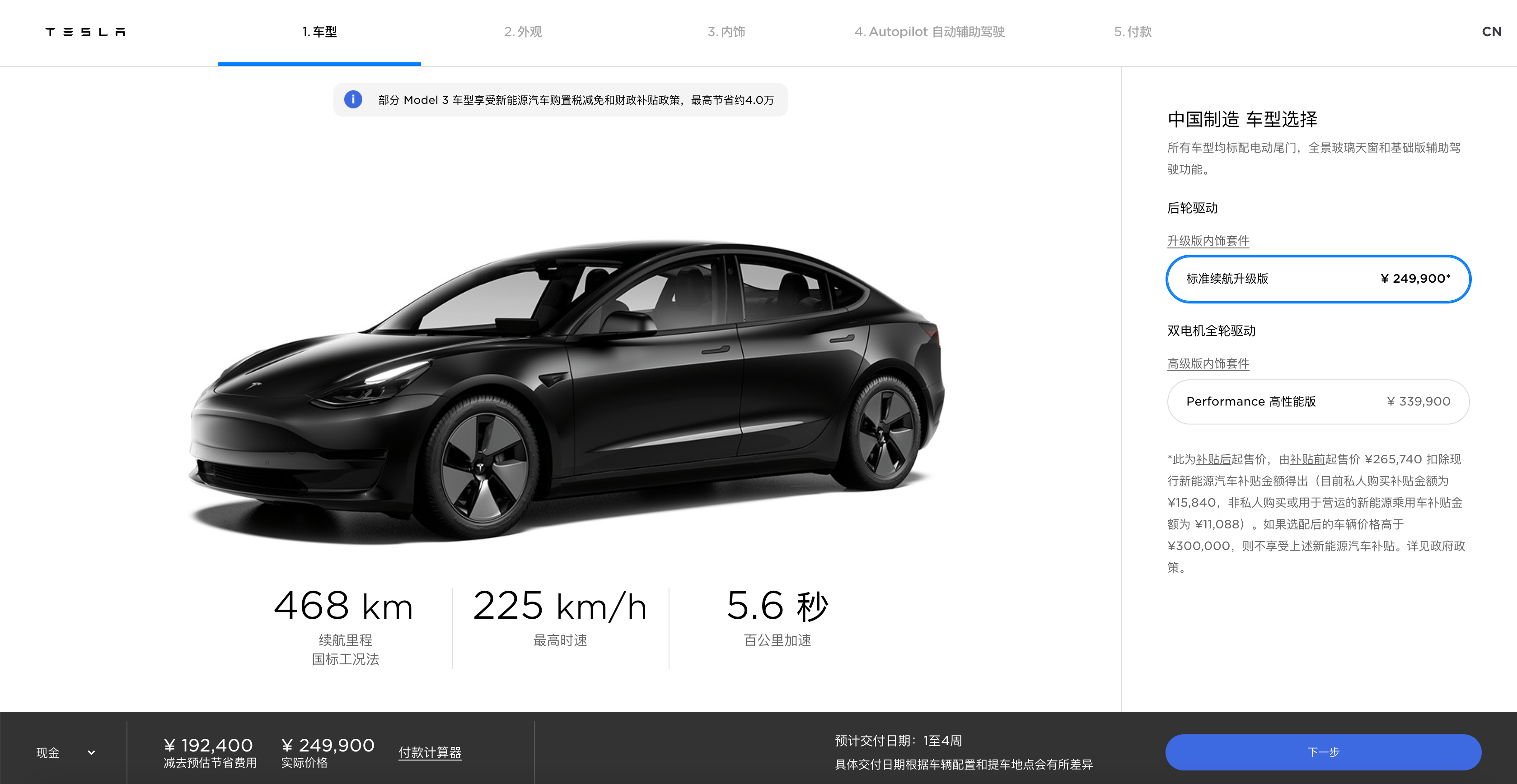 Here are all the changes:
Model Y Price Update
Long range dual motor version: RMB 339,900

Performance high-performance version: RMB 369,900
Model 3 Price Update
Long range rear-wheel drive Model 3 is discontinued

Standard range plus Model 3 remains unchanged

Performance high-performance version: price drops from RMB 419,000 to RMB 339,900
Configuration Changes
– Electric tailgate is now standard on Model 3/Y
Heated steering wheel is now standard on Model 3/Y premium interior

Model 3/Y gets a new interior

Standard range plus/Performance high-performance version of Model 3 gets updated wheel designs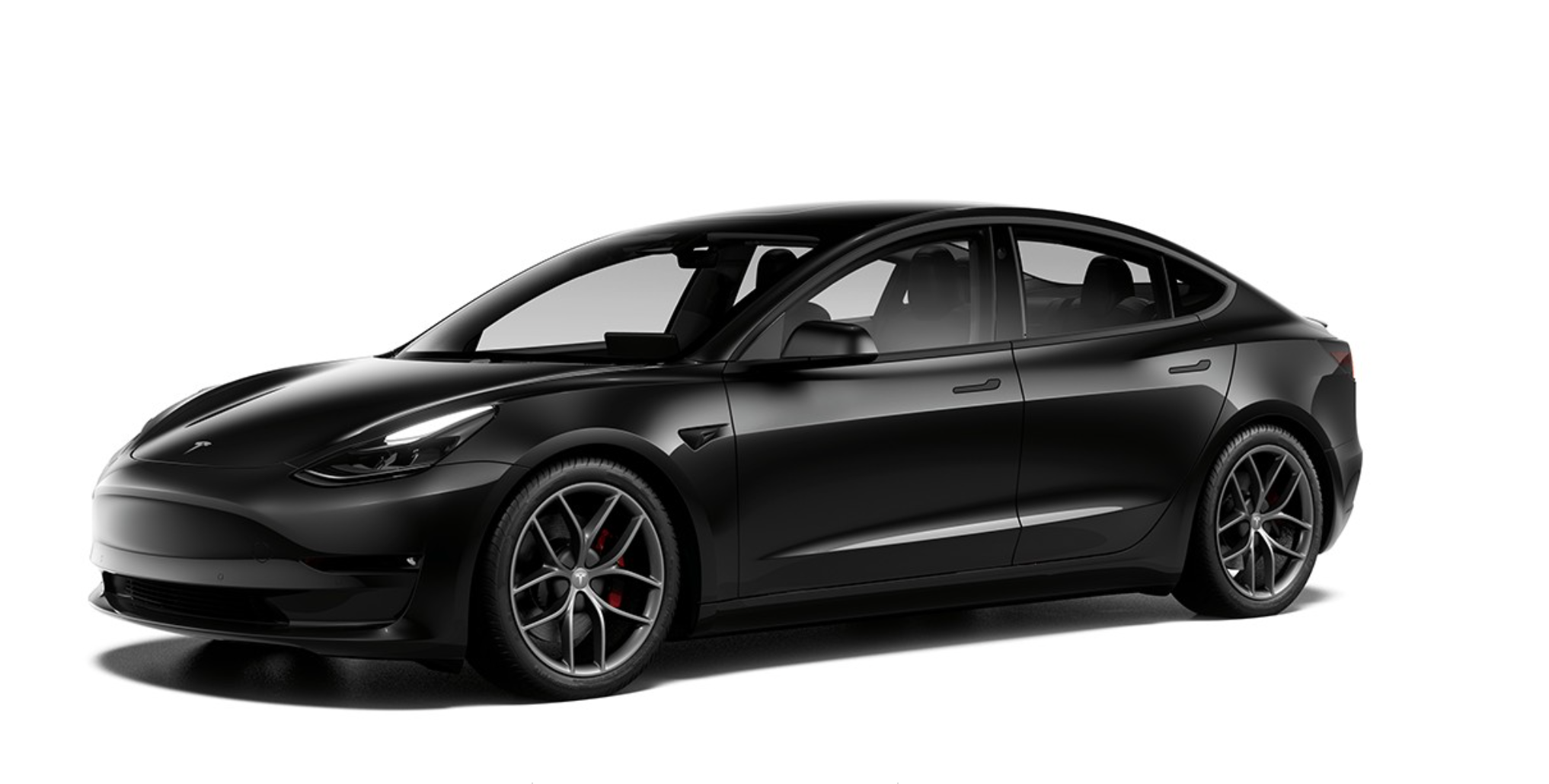 Tesla always surprises people, but even though we have a high threshold, we were still shocked when we woke up and checked our phones this morning, and only then did we realize that it was true after touching our slightly sore knees.
If You Want Performance, Choose Model 3; If You Want Space, Choose Model Y
Let's first take a look at this section for our friends who can't wait to place an order.
After the price update, the most popular long-range Model 3 was discontinued, leaving only the standard range plus and performance high-performance versions, whose price range has increased to RMB 90,000. Therefore, I don't think anyone will struggle with making a decision here; if you have enough budget, just go for the Performance version for its longer range and more powerful drive.
There is only a RMB 30,000 difference between the two current Model Y versions, which brings the following changes:
Acceleration of 0-100 kph improves from 5.1 seconds to 3.7 seconds

Top speed increases from 217 km/h to 241 km/h

Upgraded to 21-inch turbine wheels

Higher-performance brake system

Carbon fiber spoiler

Lower suspension

Aluminum alloy pedalsLet's not even mention the track mode, the significant performance improvement, and the appearance upgrades that can greatly enhance the aesthetic appeal of Model Y Performance version. The upgrades in just the wheels, tires, and brake system alone justify the $3,000 price increase. As previously stated, if you have the budget, go straight for the Performance version.
What is most debated is whether to choose Model 3 Performance or the long-range dual-motor version of Model Y. They have the same price and configuration, so which one should you choose?
If you have extremely high performance requirements and no need for space, Model 3 is an excellent choice. But if your performance demands are not as high, Model Y is definitely a more suitable option. As a more recent product, it not only has more advanced technology and better design details, but also more spaciousness.
After 19 months, the hammer has finally fallen.
As Tesla's fourth mass-produced car, Model Y was released on March 15, 2019. The "larger version of Model 3" was priced between $39,000 and $60,000 that day. After introducing the prices, Musk said, "I think we will sell more Model Ys than S X and 3 combined most likely." Such casual words already show Tesla's high expectations for Model Y.
At that time, there was no pure electric SUV in the market that could compete with Model Y on major performance parameters such as range and acceleration. Since then, the blade of Tesla's potential energy had been dangling over the mid-size SUV market.
364 days later, on March 13, 2020, the first Model Y was delivered in the United States. As of November, Model Y is still in the capacity ramp-up phase, with a total of 63,775 deliveries. Compared to the luxury brand mid-size SUVs, this figure is already close to the Audi Q5's 2019 sales of 67,516 in the United States.
And now, with a price range of RMB 339,900 to 369,900, the blade of Tesla Model Y has been wielded heavily into the Chinese market.
Let's also think about the impact it will have on the industry.
First, Model Y will be another strong attack by Tesla against traditional luxury brands in China. Its main objective is to capture more market share from BBA mid-size SUVs.Tesla has proven that electric vehicles can compete with gasoline vehicles in terms of sales performance by leveraging their differentiated competitive advantages in the Model 3 market. In the Model Y, Tesla's strengths in this differentiated competition are once again amplified.
It is common knowledge that same-brand SUVs are more expensive than sedans. In China, the starting price of BMW X3 is 9.59 million higher than that of 3 Series, and the starting price of Mercedes-Benz GLC is 90,000 higher than that of C-Class. The starting price of Audi Q5 is also 82,000 more expensive than that of A4.
In comparison, the Model Y Performance version is only 30,000 yuan more expensive than the Model 3 Performance version with the same configuration.
Moreover, the Model Y is already a high-end model from the start, with a NEDC range of 594 km and a 0-100 km/h acceleration of 5.1 seconds for the 33.99 million long-range 4WD version. All these mean that the Model Y has an unprecedented high cost performance ratio among vehicles in this class.
Not only is the Model Y's cost performance ratio low, but it also has strong product power.
In a performance comparison by foreign media Edmunds, the Model Y beat the X3M Competition and GLC 63s Coupe, two models from more traditionally expensive vehicles, in lap time and 1/4 mile acceleration.
In addition, according to Doug DeMuro, a well-known car reviewer on YouTube, the Model Y and Model Y Performance ranked first and second respectively on his SUV overall review list, beating all gasoline vehicles.
Therefore, the Model Y is not only an outstanding pure electric SUV, but also an exceptional SUV even considering all gasoline vehicle models. In this respect, it is in the same vein as the Model 3.
Are new forces [in the automotive industry] rivals or allies?
In 2020, NIO delivered 30,000 vehicles; the combined delivery of three models from XPeng Motors is expected to exceed 40,000 vehicles this year; and being a latecomer, Xpeng has also broken through 20,000 vehicles delivered.These achievements and new players have made significant breakthroughs in 2020 compared to themselves. They have found their own place in the sun despite the shadow of the domestic Model 3.
However, with the launch of Model Y in 2021, the game difficulty has increased.
In 2020, relying on Model 3, Tesla achieved a delivery volume of over 100,000 for this model, even though its limited rear space and poor workmanship have become synonymous with Tesla. Nonetheless, Model 3 has still become the best-selling pure electric vehicle in China, even in many unfavorable conditions, outperforming other pure electric vehicles.
Now, Model Y, which makes up for some of the shortcomings, is here. What changes will this bring to the market?
Whether it is our social community or the comments section on Weibo, the biggest concern is NIO ES6 and EC6.
The Ideal ONE relies on range extension and the unique selling point of no range anxiety to distinguish its audience from that of Model Y. What about ES6/EC6?
Let us make a simple comparison.
The long-range four-wheel-drive version of Tesla Model Y with a standard autopilot system is priced at RMB 339,900 with a WLTP range of 594km.
The NIO sports version of ES6 is priced at RMB 432,500 with an NEDC range of 600km and optional 100kWh battery + NIO Pilot.
In terms of range, there is not much difference between the ES6 with the optional 100kWh battery and the Model Y. However, with the addition of NIO Pilot, ES6 is almost RMB 100,000 more expensive than Model Y.
Furthermore, compared to the ES6 without any optional comfort configurations, the Model Y is more advantageous in terms of price.
So, what makes NIO justify charging RMB 100,000 more?
What's even more scary is that while Tesla is lowering prices, it is also continuously improving its weaknesses.
Lacking luxury feel in the interior?
Improve it!
Add wood grain and stitching.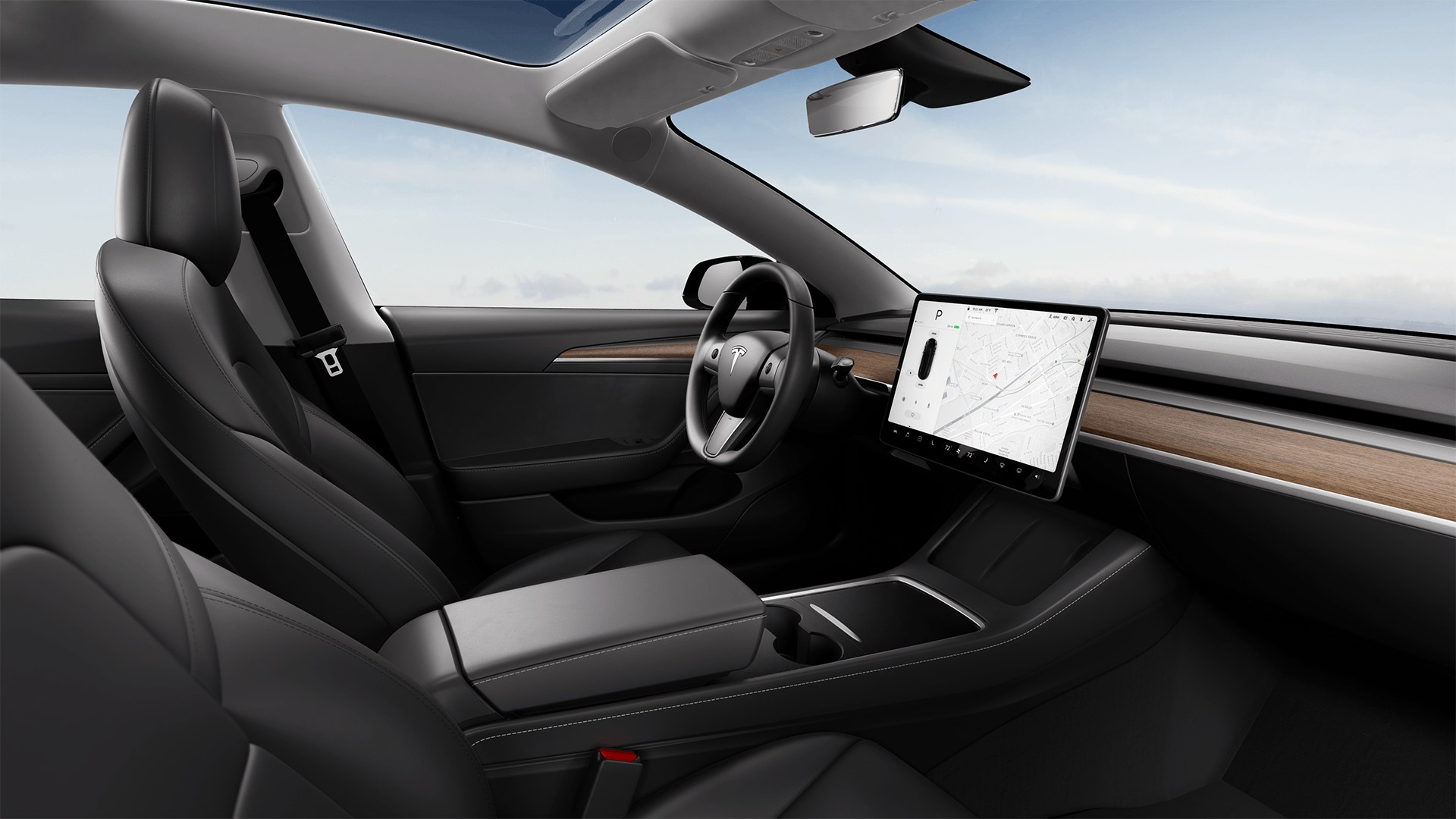 After this redesign, Tesla began to differentiate itself from North America. By carefully examining the interiors of both models, one can see that, compared to North American models, the Chinese Model 3/Y has an additional wood-grain decorative strip on the door panel. This is also the first time that domestic Tesla has surpassed North America. The Chinese Model Y has already been upgraded to include the new interior, while North America is still using the old one.
Not enough features?
Add more!
All Model 3/Y models now feature an electric tailgate, and the higher-priced versions have an added heated steering wheel.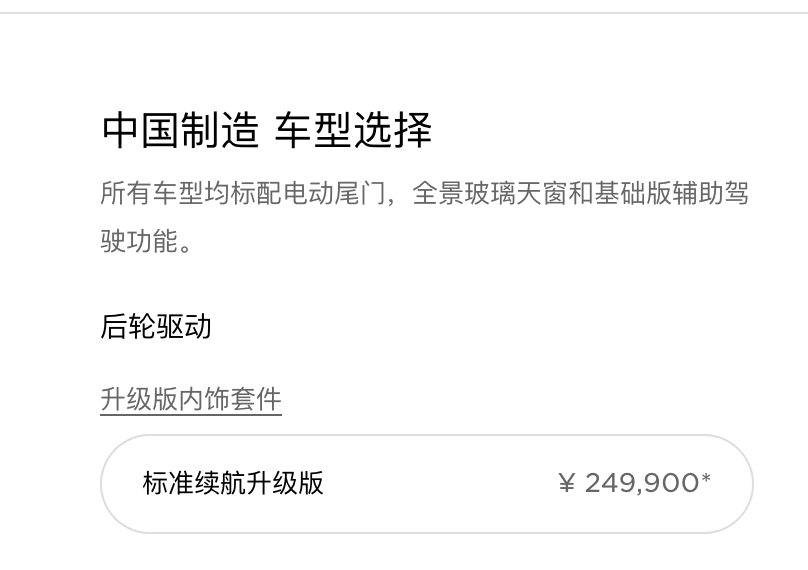 Differentiated competition is the only way out for other players in the "intelligent electric" track.
This is my first thought after seeing the price of Model 3/Y.
Following Tesla's strategy, it's not only difficult to have a leading advantage in core competitiveness such as "electricity" and "assisted driving", but also hard to win the price war against Tesla. Therefore, enough "differentiation" is the only way out for other players in the "intelligent electric" track.
When there is enough differentiation, everyone can actually borrow from Tesla and share the portion that Tesla snatched from the gasoline car market.
In conclusion
Today, our garage's Tesla community is filled with various screenshots of car orders, and amidst the cheers of new car owners, I believe that many other players are already holding emergency meetings to discuss countermeasures. 2021 has been tumultuous since the first day, with Tesla leading the way in breaking new ground.
This article is a translation by ChatGPT of a Chinese report from 42HOW. If you have any questions about it, please email bd@42how.com.