Weekly Index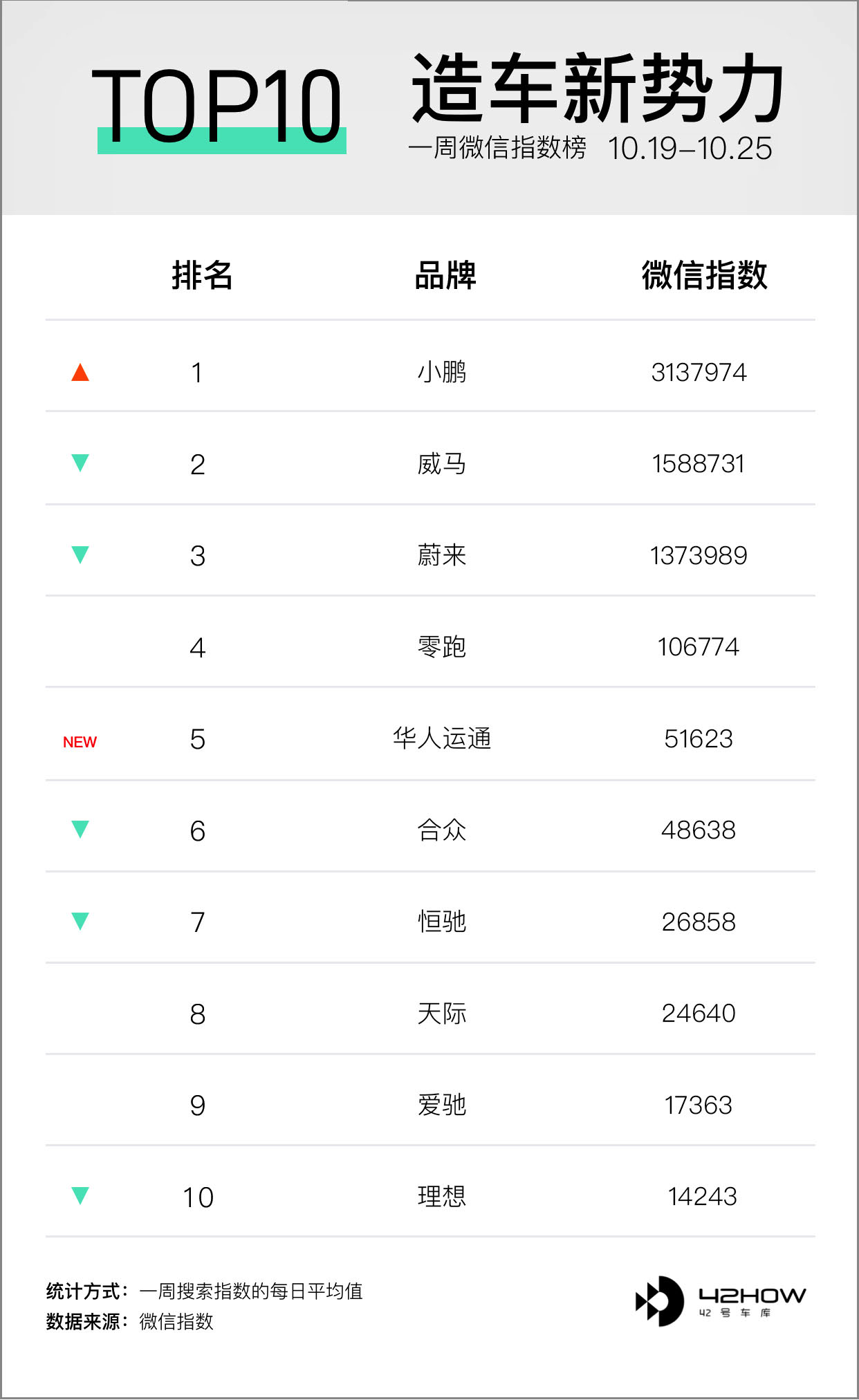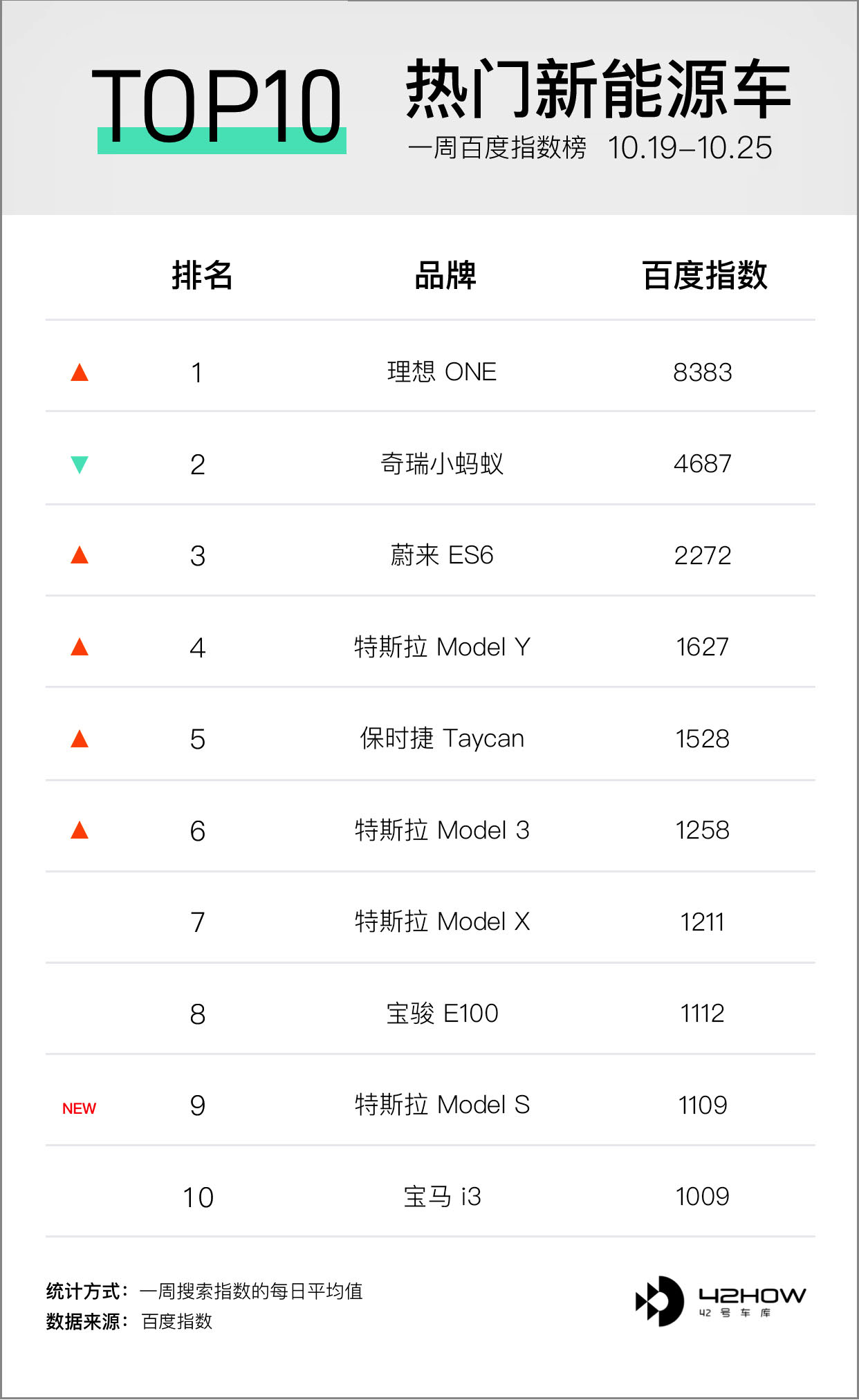 Weekly News
Tesla FSD Beta Version Video Exposure
On October 22, overseas users who received the Tesla FSD Beta version update released related experience videos, and the vehicle receiving the update was the Model 3.
The following are the highlights of the video:
Recognizing the road width and basic lane information of the current road section and other warning signs
Passing through the current intersection or stopping based on the red and green light information
Turning at an intersection and actively avoiding oncoming vehicles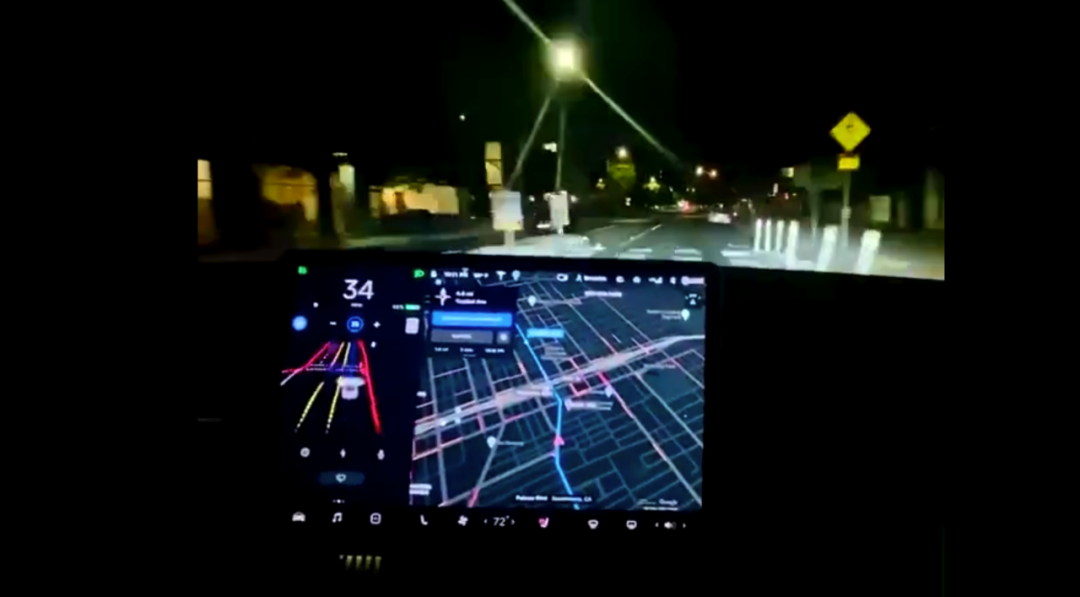 After that, Elon tweeted that the price of FSD would increase by $2000. The price increase only applies to the new version of FSD in the United States, and Tesla China has confirmed that there will be no price increase for the time being.
As more and more videos are released by early adopters, foreign users have also discovered some peculiarities. For example, some users pointed out that in the demonstration content on the Internet, there were more than one instances where "the road environment that cannot be seen visually, and even has not yet appeared in the field of view, has already appeared completely and clearly in the central control UI". This kind of scene is not normal.
This user judged that Tesla used pre-scanned high-precision map data in the street driving function of FSD, which does not match Tesla's FSD Beta version that has been advertised as "visual pre-construction graphics" that does not require maps and road information.
Other users also expressed their own opinions, among which a comment with a high number of likes believes that Tesla did not say that the perception of FSD "only uses vision". If the map data is available in the area where it is driven, why not use it? Moreover, Tesla does have some map data in the in-vehicle navigation system.Translate the following Markdown Chinese text to English Markdown text, in a professional manner, preserving HTML tags inside Markdown, and only outputting corrections and improvements. Do not write explanations.

Quick Review:
The arrival of the FSD Beta version has once again put Tesla at the forefront of the industry. Although it is not yet a fully official version, from the existing features and the demonstration videos shared by netizens, the prototype of the "fully automatic driving ability" promised by FSD has been demonstrated.
When it is widely promoted, Tesla will become the world's first mass car manufacturer that has autonomous driving capabilities that can cover both urban roads and highways. If you're in the US and plan on driving from New York to Washington D.C. in the near future, having a Tesla with the new FSD installed might be worth considering, since it would be very tempting to have a trip from start to finish where the vehicle does not require any intervention at all from you.
On October 24, Shanghai issued a new traffic management policy, outlining the following adjustment details:
Shanghai Public Security Bureau issues new traffic management policy
Starting from November 2, 2020, from 7:00 to 20:00 each day, the following vehicles are prohibited from passing through the following roads (except for Saturdays, Sundays and statutory holidays), including:
Yan'an Elevated Road (eastern section of S20 expressway)
North-South Elevated Road (from Huma Road to Luban Interchange)
Yixian Elevated Road (entire line)
Hunan Elevated Road (entire line)
Middle Ring Road (entire line)
Huaxia Elevated Road (entire line)
Luoshan Elevated Road (entire line)
Holiday Resort Elevated Road (from Middle Ring Road to Xiupu Road section)
Inner Ring Elevated Road (except for the section from Zhongshan North 2nd Road entrance to Jinxiu Road exit on the inner ring, and from Jinxiu Road entrance to Huangxing Road exit on the outer ring)
Longdong Elevated Road (from Luoshan Road to Middle Ring Road)
Hongmei Elevated Road (from Middle Ring Road to the eastern section of S20 outer ring expressway)
Beizhai Road Tunnel
Nanpu Bridge
Lupu Bridge
Yan'an East Road Tunnel
For roads that are not mentioned in the announcement, the traffic management measures for the above-mentioned vehicles will be executed according to the traffic signs and markings on the road.

Starting from the first working day after the May Day holiday in 2021, from 7:00 to 10:00 and from 16:00 to 19:00 each day, small passenger cars with license plates from other provinces or cities will be prohibited from traveling on surface roads inside the Inner Ring (excluding boundary roads), except for Saturdays, Sundays and statutory holidays. The Shanghai Public Security Bureau will issue another announcement at that time.
Quick Review:Translation:
In other first-tier cities, Shanghai's loose traffic policy is very rare, but as the traffic environment continues to deteriorate, policies are also constantly tightening.
After the new policy was announced, the flexibility of out-of-town license plates in downtown Shanghai was greatly reduced, which also made many friends who commute to Shanghai with out-of-town plates give up the idea of buying a car.
The latest data released by Shanghai International Auction Co. today shows that the price of fuel license plates has skyrocketed from less than 100,000 yuan to 150,000 yuan.
The biggest beneficiary behind this is new energy vehicles. Currently, as long as you have paid social security in Shanghai for one year and have had no more than 4 violations in the previous year when applying for a license plate, you can get a new energy license plate without obstruction.
So what changes will there be in Shanghai's new energy vehicle sales from November onwards? Let's wait and see.
XPeng Motors holds the new "Intelligence Day"
On October 24th, XPeng Motors held the new "Intelligence Day" at South China University of Technology. Similar to Tesla's Battery Day and NIO Day, XPeng will release its latest technological achievements and its future research and development direction on that day. Here are the key points of this event: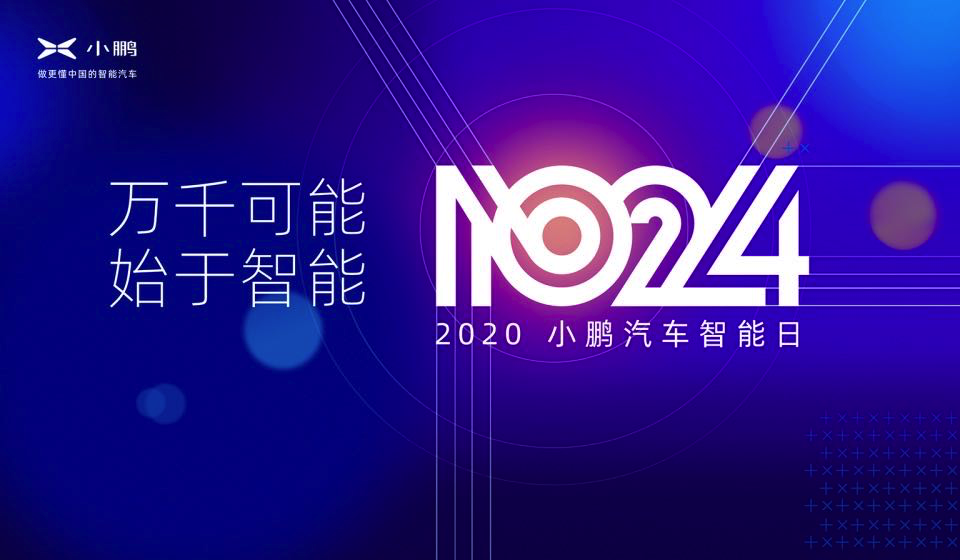 NGP High-speed Autonomous Navigation Driving
At the "Intelligence Day", XPeng Motors officially demonstrated the use of NGP on high-speed roads through a video clip. Here are the functions that appeared in the NGP demonstration video:
Automatically entering the main road through the ramp;
Automatically adjusting the current speed according to the speed limit sign;
Continuously change lanes in heavy traffic areas "During this process, overtaking slow vehicles in front, entering the fast lane, changing lanes 2 km in advance towards the exit direction, actively decelerating and pulling away from other vehicles to prepare for the next ramp";
Passing through a continuous sharp bend;
Through a continuous merging ramp "In some areas, multiple ramps are set up due to large local traffic flow, which will merge into the main road after the overall flow is completed";
Active displacement to avoid other vehicles when changing lanes "If the vehicle encounters other vehicles during the automatic lane change process, it can automatically return to the current lane".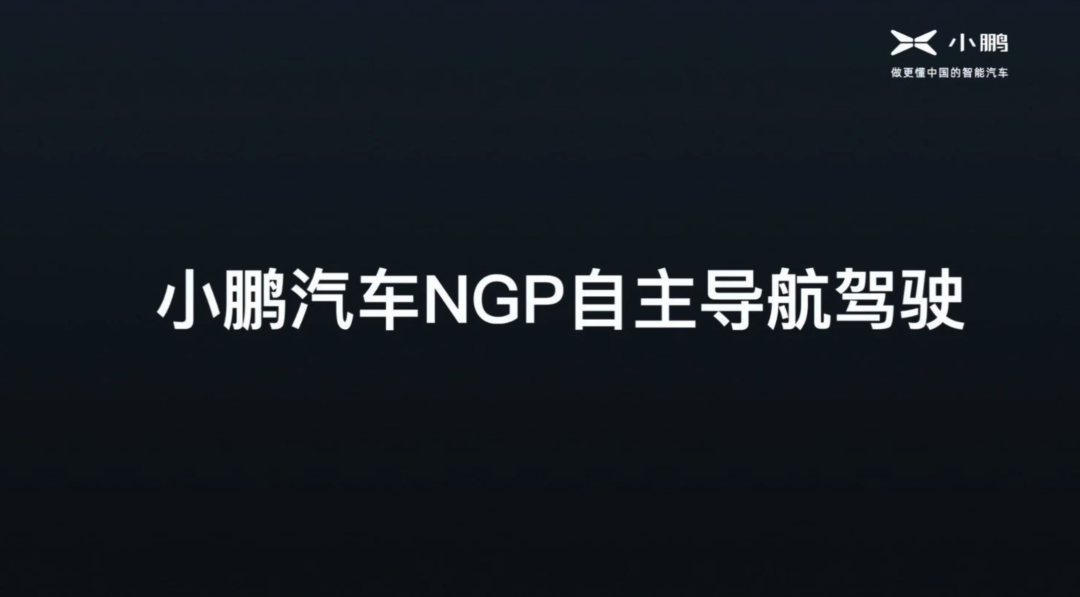 "To be the most knowledgeable about autonomous driving in China" is the flag XPeng Motors set at this "Intelligence Day." Regarding this, XPeng Motors' Vice President of Autonomous Driving, Wu Xinzhou, listed three points:
The highest scene coverage rate
Low manual takeover rate
The highest efficiency in changing lanes
Parking Memory Parking
After several self-parking attempts, the vehicle can cooperate with the cloud to memorize the parking route. When the user returns to the parking lot next time, they can park autonomously without manual intervention. The entire process includes:
Automatic downhill entry into the underground parking lot
Recognizing the parking spaces along the route
Actively avoiding incoming vehicles
Maneuvering around exiting vehicles in other parking spaces
Stopping and actively avoiding pedestrians
Parking the vehicle upon arrival at the parking space
Intelligent Data from Users
Apart from the new features, XiaoPeng Motors also displayed the usage rates of car navigation, music, and voice features of XiaoPeng P7 owners in September:
Navigation usage rate: 73.9%
Music usage rate: 90.5%
Voice usage rate: 93.2%
I believe that users who have experienced the XiaoPeng intelligent cabin can deeply appreciate these results.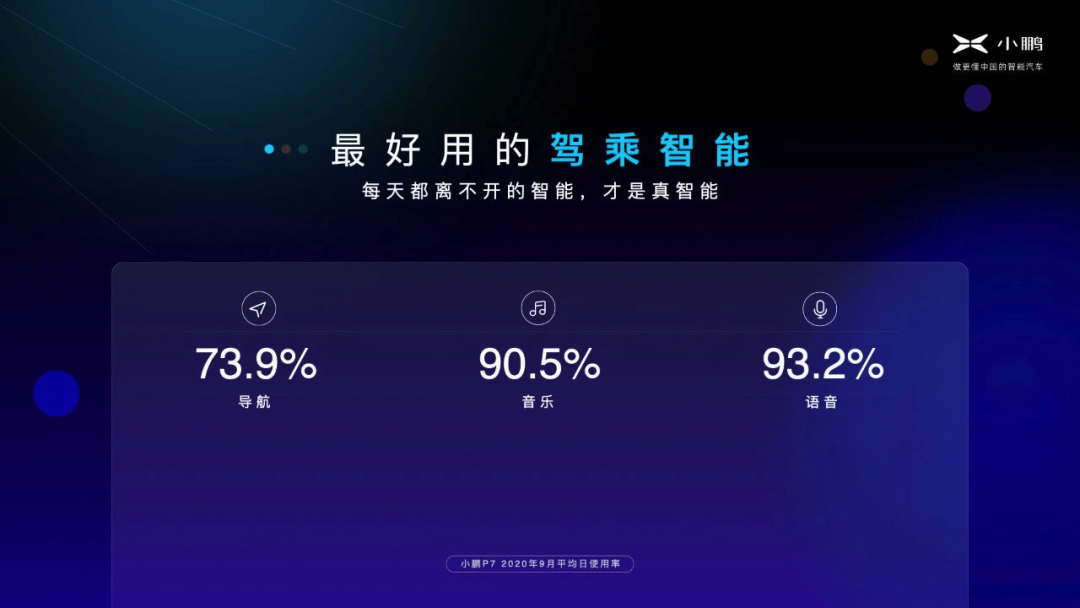 The Challenge Launched by He XPeng
At the end of the event, He XPeng, CEO of XiaoPeng Motors, announced that in the first quarter of 2021, vehicles equipped with the NGP function would reach Beijing from Guangzhou through autonomous driving, covering a distance of more than 2000 kilometers.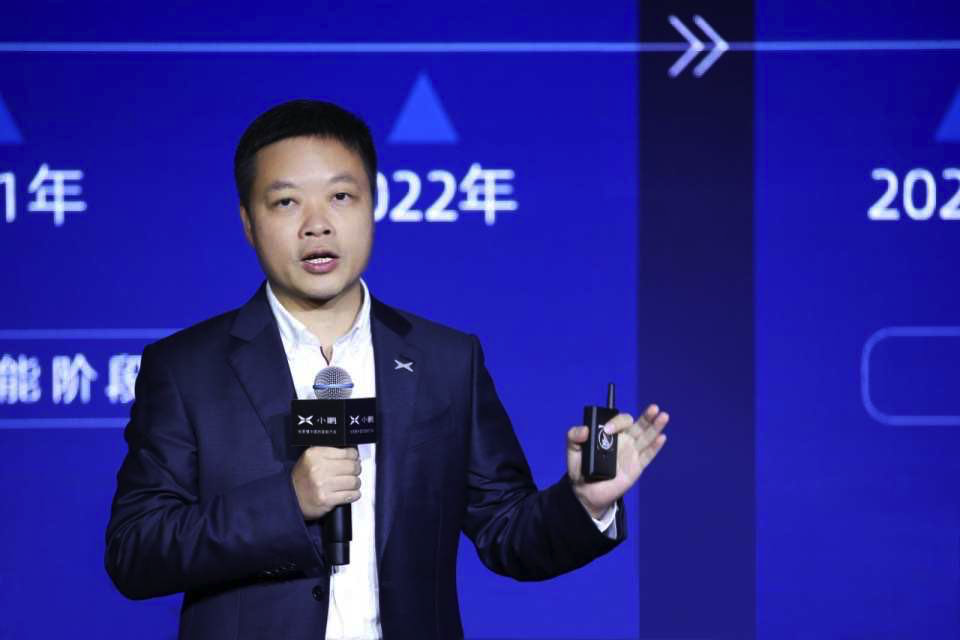 Regarding Production Capacity:
On October 20th, the 10,000th P7 of XiaoPeng Motors was officially released. From the delivery of the first P7 on June 28th to the 10,000th vehicle released on October 20th, it took less than four months, a total of 114 days.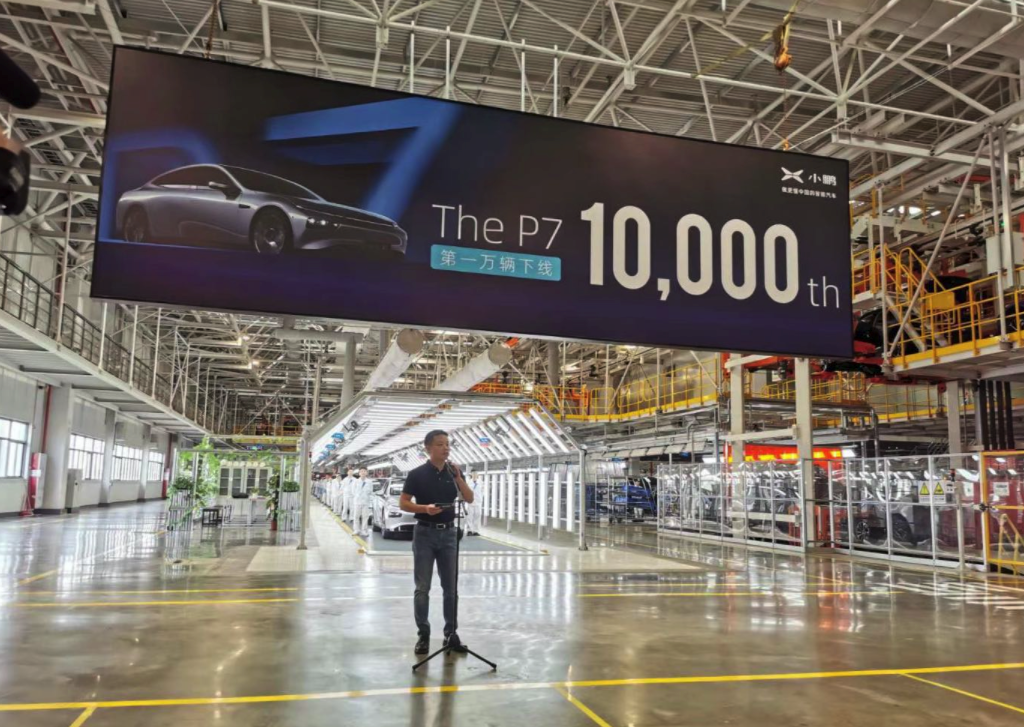 Quick Comment:
This "Intelligence Day" is full of practical information. With the launch of NGP, XiaoPeng Motors will become the third domestic automaker to achieve autonomous driving on highways. In addition, XPILOT 2.5's auxiliary driving system is also being pushed to users, along with the excellent "all-scenario voice" system, which will further enhance the market competitiveness of XiaoPeng P7.
Let's take another comparison:
Domestic Model 3 Standard Range: 249,900 yuan "Equipped with basic Autopilot, can automatically assist in turning, accelerating, and braking according to other vehicles and pedestrians within the lane, NEDC range of 468 km."- XPeng P7 Rear-wheel Drive Long Range Smart Enjoyment Edition: 249,900 yuan "Equipped with XPILOT 2.5, the functions that can be realized include: ACC full-speed adaptive cruise control system, LCC lane centering assistance system, ALC automatic lane change assistance, ATC adaptive cornering cruise, automatic parking assistance system, NEDC range of 586 km"

XPeng P7 Rear-wheel Drive Long Range Smart Excellence Edition: 259,900 yuan "Equipped with XPILOT 3.0, the functions that can be realized include: ACC full-speed adaptive cruise control system, LCC lane centering assistance system, ALC automatic lane change assistance, ATC adaptive cornering cruise, automatic parking assistance system, parking memory parking, can realize NGP, NEDC range of 586 km"
At the Intelligent Day earlier, the advantage of P7 was not obvious with this kind of price. But now, with the blessing of NGP, stronger endurance, and voice system, even if Tesla revived EAP, it seems difficult to determine the winner.
So the question is, if you have 250,000 yuan now, who would you choose?
Does NIO establish an independent hardware team?
On October 21, 36Kr reported that NIO had established an independent hardware team called "Smart HW (Hardware)" internally. Relevant sources revealed that Li Bin had been looking for a technology leader with a silicon-based background for several months.
Quick Comment:
"Those who really take software seriously should make their own hardware." This is a famous quote from the genius computer scientist, Alan Kay, which has been quoted by Steve Jobs and He XPeng. After Tesla broke up with Mobileye, it decided to pursue a self-developed route, and Tesla's subsequent success has provided a reference for other manufacturers. However, the fact that Tesla succeeded does not mean that this path is 100% guaranteed to succeed. For NIO, this path will be extremely difficult, and if successful, the returns will also be extremely generous.
Ideal Car releases V1.4 version of its in-car software
On October 20, Ideal Car began to push V1.4 version of its in-car software to users.
This upgrade of the in-car software includes more than 20 upgrade optimizations, among which the addition of assisted driving mileage statistics is particularly important.
After the upgrade, car owners will be able to see the mileage and duration of assisted driving use, and the data can be compared with the total mileage and total driving time of the vehicle. This way, car owners can have a more intuitive understanding of their utilization rate of assisted driving.## Driving improvements
The driving section has been optimized with regard to the LKA (Lane Keep Assist) system. The required steering wheel torque for LKA to enter pause mode has been optimized, as well as the LKA penalty mechanism, which has been adjusted to allow LKA to be reactivated after parking in P gear. Additionally, the LKA system now employs an optimized hand-off alarm strategy, which extends detection time and avoids frequent alarms.
Other improvements
Other improvements include the addition of a "car wipe mode" aimed at preventing continuous operation of the air conditioning system and other equipment while manually washing the car, as well as Bluetooth connectivity support for iPad devices.
Version 1.3 boasted "massive updates," whereas this OTA update has been more focused on addressing objective issues and improving user experience in terms of detail and practicality. Notable improvements include:
The "car wipe mode" addition.
The prevention of frequent locking and unlocking of doors resulting from frequent touch caused by washing the handles.
The reintroduction of the reservation charging function for better planning of charging times.
Although Li Xiang, the founder of Li Auto, has stated their goal of obtaining a ticket for the future of autonomous driving, their progress has been relatively slow compared to the two other major new energy vehicle companies, XiaoPeng and NIO, which have already launched their driver assistance technologies, NGP and NOP, respectively. Recently, Li Auto announced that its next full-size SUV vehicle will be equipped with the high-performance NVIDIA Orin chip. However, in the short term, it is recommended that Li Auto catch up on their high-speed navigation assistance in terms of driving.
First LYNK & CO Zero Concept Body off the Production Line
On October 22, the first LYNK & CO Zero Concept body off the production line was delivered. It is expected to be released in the second half of 2021.
The following are some key features of the LYNK & CO Zero Concept:
The maximum NEDC range of the Zero Concept is expected to be over 700 km, with a 0-100 km/h acceleration time of under 4 seconds. The car also features frameless induction doors and an adaptive suspension system.
The Zero Concept uses a large amount of high-strength steel, cold-formed aluminum profiles, and other new materials for lightweight design. The car utilizes honeycomb steel plate structures on the chassis for both lightweight and structural strength. In the event of a collision, it provides reliable protection for the battery.
The use of different materials in different parts of the car requires a development process that allows for proper material connections. LYNK & CO has employed the FDS flow drilling screw tightening technology to balance safety and multi-material connections.
Safety-wise, the Zero Concept has a steel-aluminum hybrid body, magnesium-aluminum materials for peripheral energy absorption components, and high-strength steel for the passenger cabin.Using SPR self-piercing riveting technology can improve firmness, which is widely used in the aviation field. In addition to improving firmness, it also benefits lightweighting.
Quick review:
In the field of fuel vehicles, 03+ and TCR have proven Lynk & Co's R&D capabilities. Coming to the new pure electric field, the performance of the ZERO concept after mass production is worth looking forward to. From the known data, it will be a powerful product. Now we just need a price that can make consumers heartened.
This article is a translation by ChatGPT of a Chinese report from 42HOW. If you have any questions about it, please email bd@42how.com.