Introduction
This year, Hongguang MINI EV was launched in July as a phenomenal vehicle, with a starting price of 28,800 RMB and a range of 120-170 km. Its product definition is completely independent of subsidies and aimed at targeted marketing in third-tier and below cities. Here, we will sort through the sales data to see where it really sold.
Production and Sales Data
From the current situation, the mini EV is in a rapid growth period, with a production volume of 20,000 units (cumulatively over 43,800 units), sales volume also reaching 20,000 units, and insurance registration is relatively lagging, but has also reached 14,733 units (cumulatively 28,200 units).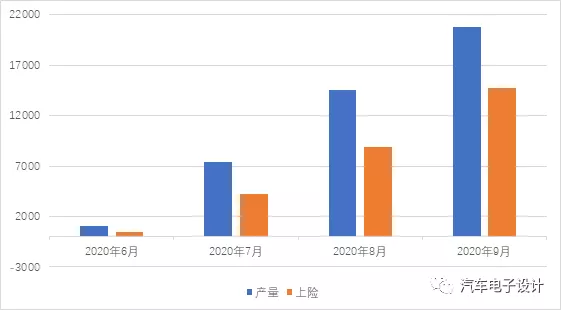 From the provincial distribution, the demand for Wuling mini EV and the previous subsidy-early A00 market demand distribution are consistent as shown below.
1) The first two major markets are Shandong and Henan, accounting for about 35% of Hongguang MINI. Shandong and Henan are both the largest low-speed electric vehicle sales regions in China (in 2019, the national low-speed electric vehicle sales were approximately 1.28 million vehicles, with a high ownership of 5 million vehicles, and Shandong sold approximately 670,000 and 450,000 vehicles, respectively, in 2018 and 2019). This time, Wuling's pricing strategy of 28,800 RMB can be regarded as completing the upgrade and replacement of low-speed electric vehicles.
2) Guangxi accounts for 8.4% of Hongguang MINI. As the production base of SAIC-GM-Wuling, it has higher policy support and brand recognition.
3) The next top-ranking provinces are Jiangsu, Zhejiang, Hebei, and other regions. The proportion of first-tier and second-tier cities is very low (accounting for only 16%, but young people in some cities still buy it), and the vast majority of sales are in third- and fourth-tier cities (more than 30% and 22%, respectively).
The ownership of the MINI EV is mostly personal, with a share of more than 85%, and the vast majority were purchased by individual consumers. There is still a market of one million low-speed electric vehicles in third- and fourth-tier cities and rural areas every year. With the standardized development of two-wheeled, three-wheeled, and other electric vehicles, four-wheeled electric vehicles are also becoming standardized, and the product definition of Wuling with a high cost-performance ratio and a price of 28,800 RMB can be accepted by most families in third- and fourth-tier cities. In first- and second-tier cities, the young generation also has certain consumption capabilities, for it's a complete mobility vehicle.
Q4 2020 trend
The leading factor for the phenomenal performance of Mini EV's sales is the high cost performance. Its price is only 1/2 of similar products. This car allows SGMW to achieve an important position in its development, as shown in the figure below, with insured data accounting for 20.5%.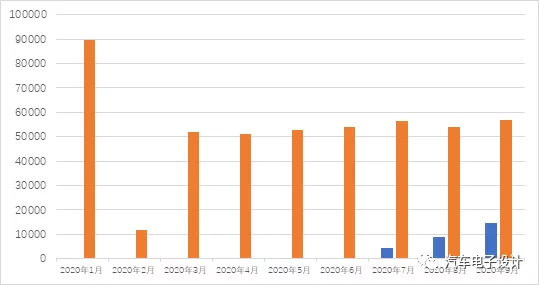 1) Enterprise value
In this sense, the Mini's low version is priced at only 28,800 RMB, less than half the price of Chery eQ (59,800-69,800 RMB). The difference in new energy credits and 170km versions is not significant.
If the calculation method switch to 0.0056×R+0.4 in 2021 and when 100≤R<150, the travel distance adjustment coefficient is 0.7; when 150≤R<200, the travel distance adjustment coefficient is 0.8. We should be able to see that the sustainability in the last three months of 2020 is relatively strong in the short term.
2) Market value
Hongguang Mini EV is based on drastically reducing cost. In China, what we dared not do was to reduce the travel range. Major competitor models have high prices, and before electric vehicles could survive in China, they had to meet the travel requirements of the subsidy standards. In 2020, the subsidy threshold for pure electric cars increased from 250km to 300km, and the range had to be increased by adding batteries to meet the requirements for subsidies of A00 level competitors.
Wuling's approach this time is based on the fact that 90% of car owners in small places travel within a radius of 30-40 km per day, and the single travel time does not exceed half an hour. Teach users to solve the issue of charging and travel range, so that consumers can meet the needs of short-distance commuting, supermarkets/markets purchasing, children picking up and dropping off, etc. A range of 120 km can still meet planned trips. And, based on some basic requirements for passenger cars, it stands out among a bunch of electric vehicles, and its cost performance is just that good.
ConclusionWith the appearance of SGMW's Hongguang MINI, the original price system of A00-level electric vehicles has been disrupted. It has attracted consumers of low-end fuel cars and some low-speed car users without using the state financial subsidy resources. A unique path has been opened, and the value that can be brought by the supply chain can be carefully evaluated. Especially since subsequent car companies will also follow this path.
This article is a translation by ChatGPT of a Chinese report from 42HOW. If you have any questions about it, please email bd@42how.com.