On September 23rd, Lynk & Co held a press conference comparable to Tesla's "Battery Day". Geely Group CEO An Conghui personally delivered a speech, demonstrating the significance of the conference.
The two "products" released at the conference also attest to this point.
The first is that Lynk & Co officially released its self-developed pure electric vehicle platform, SEA, which is geared towards positive research and development.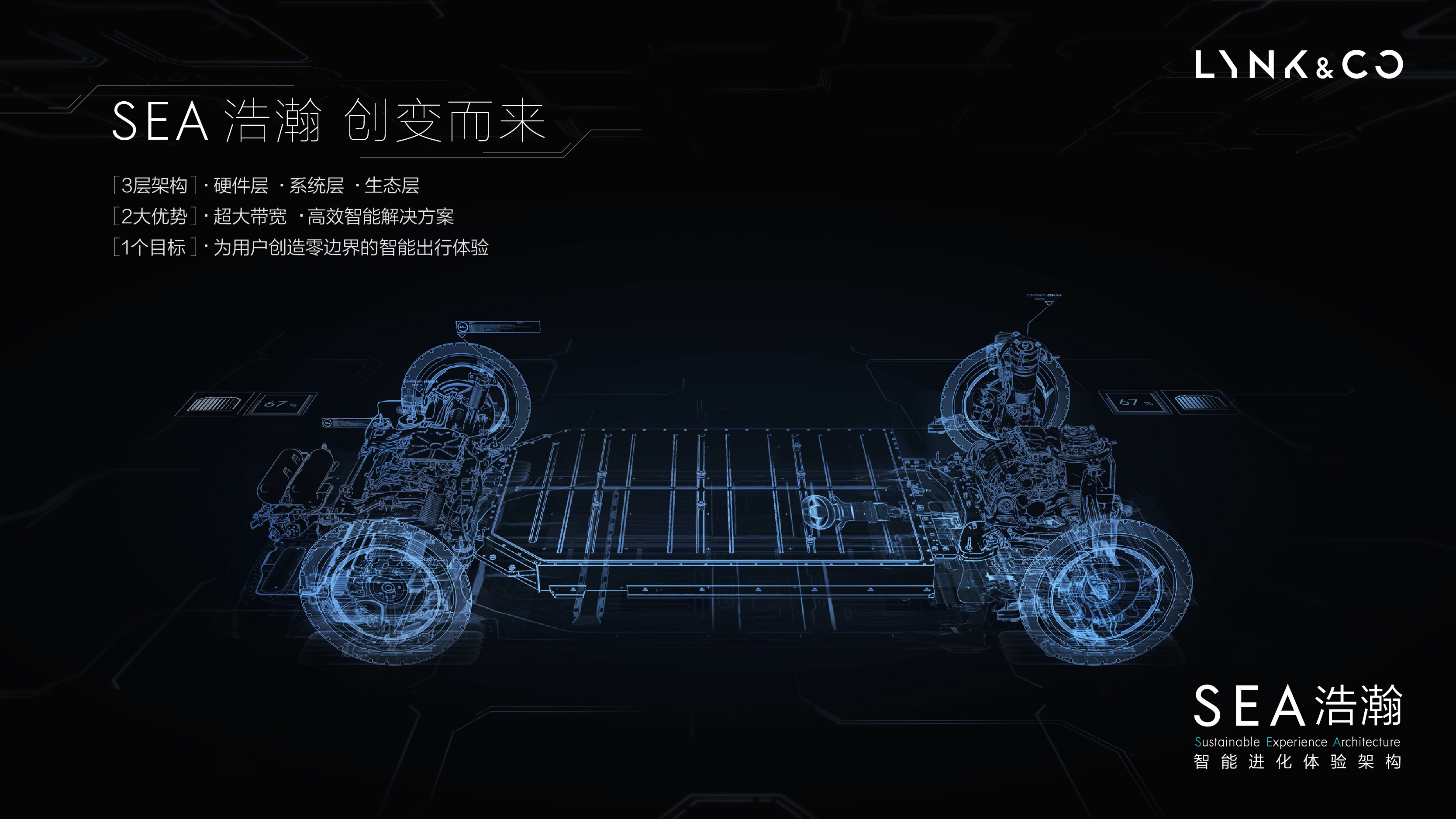 The second is the debut of the first pure electric vehicle model based on this platform – ZERO concept.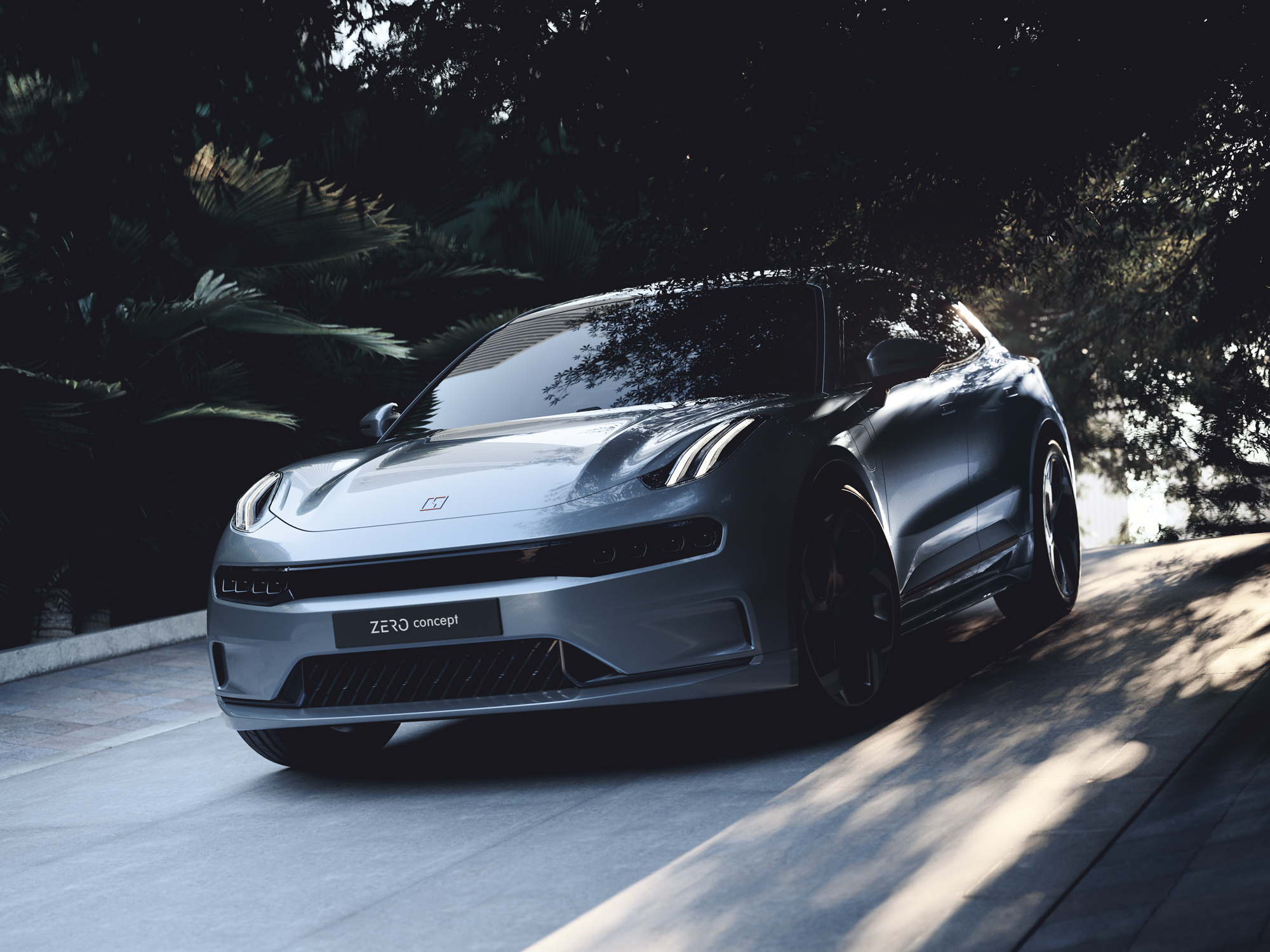 As a four-year-old company, Lynk & Co has succeeded in the traditional automotive field. However, beyond traditional power vehicles, Lynk & Co also needs to explore new roads. "SEA" is the solution offered by Lynk & Co, which also marks the beginning of Lynk & Co's full-scale intelligent electrification.
After being bombarded with information about Battery Day in the morning, I thought Lynk & Co's press conference might just be routine. But I was wrong. That's what I said to myself when I was halfway through the conference.
The entire press conference was filled with valuable content, with less family gossip and more technical substance. From the platform to the model, the content was overwhelming. An Conghui was interrupted multiple times by rounds of applause and paid thanks, which was an indication of the success.
Bombardment-like Content Overview
The venue for the press conference was still very characteristic of Lynk & Co. with a full sense of "street fashion." However, many people referred to it as a "nightclub style," but either way, as a young person, it's cool in my opinion.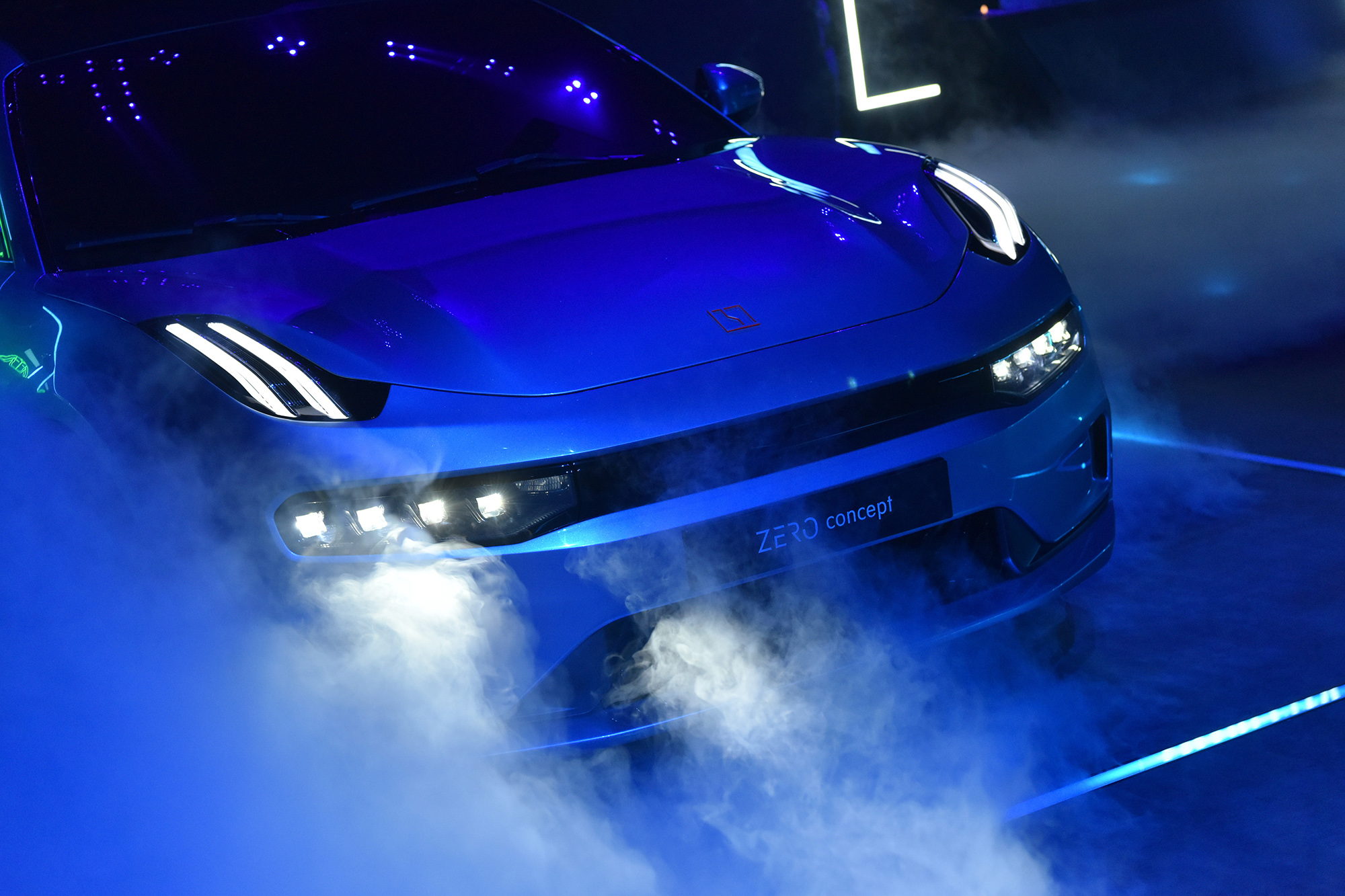 An Conghui personally hosted the event, directly introducing the first protagonist of the conference – "SEA" architecture.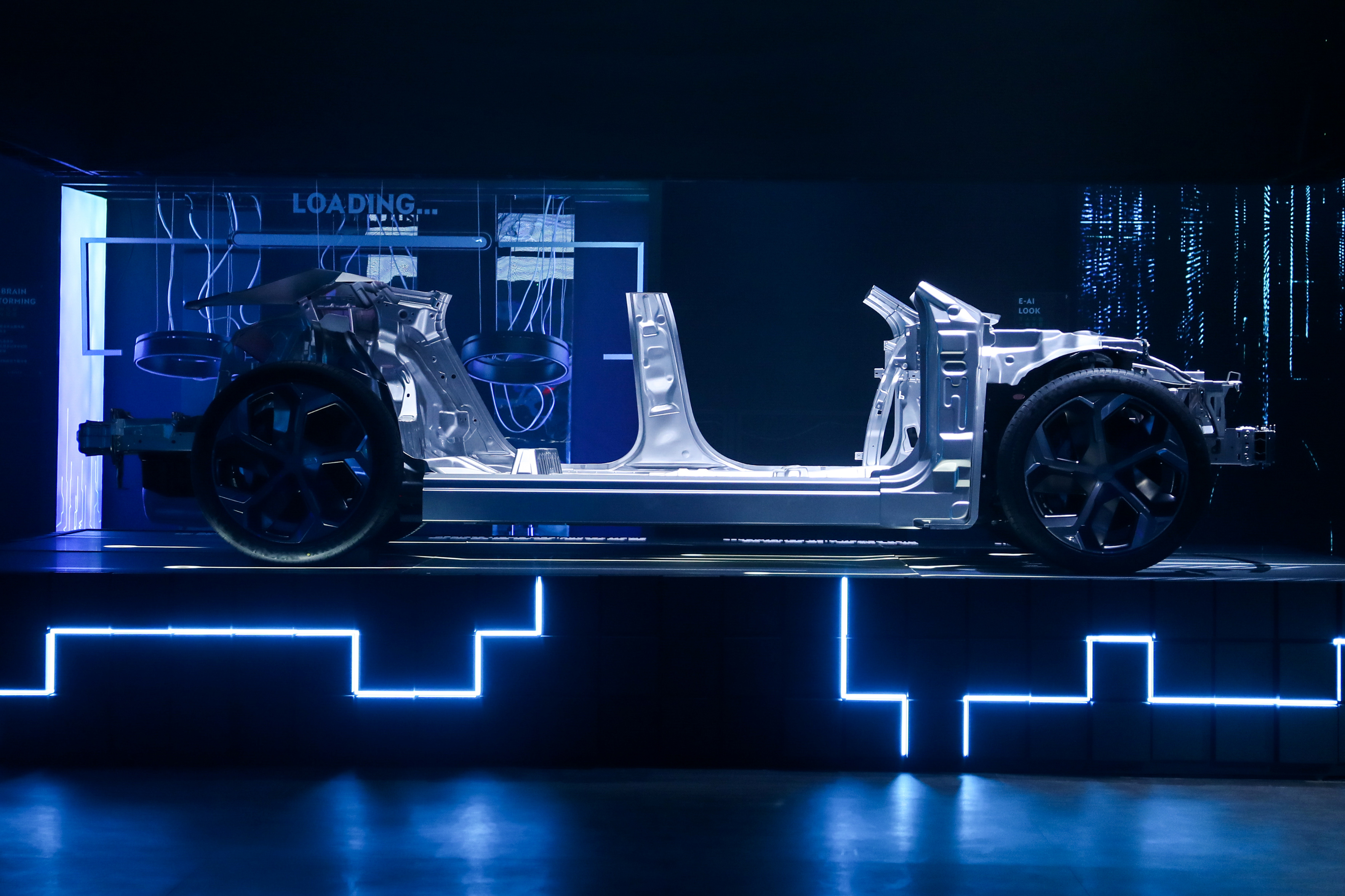 SEA is a set of pure electric intelligent vehicle architecture that mainly defines the technical composition of the entire vehicle, including space, electronic, intelligent, automatic driving, safety, performance, etc. Therefore, it is no longer limited to a single platform size product.
Geely Group stated that this architecture has two core capabilities: the new maximum bandwidth intelligent pure electric architecture and the world's most efficient intelligent electric vehicle solution.The SEA platform is an entire vehicle platform that includes two main structures: the mechanical system of the entire vehicle and the intelligent system of the automobile. In an interview, An Conghui also indicated that "SEA is Geely's focus on the future and is a product that serves users following careful consideration."
From the bottom up, the SEA architecture is defined as the hardware layer, system layer, and ecological layer, which correspond to the entire vehicle hardware system and intelligent architecture, as well as the partner ecosystem within the automotive industry.
The SEA architecture covers a wide range of content, and I have summarized the core and highlighted aspects, as follows:
The vehicle model has the world's highest bandwidth;

The launch of a power battery with 200,000 km non-attenuation and 2 million km lifespan under NEDC conditions;

The 110 kWh integrated battery pack without a module has an NEDC range of over 700 km;

The single motor achieves a maximum output power of 475 kW and is equipped with a self-developed high-performance two-speed electric drive gearbox. The maximum wheel end torque can reach 8000 N·m;

The dual-motor layout with a maximum of 600 kW shortens the hundred-kilometer acceleration time to within 3 seconds;

In terms of charging rate, the maximum 800-volt high-voltage system can achieve a 120 km range after 5 minutes of charging.
The world's largest bandwidth platform that is fully modularized
If it were not for An Conghui's introduction, I would have thought that SEA has the world's largest network bandwidth based on its literal meaning. In fact, this is SEA's feature of "high scalability." Regarding the concept of the vehicle platform or "modularization," it is not a strange term anymore. Simply put, the chassis can expand to different sizes of vehicles within a certain range, and vehicle components have a higher degree of versatility. In the traditional automobile industry, this facilitates the control of research and development and production costs between multiple vehicle models.
It can also effectively manage suppliers and facilitate the control of vehicle quality. Of course, this modularization method is still applicable to pure electric platforms. The SEA platform, based on modularization, has two characteristics:
The first feature is very broad expansion capability.
"SEA covers the entire range of A to E class vehicles," An Conghui stated. "Based on this architecture, sedan, SUVs, MPVs, compact cars, and even sports cars can be produced. The covered vehicle wheelbase can reach 1800-3300 mm."
In other words, the produced vehicle models cover from microcars, such as the Chery Little Ant, to large cars, such as the Mercedes-Benz S-Class.
This is unexpected. When developing pure electric platforms, brands like Volkswagen have made two platforms to differentiate between different models. MEB mainly covers Volkswagen brands and some Audi models, while PPE targets higher-end models.
However, the SEA platform directly covers all categories and is not just a narrow high-end range. It can accommodate various body forms and different levels of models.
The second feature is that SEA is open to the industry.
This platform, which was invested 18 billion and took 4 years to build, not only serves Geely's entire "family," but will also share technological achievements with other joint venture brands. Ann Conghui said that seven brands are currently cooperating and over 16 models are under development based on this platform. It is said that in addition to Geely's internal brands, a certain French carmaker will also negotiate the use of SEA.
This is somewhat similar to Ford's use of Volkswagen's MEB. Unlike the authorization given by Volkswagen to Ford, Geely is collaborating with other brands to build and output technology.
Overall, the benefit of doing this is that different products can be produced based on the same platform to meet different needs. Of course, the most important thing is that cost can be reduced, and the product consistency brought by hardware sharing will improve. By opening up to the outside world, Geely can build an industry cluster centered on itself. Then Geely will have the largest say in the cluster.
2 million kilometers long life, making Tesla "regretful"?
We did not wait for a 1 million mile battery at Tesla Battery Day, but we got a battery from Lynk & Co here that has no attenuation at 200,000 kilometers and a long life of 2 million kilometers.
This battery is undoubtedly supplied by CATL, which is a joint venture battery company of Geely and Ningde Times. According to the plan for Ningde Times' battery technology mass production, this should be the second-generation battery, and the energy density of a single cell can reach 304 Wh/kg. Lynk & Co stated that the biggest feature of this battery pack is the CTP non-module design, which can further increase the range.
The biggest problem with CTP technology is how automakers can make the body structure stronger. Judging from the SEA platform architecture model displayed at the launch event, the square battery module in the middle of the chassis has a size between the conventional and long modules, with close arrangement of necessary cross beams and other skeletons, which can improve the overall strength.
In addition, Lynk & Co connects the battery pack directly to the body structure parts and continues to reduce the number of body structure parts through highly integrated design. The battery pack is connected to the body by 8 bolts, and the upper crossbeam can strengthen the support for the body and seats. The battery pack is directly installed on the threshold to cope with side collisions and other impacts.The result is that SEA platform supports a maximum battery pack of 110 kWh, and the vehicle's NEDC range exceeds 700 km.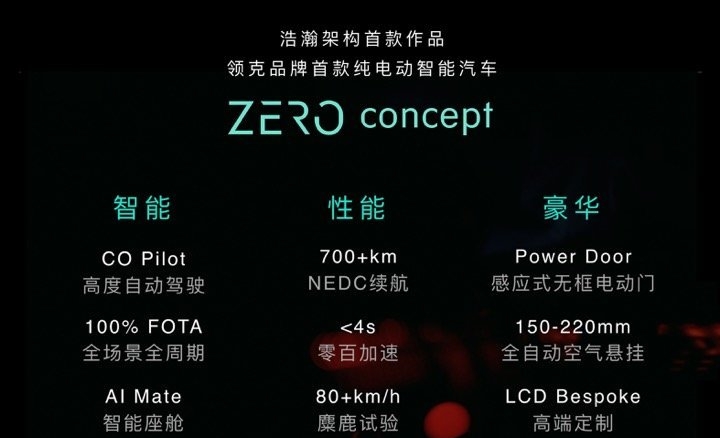 There are mainly two benefits. Firstly, users don't have to worry about range anxiety since 700 km is sufficient for most commuting needs between cities. Secondly, the cascade utilization of the power battery, which is also the reason why the power battery has been pursuing a long lifespan. Cascade utilization itself is a business that can reduce the cost of battery regeneration.
Therefore, it can be seen from here that when building the SEA architecture, Geely took into account the entire lifespan of the vehicle.
However, a battery without attenuation at 200,000 km seems impossible from the perspective of chemical properties. I speculate that Lynk & Co. will adopt a way of software-locking the battery, reserve some power, and release this part of the energy when the system detects attenuation in the battery. This will make the user feel no attenuation on the level of user perception.
In comparison with battery life, users' maximum perception is "performance" and "charging."
Electric vehicles cannot be without the "performance" soul
The "three electric components" involved in cars are the motor, battery, and electronic control unit (ECU). The new "three electric components" in the SEA architecture are based on the concept of "old three electric components 1," which updates the technology and expands the scope.
On the SEA architecture, it has the ability to have a single maximum output power of 475 kW and a maximum vehicle power of 600 kW. To match the output power, a self-developed high-performance two-gear electric drive transmission is used, with a maximum wheel-side torque of 8,000 N·m. This limit is quite exaggerated.
Compared with the theoretical limit, high-performance electric drive transmission is of greater practical significance. Many people previously believed that using a transmission system was unnecessary due to the high efficiency of the electric motor. Although the electric drive efficiency is high, continuous discharge on high-speed roads and high rotation speed of the electric drive itself will result in high energy consumption of electric vehicles.
However, two-gear transmission can adjust the motor's speed by changing the gear ratio, allowing the motor to maintain the optimal speed for the best energy consumption, thus solving the problem of high energy consumption and low efficiency of pure electric vehicles at high speeds. In this way, it can improve the overall efficiency of the vehicle and increase its range.The core of the charging and discharging control system on the SEA platform will introduce silicon carbide semiconductor chips, replacing the mainstream IGBT (power semiconductors) of the present stage. By adopting silicon carbide electronic control modules, the biggest advantage is to reduce internal resistance, increase the overcurrent capability of the electric system, and thereby enhance motor performance.
At the current stage, if a pure electric vehicle model lacks "performance", it is like being naturally exiled by the market. However, performance is not a concern for Lynk & Co, as Lynk & Co has always been a representative of household performance cars.
From the perspective of SEA's overall planning, after experiencing a large wave of dense new technology "bombing", a solid foundation for an electrified platform, as well as a clear development roadmap, is enough to cover Lynk & Co's brand, and even Geely Group's future planning for 5 to 10 years.
An Conghui said at the press conference that "Lynk & Co aims to make smart electric cars with driving pleasure." This is not only an expectation but also a supervision. Only time will tell what capabilities the new platform will bring.
Autonomous driving will no longer be classified by "levels"
"We all have a customer mindset internally; everyone develops products, builds organizational structures, and establishes and improves our corporate culture from the perspective of customers. The core issue is to focus on customers." This is what An Conghui emphasized in an interview.
Nowadays, many companies are talking about creating products that are customer-centric, but it seems to be a blind "comparison." The competition among car companies has evolved into vicious competition, where functional demands have become "selling points". Adding a feature to a car is not about whether it is easy to use, but whether it has a selling point.
In this regard, "intelligence" has become a heavily affected area. Taking a few typical examples: the possibility of upgrading the car system has been publicized as OTA (over-the-air) capable; face recognition is installed on the B-pillar of the car, which is a gimmick if it cannot achieve a seamless experience.
Therefore, it has become an urgent task to achieve useful autonomous driving functions.
Implementing Autonomous Driving Functions in PhasesWhat are the differences between L2, L3, and L4 autonomous driving? Can a strict grading system guide the implementation of autonomous driving? In my opinion, strict grading of autonomous driving no longer has practical meaning. Autonomous driving will definitely evolve towards more functional practicality, and car companies will become more rational in addressing their customers' real needs, which ultimately leads to the implementation of certain "functions".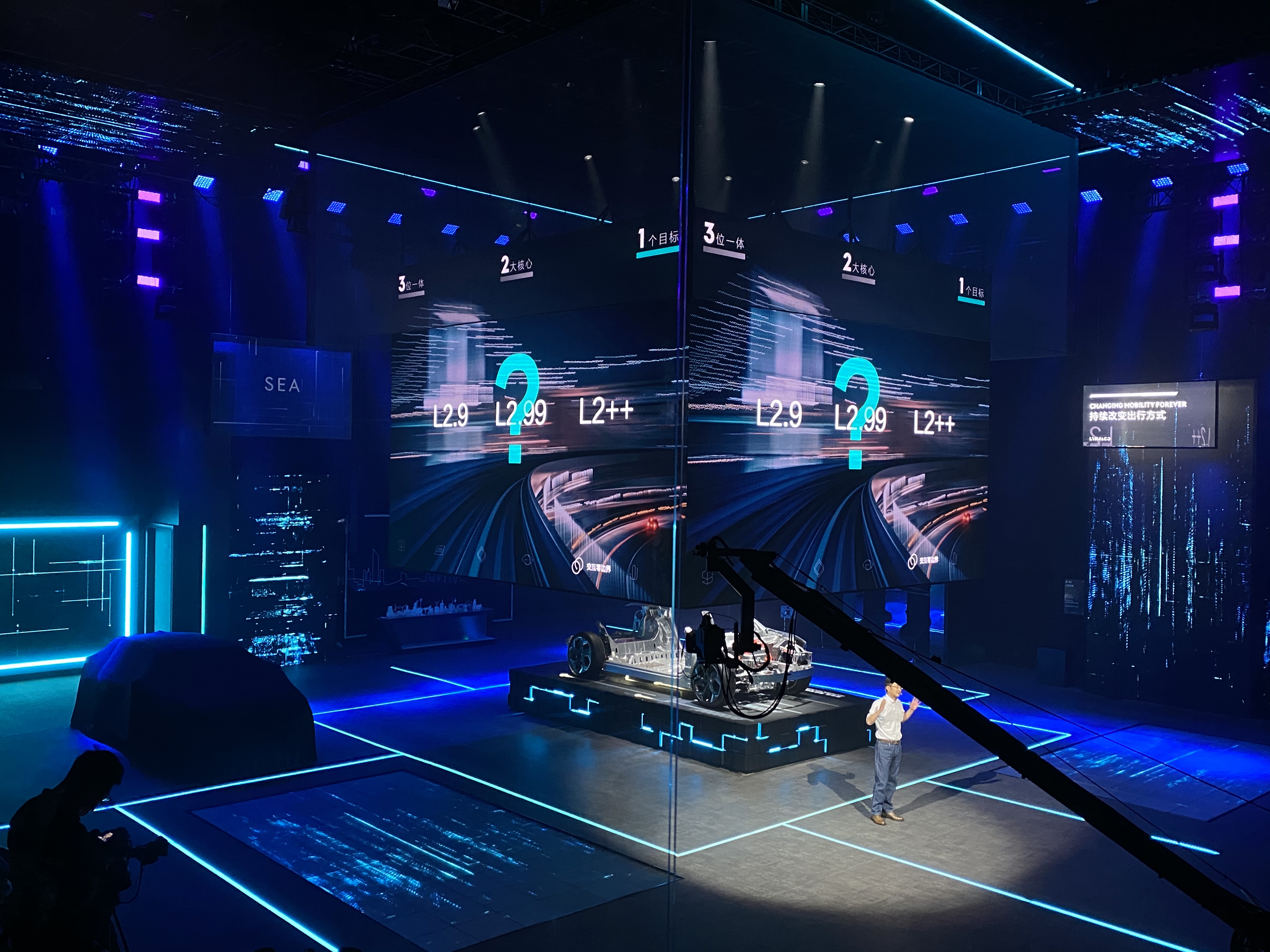 This perspective is consistent with the autonomous driving roadmap presented by Geely, introduced by An Conghui. Geely's autonomous driving plan states that "Personal vehicles based on SEA architecture will achieve high-level autonomous driving on structural roads in 2021. High-level autonomous driving on open roads will be achieved by 2023. Intelligent transportation tools such as autonomous driving taxis developed based on SEA architecture will be the first to achieve full autonomous driving on structural roads and provide intelligent transportation services in the core area of the 2022 Asian Games. Complete autonomous driving on open roads will be achieved by 2025."
In simple terms, vehicles developed based on this platform will achieve level L2 autonomous driving in 2021, similar to Tesla's current assisted driving capability. By gradually implementing functions such as high-speed NoA or city NoA by 2023, and even autonomous valet parking in special scenarios.
This time schedule is relatively aggressive, as it is difficult for Geely's Robotaxi to achieve fully autonomous driving on open roads by 2025.
However, Volvo's differentiation of autonomous driving levels based on usage scenarios represents a user-oriented perspective. From the users' perspective, there is "no technical distinction, only functional distinction" in autonomous driving. Volvo's approach, which prioritizes functional technical capabilities, is more relevant to the current stage of demand.
The Methodology of Volvo's Autonomous Driving
Volvo has found its own path, but achieving the goal is not just about knowing where to go; it is critical to figure out how to get there.
An Conghui stated in an interview that, "How should we define cars? We should think about this problem systematically and comprehensively. Traditional cars are delivered to customers at their peak, mainly due to considerations at the hardware mechanical level of cars. At the software level, there has been some software iteration based on electronic architecture, which has improved the experience, but we believe that it is not yet the ultimate."
The new electronic architecture has become the key to achieving "upgradable" smart cars. The two most essential elements are computing power and communication.
Therefore, Lynk & Co has developed the SEA OS system, which is characterized by embedded hardware and replaceable upgrades, enabling full-scenario FOTA, which not only involves in-car entertainment but also vehicle power adjustments, just like Tesla's true OTA. The system currently has more than 4000 API interfaces implemented. In the future, all third-party developers can define their own cars.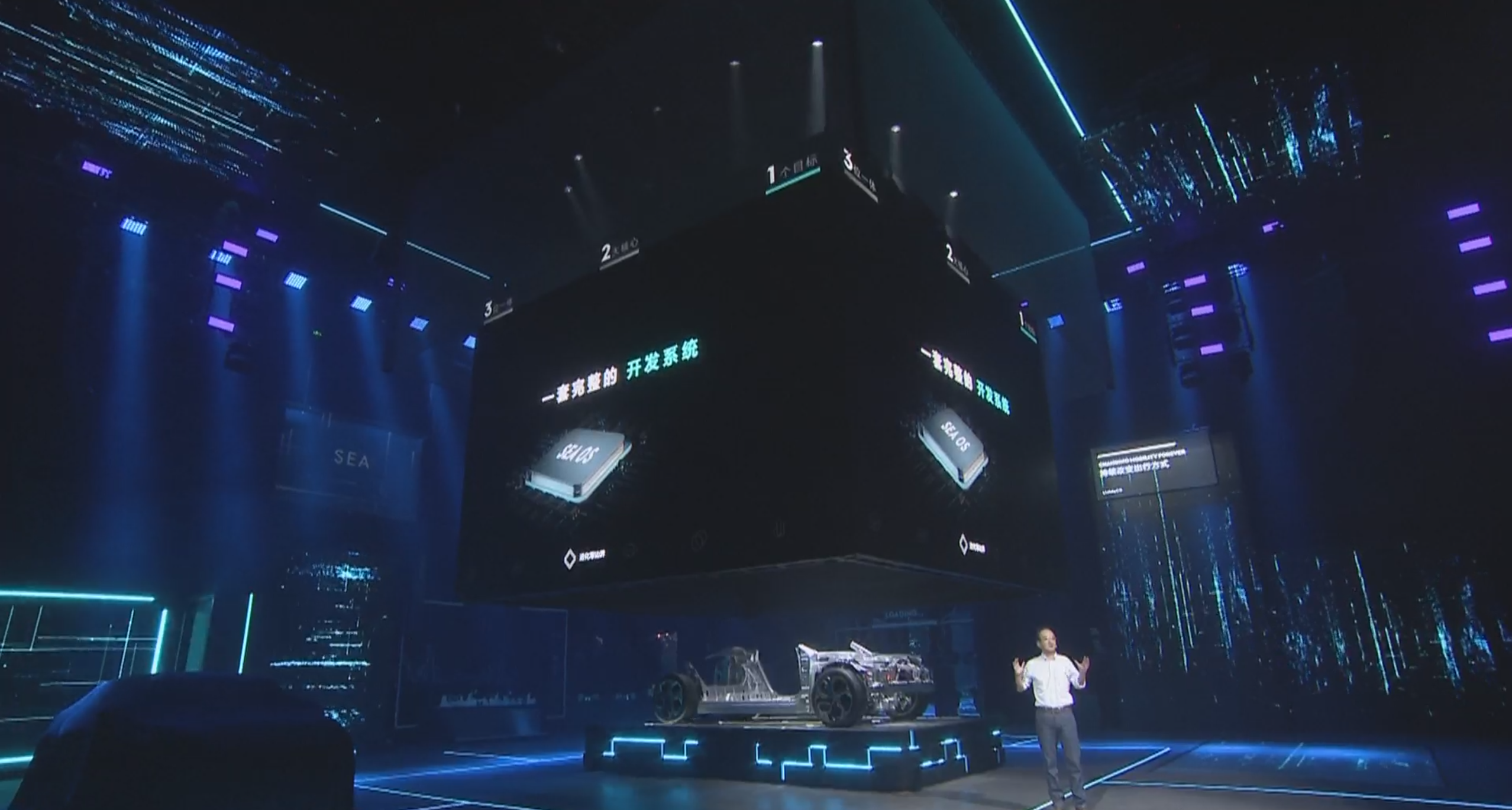 Seeing this, do you feel familiar? Yes, this is actually what Volkswagen is doing in the development of the underlying system, implementing hardware interface standardization and decoupling of software and hardware, and better supplier management. Lynk & Co's system can shorten the software development cycle by 50%.
On the hardware side, the "central computing" trend is already an industry consensus.
The benefits are, firstly, all data is sent back to the center for computation, making OTA upgrades easier to complete. On the other hand, the number of ECUs is greatly reduced, and the layout of the electrical structure becomes more concentrated, with fewer and simpler wiring, while reducing the occupation of vehicle space. Taking Model Y as an example, Tesla's goal is to shorten the wiring inside the car to 100 meters. All basic components have communication interfaces, and installing a car door only requires connection to the body, with only one interface for the electrical part.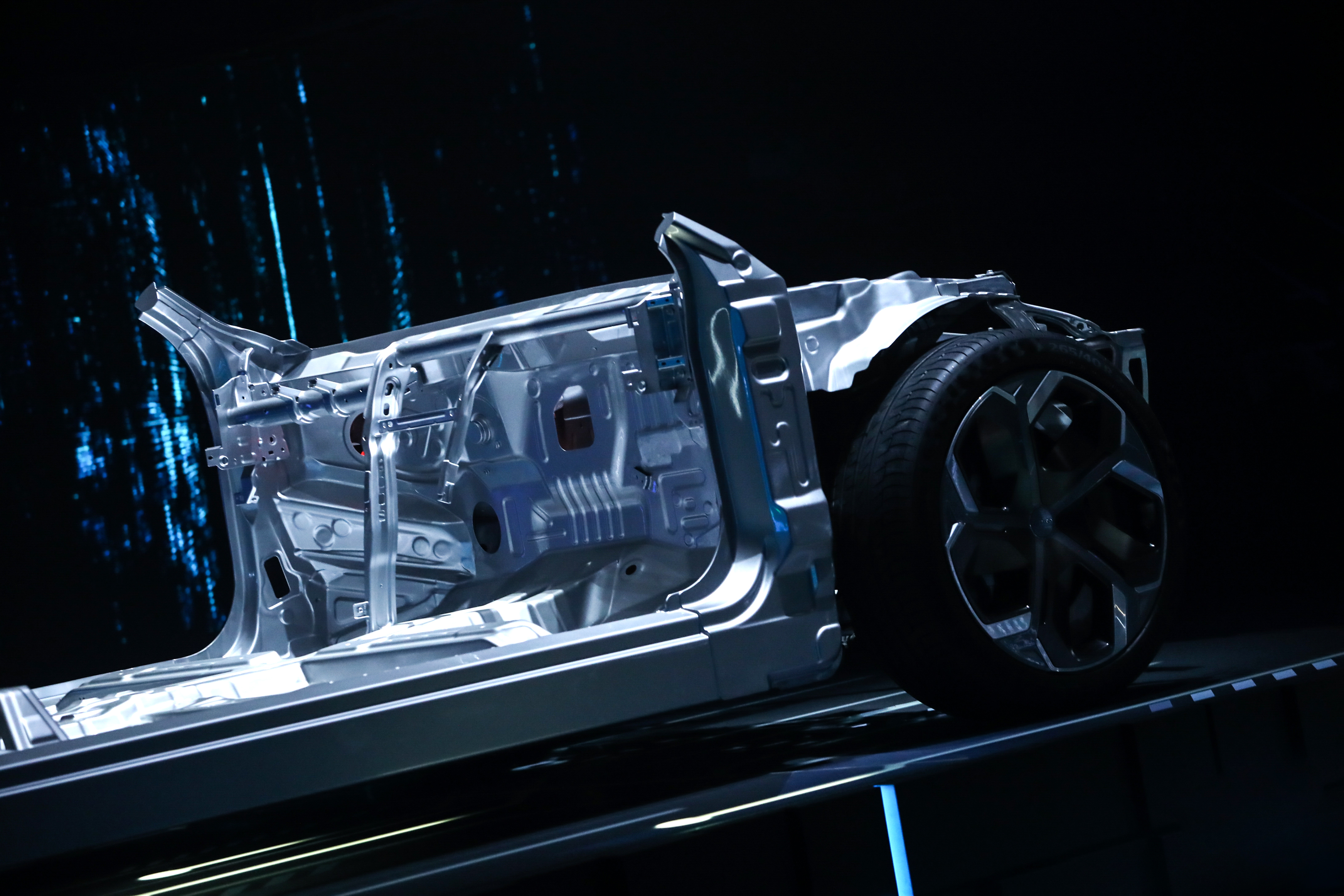 # Key nodes in "Central Computing" trend are domain controllers. The new vehicle that Lynk & Co will deliver in mass production next year will have three control domains. The calculation adopts the dual-redundant backup MASTER-SLAVE mode, also known as the master-slave mode.
The principle is to decompose a task (the original task) into multiple subtasks, which are executed in parallel by dedicated worker threads, and the result of the original task is formed by integrating the processing results of various subtasks. The biggest advantage is that it not only improves the computational efficiency, but also achieves information hiding.
With advanced architecture, another most important thing for automated driving is computing power. Although Lynk & Co will self-develop chips, developing chips is not something that can be done immediately once you have the money, so at this stage, Geely will still choose to use external solutions.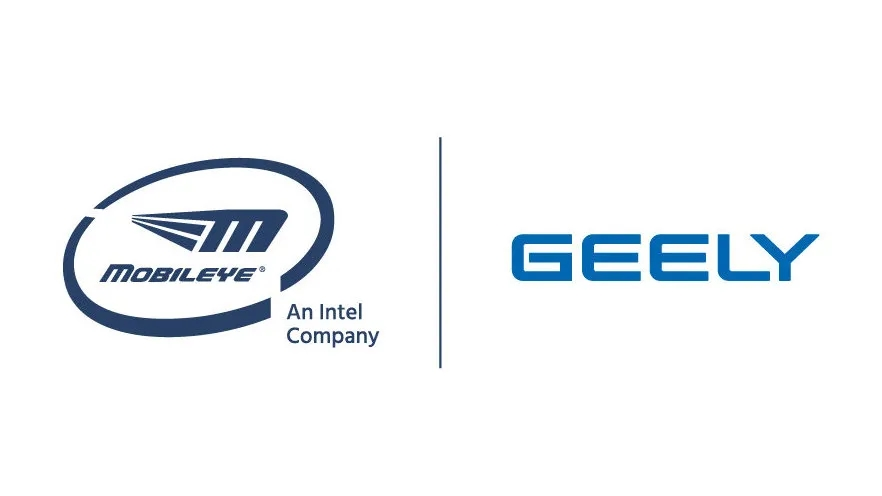 On the second day of the press conference, Geely welcomed a heavyweight ally – Mobileye.
Mobileye, a well-known automated driving chip company, officially announced that "Lynk & Co's CoPilot automated driving assistance system is supported by the Mobileye SuperVision system for wrap-around visual driving assistance technology and has over-the-air update function. It is based on the high computational power AI chip Eye Q5H."
And one vehicle will use two Eye Q5H chips, which serve as each other's redundancy. 12 cameras and 5 millimeter wave radars are also equipped.
Geely said that Mobileye is a strategic partner and will not be limited to one vehicle model or level, and its SEA platform is expected to adopt Mobileye's solutions.
In an interview, Hu Zhengnan, the dean of Geely Automotive Research Institute, talked about the logic behind Geely's choice of automated driving chips: "Automated driving chips are at the core of intelligent electric vehicles, and automakers hope that the chip solution they choose will not change frequently. Although the iteration speed of chips is fast and chips with higher computing power will always come out faster, what is more important is the algorithm and database behind it. Whether these accumulations are mature and stable is more important for automakers than the computing power."
This indicates that Geely and Mobileye may have long-term cooperation, and Geely will use Mobileye to develop its own perception algorithm. Now there is only one explanation for using Mobileye, which is that Geely hopes to have a complete and "user-friendly" automated driving system.
Geely's strategy is to transform into mobile travel, which means that Geely must achieve high-level automated driving. To achieve this, Geely needs a large amount of driving scenario data, and a large amount of driving scenario data requires more Geely vehicles on the road. This is a cycle.This is why Geely chose Mobileye — for the improvement in autonomous driving quality that it brings, which can boost vehicle sales and help Geely collect data. It's worth noting that NIO, Li Auto, and BMW all use Mobileye's solutions. To see their capabilities, please visit the "Garage 42" official website to view the complete testing video.
From this, it can be seen that Geely's self-developed autonomous driving will definitely involve perception algorithms. The use of data requires calibration, and the algorithm is the most crucial factor. Perception cannot be done by itself, and data cannot be used without it.
Overall, Geely's understanding of autonomous driving has reached the ground level. Its new electronic and electrical architecture, collaboration with Mobileye for autonomous driving, and future self-developed autonomous driving, are all aimed at one goal — full autonomous driving. Geely's gradual approach is also more in line with the logic of product landing.
Geely's biggest advantage is understanding users. After experiencing battery day, I had no expectations for the Lynk & Co launch. But due to work, I still watched the entire event with a tired body. If battery day could be split into five events, then Lynk & Co's intelligent experience night would be beyond comparison.
The new platform, the radical yet grounded autonomous driving roadmap, each contains huge amounts of information. Geely is a company with strong learning abilities. This has been my feeling for a long time. Since acquiring Volvo, Geely has leapt forward in the Geely brand's car models, slowly finding its own way of making cars.
What kind of car do Chinese users need? Not the ultimate cheapness, not the ultimate luxury, not even the ultimate power. It's finding a balance, from cost control to good product control. The goal is not big, just a little better than the competition. This is product understanding.
Why can Lynk & Co, which was only founded four years ago, become a high-end brand in China? You will find that each Lynk & Co product can find its own target users, and there will always be some advantages after comparing with products in the same class. This understanding of users is particularly evident in the release of the new energy platform.Some people say that the Lynk & Co launch was unremarkable because it only featured conceptual products that haven't been put into production. However, this is not entirely true. The reason some people were not impressed by the launch was twofold: firstly, over the past couple of years, users have been injured too much by PPT technology and no longer believe in products that haven't yet come out. Secondly, the rapid iteration of new energy technology has progressed from a 50-90 point improvement to a 90-93 point improvement. This improvement is not as pronounced, but for technology, the higher the level, the closer it gets to the ceiling. The tiny amount of improvement often takes years to achieve.
It can be seen from this that the Lynk & Co launch was exciting, and if you paid attention to the launch, you would have noticed that Lynk & Co continued with its product-oriented thinking, "What is good for the user." Let's review the contents of the launch: a pure electric platform, a range of 700 km, fast charging of 800 V, a 475 kW motor, structured to assist driving in 2021 with upgradeable embedded hardware, and cooperation with Mobileye.
You will find that these are the functions that users can most perceive. If Geely solves this part of the capability first, users can start using it first. This is a product-oriented mindset based on user needs.
Conclusion
As an automotive enthusiast, I often marvel at the difficulties faced by domestic brands in rising to the top. Geely has made it possible for domestic brands to enter the high-end market.
In terms of the platform, the SEA can be considered the starting point of Geely Group's formal electrification and a technology platform that is truly suitable for future expansion.
However, for consumers, what is important is excellent products at an appropriate price. Apart from that, the significance of platforms is not significant. Therefore, it is more meaningful to provide customers with the most suitable products based on the platform's advantages than anything else.
This article is a translation by ChatGPT of a Chinese report from 42HOW. If you have any questions about it, please email bd@42how.com.