On September 17th, Aiways launched the 2021 Aiways U5 online, with a total of 5 configuration models and a lowest selling price of RMB 166,900 after subsidy.
The official post-subsidy prices of the 2021 Aiways U5's five models are:
SE version at RMB 166,900;
ING version at RMB 186,900;
ING+ version at RMB 209,900;
PRO version at RMB 229,900;
PRO+ version at RMB 249,900.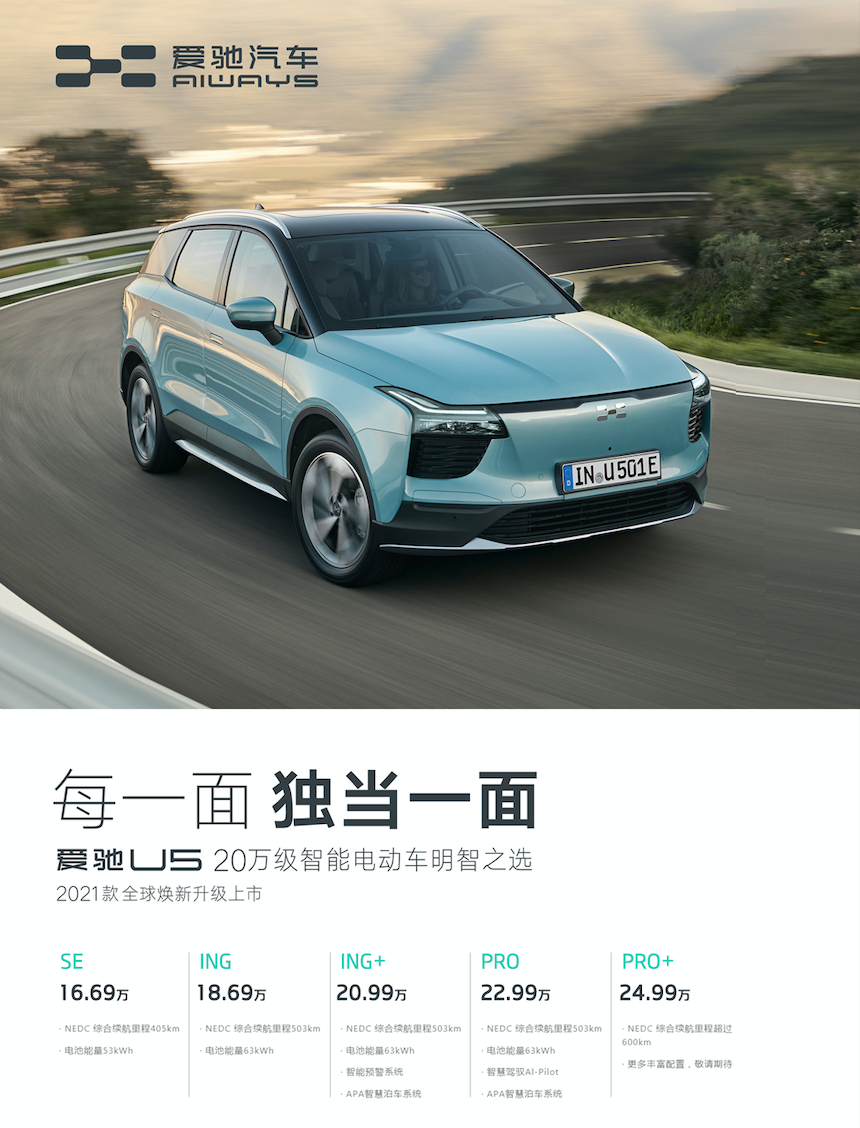 Meanwhile, the launching ceremony also announced the promotional policies of the 2021 Aiways U5, which are:
One Hundred Days, One Hundred Cars Return Policy: Within 100 days or 6,000 kilometers of driving (whichever comes first), if the vehicle has quality problems which meet the conditions of vehicle replacement or return stipulated by the National Three Guarantees Regulation (60 days or 3,000 kilometers), the vehicle can be exchanged or returned. Limit of 100 cars nationwide;
AI-BaaS Battery Rental Service: With the battery rental financial instalment policy, users can enjoy a 3-year zero interest rate policy on battery rental;
Free Personal Charging Pile and Installation Services: with the exclusive Aiways exterior wall-mounted 7 kW smart AC charging pile, and providing free installation services.
The 2021 Aiways U5 is equipped with a high-performance three-in-one permanent magnet synchronous motor, with a maximum power increase of 10 kW compared to the current model. The zero to one hundred kilometers per hour acceleration time is only 7.6 seconds, the whole vehicle 100 kilometers energy consumption is 13.8 kWh, the NEDC working condition endurance mileage can reach 503 kilometers, and the WLTP working condition endurance can reach 400 kilometers.
In terms of assisted driving, the 2021 Aiways U5 fully opened up SCC Super Cruise, ACC full-speed range adaptive cruise, APA intelligent parking, and other L2+ intelligent driving functions for multiple scenarios, which can be operated with one touch.
The new Aiways U5 will be launched in China and Europe simultaneously.
This article is a translation by ChatGPT of a Chinese report from 42HOW. If you have any questions about it, please email bd@42how.com.