Sales data of August was officially announced by China Passenger Car Association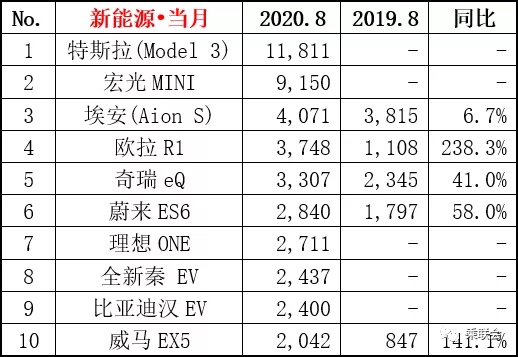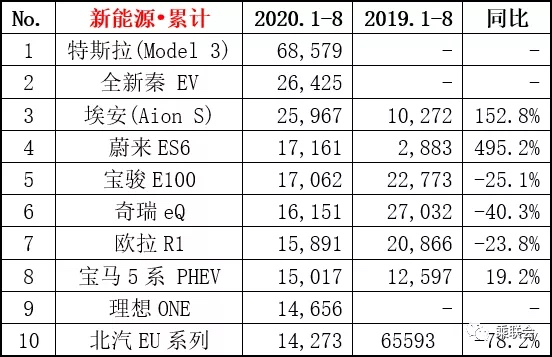 In the sales ranking of new energy vehicles, Model 3 still topped the list with 11,811 units sold.
After the delivery of Wuling Hongguang MINI, it directly jumped to the second place of the sales ranking. It can be said that it is the ultimate people's car.
The sales of GAC Aion S remain stable at around 4,000 units, and there is almost no impact from the spontaneous combustion incident. As expected, most of them are to B. From January to July 2020, the proportion of to B and to C is approximately 65% to 35%.
It is worth mentioning that, among the top 5 in the sales ranking, 3 of them are A0-level vehicles. According to the top insurance data of January to July 2020, A0-level pure electric sedans accounted for the second-highest proportion in the pure electric vehicle market, reaching 24.1%. If you are interested, you can guess what level of vehicle has the highest proportion.
NIO ES6 tops the sales ranking of new automakers with 2,840 units sold in August. The sales of Li Xiang ONE with 2,711 units closely follow, and both have successfully squeezed into the sales ranking of high-end SUV.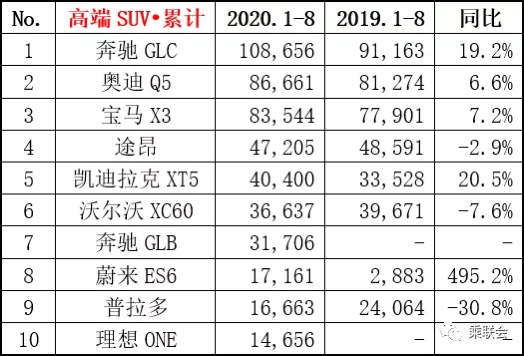 With the continuous improvement of NIO's production capacity, one can speculate whether the sales of Li Xiang ONE can surpass NIO ES6 next month, or ES6 will still be ahead.
After the delivery of BYD Han EV, it also made it into the ranking with 2,400 units sold in August. This data is more accurate than BYD's previous announcement of 4,000.
Unfortunately, XPeng P7 did not make it to the ranking. It seems that the sales should not exceed 2,000, and the specific delivery data is expected to be released in October.
This article is a translation by ChatGPT of a Chinese report from 42HOW. If you have any questions about it, please email bd@42how.com.