Weekly Indices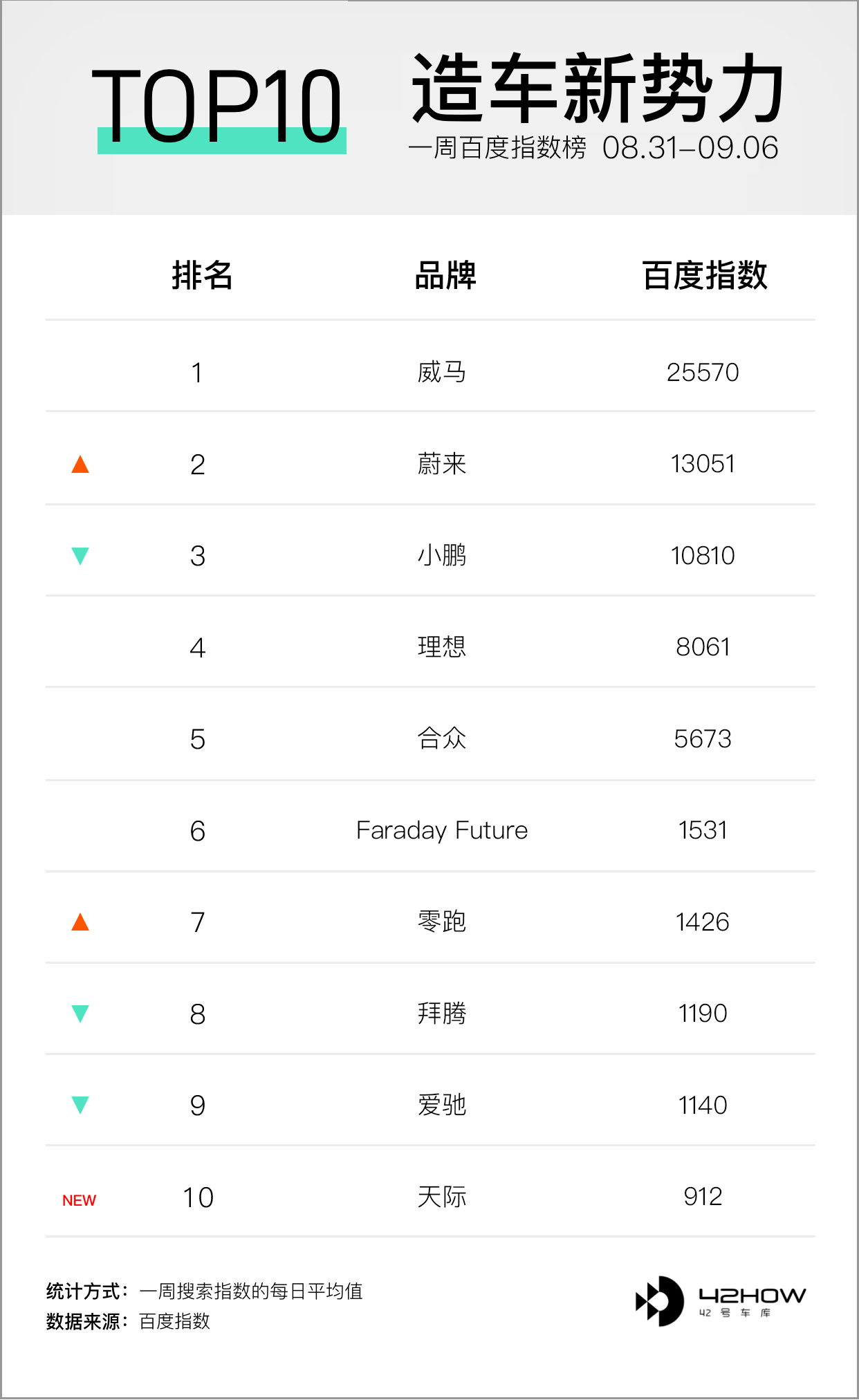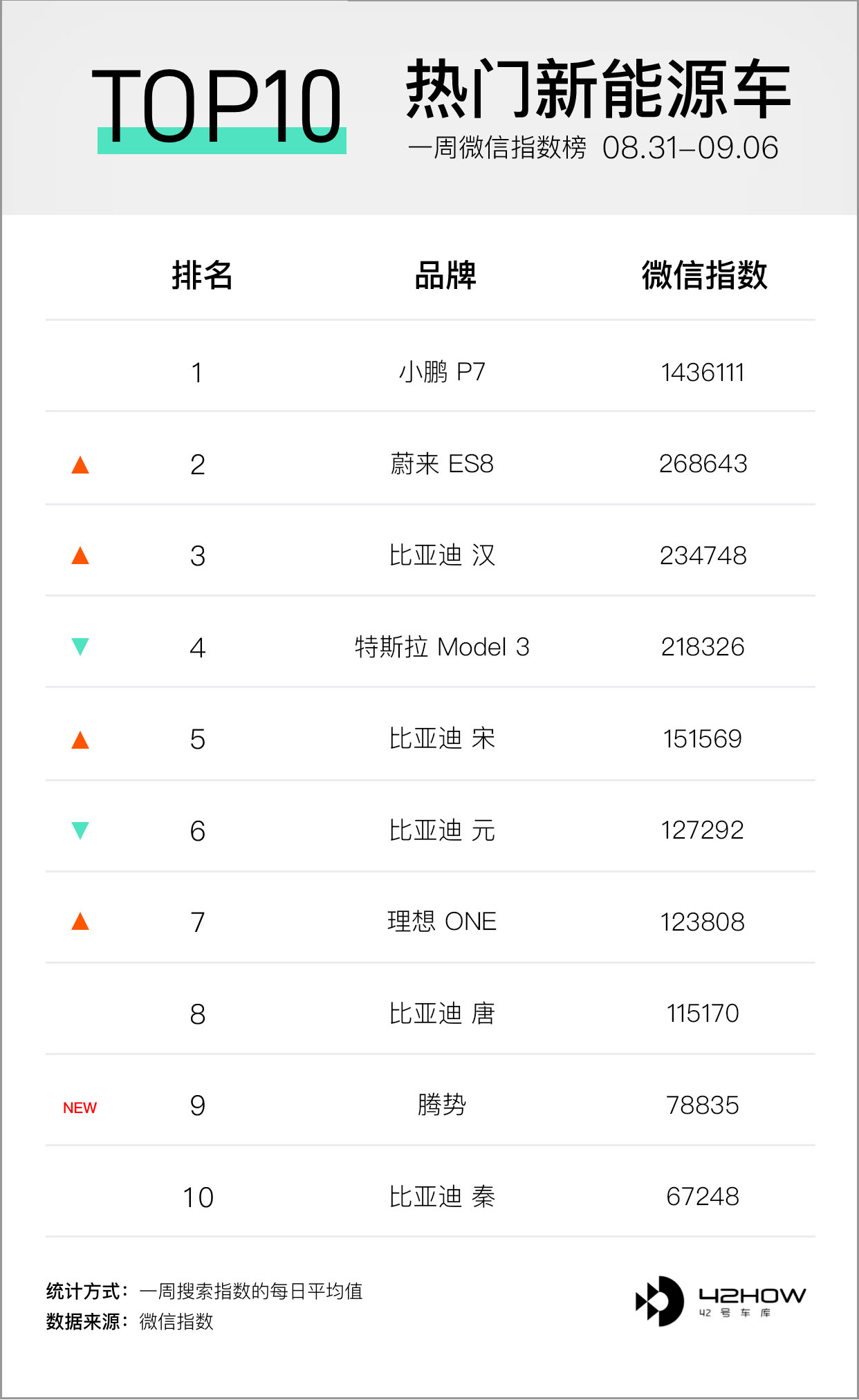 Weekly News
XPeng Launches Battery Leasing Plan
On September 1, XPeng announced the official launch of a new battery leasing service.
The standard version of the battery leasing plan can reduce the prices of P7 and G3 by 75,000 yuan and 60,000 yuan respectively. For P7, 84 payments of 980 yuan (same as NIO). For G3, 84 payments of 780 yuan.

The trial version of the battery leasing plan can reduce the prices of P7 and G3 by 60,000 and 43,000 yuan respectively. For P7, 84 payments of 780 yuan. For G3, 84 payments of 580 yuan.The pilot program of BaaS is currently being implemented in Beijing, Shanghai, Guangzhou, Shenzhen, Hangzhou, Tianjin, Wuxi, Ningbo, Foshan, Dongguan, Wuhan, and Chengdu. The involved car models include G3 520i series (deluxe version/ intelligent version/ premium version), P7 four-wheel drive high-performance series, and rear-wheel drive long-range series.
Review:
Compared to the full-payment and installment purchasing plans, the service provided by XPeng can reduce the purchasing threshold for customers. The seven-year extended installment service can share the cost of the battery, and after the seven-year payment period, the end-user can obtain ownership of the battery. In addition, the vehicle purchase price in the battery financing lease plan can be purchased with a minimum of 30% down payment, which greatly reduces the financial pressure of car purchasing.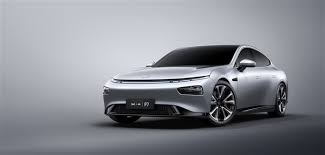 Following NIO, emerging automakers such as XPeng and NETA have implemented similar "battery as a service" (BaaS) plans. However, in my opinion, the significance of BaaS in the current stage is greater than its effects. Whether you oppose or support it, "BaaS" only provides everyone with an additional choice. Whether it is cost-effective or not should be decided based on each user's specific usage scenarios. At the same time, it's unavoidable that the battery is still the fastest depreciating part of an electric car, and the greater significance of "BaaS" is that it assumes this part of the risk for the car owner.
In addition, for the entire industry, the arrival of the "BaaS" model undoubtedly has a positive effect on promoting low-cost purchasing and frequent usage of electric cars.
Emerging automakers announce delivery data for August
At the beginning of September, three emerging automakers successively announced their delivery data for August:
The delivery volume of the LI ONE in August was 2711 vehicles, and the cumulative delivery volume in 2020 was 14,656 vehicles.
NIO delivered 3965 vehicles in August, including 1125 ES8 and 2840 ES6, and the cumulative delivery volume in 2020 was 53,580 vehicles.
– In August, WM Motor sold 2057 vehicles, and the cumulative sales volume of WM Motor since delivery began in September 2018 reached 33813.
Comment:
As listed companies, Li Auto and NIO's delivery data in August were impressive. However, NIO deserves special mention. In the Q2 financial report released earlier, NIO expected to deliver 11000-11500 vehicles in Q3. EC6 has not yet started delivery, and according to the announcement by Li Bin, "the monthly capacity in September will reach 5000 vehicles". Therefore, NIO's Q3 delivery volume is likely to exceed the established target and set a new historical record.
As a company striving for listing on the Sci-Tech Innovation Board, WM Motor's delivery volume in August was still stable compared with before. WM Motor aims to be listed on the Sci-Tech Innovation Board in early 2021 and has recently taken frequent actions. WM Motor plans to complete the D round of financing in early September and submit an application to the Sci-Tech Innovation Board at the end of September. Previously, WM Motor changed the nature of the company from "limited company" to "limited liability company".
BYD Han sold 4000 vehicles in August
On September 7, BYD announced that its auto sales in August were 36782, of which new energy vehicles were 15283, and new energy passenger vehicles were 14009, of which pure electric vehicles were 9414. The cumulative sales volume of new energy passenger vehicles decreased by 50.68% year-on-year. The key point is that the sales volume of BYD Han was 4000.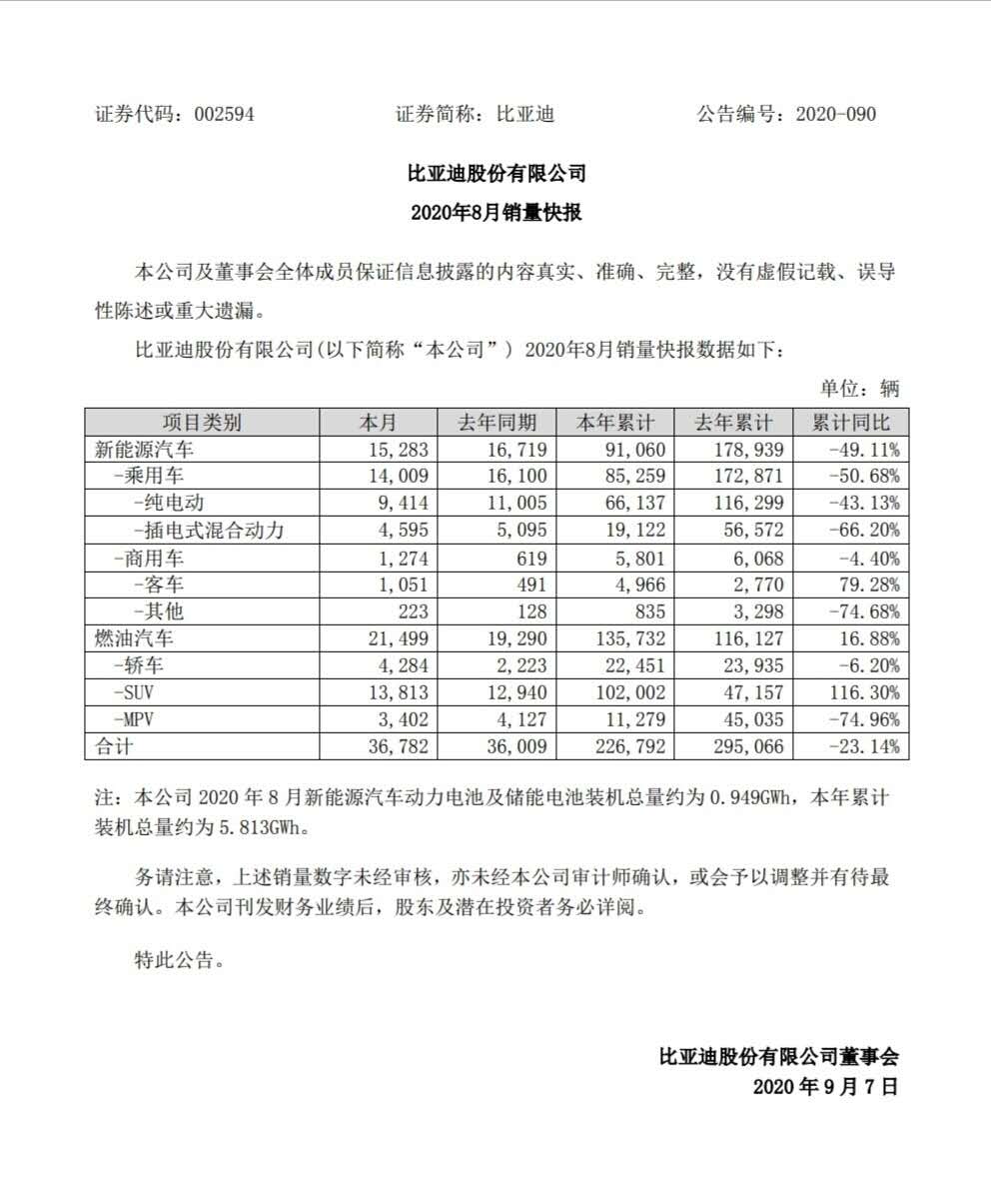 Comment:
Compared with the past few months, this number has been gradually decreasing. When the production capacity of BYD Han catches up and the new model "Tang" and "Song PLUS" are launched, there should be no problem further increasing the sales volume of new energy vehicles. However, it is interesting that the proportion of pure electric and hybrid vehicles in this form has not changed much compared with the same period last year.### Tesla Announces Battery Recycle Program
Recently, Tesla China updated its FAQ section on battery recycling, stating that all discarded lithium-ion batteries will not be landfill and can be 100% recycled.
Tesla also claimed that it would do its best to extend the lifespan of the recycled batteries, however, the handling of the lithium-ion battery pack can only be performed by professionals authorized by qualified factories. Tesla and other relevant parties will comply with applicable battery management policies and regulations.
Quick Comment:
Recycling and safe handling of lithium-ion batteries are critical for sustainable development in the new energy vehicles industry. Improper handling can cause not just safety issues but also heavy metal pollution, endangering the environment. Achieving 100% recycling and reuse of used batteries is a significant step towards Tesla's true goal of a sustainable and closed-loop environment. However, we still need to wait for the specific operational process that Tesla will announce.
General Motors and Honda Enter Alliance
On September 3rd, General Motors announced on its official website that it had signed a memorandum of understanding with Honda to establish an automotive alliance in North America. The two companies plan to launch engineering programs in early 2021.
According to the announcement, the alliance will develop cars for their respective brands through platform sharing and work together in procurement, research and development, and connected vehicle services, as well as target matched electric and internal combustion propulsion systems. Collaborative projects will also include hydrogen fuel cells, batteries, and the Cruise Origin shared autonomous vehicle.
Quick Comment:
Establishing an automotive alliance will allow both parties to share the development and engineering costs by jointly developing future vehicles and propulsion systems, as well as enhancing cost efficiencies by leveraging advanced technologies from both General Motors and Honda. It will also enable both automakers to increase their investment in cutting-edge technologies.General Motors and Ford are not the first to form an alliance. Recently, Volkswagen and Ford signed a strategic cooperation agreement to turn rivals into partners. Ford will produce pure electric vehicles based on the Volkswagen MEB platform, while Volkswagen will develop midsize pickup trucks based on the Ford Ranger platform. In the trend of the automotive industry revolution, joining forces seems to be a shortcut for traditional automakers to develop new energy vehicles successfully.
Polestar 2 ranked third in Norway in August
Norway's car sales data for August showed that sales of new energy vehicles were 7,585, including 5,704 pure electric vehicles and 1,881 plug-in hybrids. The sales volume of new energy vehicles increased by 28.1% YoY, and the total market share exceeded 70%.
The top three sales models are:
Audi e-tron, 755 units
Mercedes-Benz EQC, 595 units
Polestar 2, 504 units
Quick Comment:
Norwegians have a unique preference for electric vehicles. In August, Tesla Model 3, which sells well in the global market, only sold 264 units in Norway, far less than e-tron and EQC. After entering the European market, Polestar 2 also had a good start and directly ranked third on the Norwegian sales chart.
Perhaps one of the reasons why Norwegian users choose the Polestar 2 is because it fits well with European historical and cultural atmosphere.
This article is a translation by ChatGPT of a Chinese report from 42HOW. If you have any questions about it, please email bd@42how.com.