NIO slashes prices by ¥30,000, which is probably the biggest news in the automotive circle today.
Actually, many people had been looking forward to NIO's price adjustment for a while. Some enthusiastic netizens even suggested strategies for NIO, such as launching an entry-level ET5 without LiDAR, a single motor, and dual Orin-X, lowering the price to boost sales.
However, this crude approach is definitely not in line with NIO's brand tone, so NIO chose to separate the free battery swap service, along with other rights and interests, into an independent package, which is undoubtedly more reasonable. That's because not everyone is suitable for the battery swap scenario, such as those living in areas without swap stations or having charging piles at home. Battery swap is not a must for them, but they still pay a premium for it, which is not very fair.
Let's take a look at the prices of NIO's models after the price cut. Compared to the 778, the sales boost for ET5 and ES6 may be even greater this time. After all, ET5 has directly entered the price range of less than ¥300,000. With the BaaS plan, it can go straight down to about ¥220,000. Given its stunning looks and product strengths, its competitiveness at this price point is still very strong. The same goes for ES6.
However, it remains to be seen how many potential ET5 customers will be drawn to the ET5 Travel Edition after its launch, causing some internal competition.
In addition to the price cut across the board, NIO has also made adjustments to the rights and interests of first-time car owners. The main change is that the previous 10-year unlimited mileage warranty for the whole vehicle has been shortened to 6 years or 150,000 kilometers, but the warranty for the three-electric systems remains unchanged, still offering a 10-year unlimited mileage warranty. This is quite useful for electric vehicles, as they generally have longer driving distances due to their lower operating costs.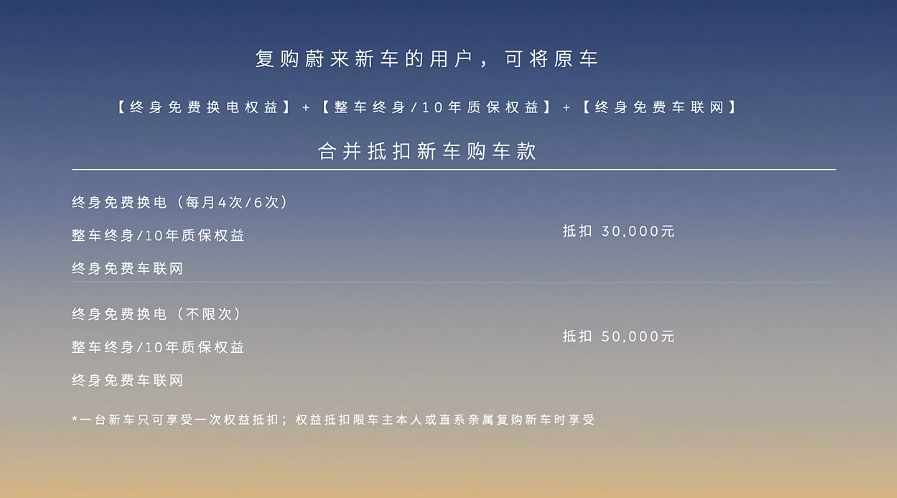 Also, the lifetime free connected car service has been changed to 6 years, which I personally think is not a big deal, as buying a data package won't cost much. The lifetime free roadside assistance is still preserved. From June 12th onwards, free battery swap will no longer be a basic right for car owners. Users can choose to pay for single battery swaps, and NIO has announced that they will launch flexible charging bundle packages later.
What if you want battery swap rights?
Of course, if you still want to keep the free battery swap service, NIO provides you with a choice. For users who pay the deposit for a new NIO car from June 12, 2023, to July 31, 2023, they can choose to purchase the "Rights Upgrade Package" in the NIO app based on their usage needs. For ¥30,000, they can enjoy the same rights and interests as previous first-time car owners, including:* Lifetime 4 free battery swaps per month;
10-year unlimited mileage warranty;
Lifetime free vehicle Internet with 8GB data per month;
Lifetime free roadside assistance.
Attentive friends should have also noticed that NIO has added a time limit to the optional benefit package. It remains to be seen whether or not the free battery swap benefit package will continue to be offered after July 31st. Li Bin also mentioned during the afternoon communication meeting that it would depend on the situation. Perhaps only a battery swap recharge package will be offered at that time, which we can look forward to together.
How are the benefits for existing car owners handled?
Of greater concern than this benefit package is the question of what to do with the existing users who have already purchased the benefits. NIO's policy is to allow users to cash in their benefits, which can be used as a deduction on the price of a new NIO vehicle.
Those with lifetime 4 or 6 free battery swaps per month can deduct 30,000 RMB;
Those with lifetime unlimited free battery swaps can deduct 50,000 RMB.
Using the old ES6 as an example, if you want to repurchase the new ES6, giving up the battery swap benefit will reduce the new car price by 60,000 RMB, meaning the new ES6 only costs 308,000 RMB. At the same time, if you have another NIO vehicle, you can transfer the battery swap benefit from that vehicle to the new one, which is quite considerate. Of course, existing car owners can still choose to continue free battery swaps while enjoying a 30,000 RMB price reduction.
As for users who have recently purchased a NIO vehicle between May 24, 2023 and June 11, 2023, they can contact NIO before August 31, 2023 to give up lifetime free battery swaps and some benefits. NIO will refund the 30,000 RMB to you, which is quite user-friendly.
However, it is foreseeable that a considerable number of users will give up free battery swaps and get a refund of 30,000 RMB. This way, they won't be tied to battery swaps and can choose a more flexible energy replenishment method. After all, 30,000 RMB for battery swaps or third-party charging can last for several years.
Should the battery swap benefit package be chosen?
This depends on the individual's energy replenishment situation. Two types of users don't necessarily need to choose the package: those with charging stations at home or with good charging conditions don't need to rely on battery swaps to have a good energy replenishment experience. The other type is users without battery swap stations in their area; since it's not usable, there's no need to choose it.
For those users with abundant battery swap resources in their area and no home charging conditions, and with a long single-vehicle usage cycle, the lifetime battery swap benefit package can still be considered. Let's do the math: assuming 1.5 RMB per kWh at battery swap stations, a 75kWh battery swap would cost around 100 RMB each time. Swapping 5 times a month, the 30,000 RMB can last for 5 years. So if you mainly use battery swaps for daily energy replenishment and plan to use the car for over 5 years, this benefit package is worth buying.Summary
NIO's recent move deserves praise as it achieves two goals at once: boosting sales through price reduction and finding a valid reason to end the free battery swap service. In fact, for most consumers, tangible discounts are more important than free battery swap services. With the price reduction and the high demand for the ET5 touring edition recently, NIO's sales are expected to surge, provided that the supply chain does not hold them back this time.
This article is a translation by ChatGPT of a Chinese report from 42HOW. If you have any questions about it, please email bd@42how.com.