People who have driven electric cars know that winter is not very friendly.
They dare not use the air conditioning, they dare not drive on the highway, charging is slow and requires queuing…For many users who are considering electric cars, the main reason for hesitation is often the experience of using the car in winter.
These past few days, as a test companion, I came to Yakexishi with LanTu to experience the engineering test version of LanTu FREE.
As is well known, the average winter temperature in Yakexishi is -30℃, which can be said to be one of the world's most brutal travel scenarios for electric cars, and therefore naturally becomes the most suitable high-cold test site for electric cars.
So, how did LanTu FREE perform under extreme cold weather conditions?
A High-cold Challenge
First, it need to be clear that the one we tested at the Yakexishi Zhongqi Center High-cold test base is not the final production version of LanTu FREE.
The high-cold test of electric cars is important mainly for two reasons:
First, compared with the structure of gasoline cars, in cold weather conditions, high-voltage components such as the battery pack unique to electric cars will have restricted charging and discharging power, which directly results in rapid decay of battery power, slow charging, and greatly increased charging time. Of course, this is largely due to the chemical aspects of the batteries, but through testing, we can optimize the range as much as possible from a strategic perspective by adjusting different road conditions, battery levels, driving styles, and even warm air settings, and display the remaining range more accurately to users.
Secondly, compared with the usage scenarios of gasoline cars, electric cars in winter have higher requirements for functions such as air conditioning heating, seat heating, defrosting and defogging, etc. These are directly related to the range and also the overall user experience. Therefore, through continuous testing, we can avoid related failures in cold climates and polish the most suitable logic state.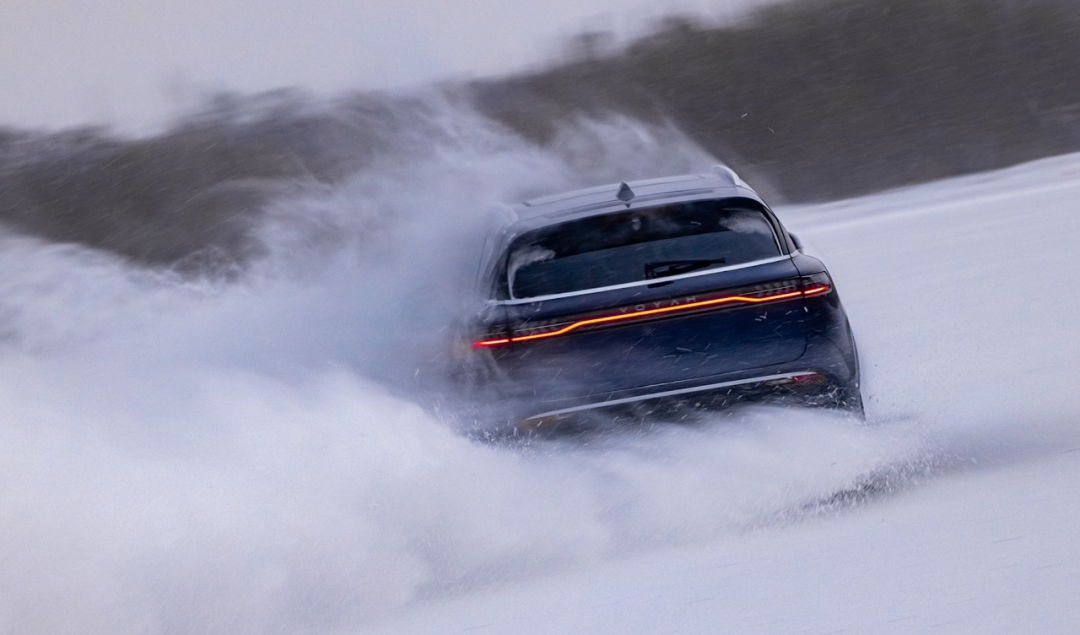 From the LanTu engineer's winter testing, LanTu FREE has several noteworthy features:
Firstly, good cold start performance. In a -30℃ environment, the cell temperature can quickly rise and be maintained between 15 to 25 degrees Celsius to ensure that the battery can be in optimal charging and discharging state.
Secondly, comprehensive battery testing. The calibration process of the battery covers almost all scenarios in low temperature environments that users may encounter, ensuring the SOC accuracy and electrical reliability and charging and discharging performance of the power battery in low temperature environments.
Thirdly, in the calibration and testing of new energy vehicles, subsystems such as the EMS/VCU/BMS, LanTu FREE also performed relatively well. On complex icy and snowy road conditions, from straight driving to climbing, and then downhill turns, LanTu FREE demonstrated relatively stable performance.The test drive experience this time was not very long, but two details left a deep impression. Firstly, the power of the Voyah FREE is very abundant, with direct and smooth output. Secondly, on ice, snow, and slippery roads, the intervention of ESP was timely and effective.
It is worth noting that in the thermal management/air conditioning calibration and validation of the Voyah, the Intelligent Dynamic Thermal Management (IDTM) was first introduced. It can intelligently and dynamically adjust the thermal management of the whole vehicle according to the environmental and temperature changes, ensuring the excellent performance and driving experience of the whole vehicle under regular working conditions, extreme working conditions, and extreme weather.
According to official information, the Voyah FREE extended-range version is equipped with more than 300 sensors, including temperature sensors, wind speed sensors, flow sensors, and speed sensors, to test the temperature inside and outside the battery pack and the front engine compartment from multiple dimensions, combined with the actual usage scenarios of users. More than 200 thermal management strategies were calibrated.
What kind of car is the Voyah FREE?
The biggest feature of the Voyah FREE is that it provides two power solutions at the same time: the extended-range version and the pure electric version.
The NEDC comprehensive range of the Voyah FREE extended-range version is 860km, with an acceleration of 0-100km/h in 4.6 seconds. It can be powered by both gasoline and electricity, with three forms of energy supplementation: 11kW home charging, DC fast charging, and refueling. The NEDC comprehensive range of the pure electric version is 500km, with an acceleration of 0-100km/h in 4.8 seconds. It also supports home and fast charging.
In my opinion, the pure electric version and extended-range version of the Voyah FREE correspond to two types of users:
The first type: They have a parking space at home to install a charging station, and their daily activities are mainly in the city, without the need to frequently travel long distances. Or they already have a fuel car at home and want to experience the driving experience of an electric car. Then the pure electric version of the Voyah FREE is undoubtedly the preferred choice.
The second type: This is the only or main car for the family, with no fixed parking space to install a charging station, living in the north, and still having some anxiety about the range and charging experience of the pure electric version. Then the extended-range version of the Voyah FREE is a more suitable choice.
Considering the actual user usage scenarios at present, the sales volume of the Voyah FREE extended-range version should be larger.岚图FREE is a hard-core car when it comes to some of its core configurations, such as the range extender which uses a "1.5T+four-cylinder" engine. In order to achieve better performance under a balanced state of electricity, the team behind the range extender conducted nearly 10 rounds of scheme evaluation and improvement based on the original plan, increasing the maximum power generation to 80kW and achieving a 10% increase in power generation on the basis of the original plan. At the same time, the VCU and the testing and verification department carried out a lot of debugging work, including bench calibration, consistency testing, and emission verification, further reducing fuel consumption by 2% based on the original plan.
In terms of hardware configuration, the LanTu FREE series is fully equipped with advanced intelligent driving assistance systems, with a total of 24 intelligent sensors installed throughout the car, including 3 millimeter-wave radars, 9 cameras, and 12 ultrasonic radars. Compared with similar products on the market, this level of hardware is very advanced and provides a hardware foundation for OTA upgrades in the future.
In addition to its hard-core configurations, another interesting aspect of LanTu FREE is its innovative design, such as the "integral lift-type three-screen interaction" system.
This globally first integral lift-type three-screen interaction system slowly lifts and lights up when the user starts the car, accompanied by ambient lighting, which adds to the sense of ceremony. According to the LanTu team, the integral lift-type three-screen interaction system is made of a magnesium-aluminum alloy lifting mechanism, and is 30% more expensive than a separate three-screen system. The three screens not only uniformly allocate navigation, music, entertainment, and other functions to each screen, but also "transform" to match the state of the whole vehicle.
According to LanTu's plan, LanTu FREE is mainly targeted at the "new middle force" market segment, highlighting a sense of quality and taste, so its design language follows three principles: "modern luxury, warm technology, and simple complexity".
The specific price of LanTu FREE will be announced during the 2022 Shanghai Auto Show and will not exceed 400,000 RMB. LanTu FREE will begin mass delivery in the third quarter of 2021.
One other interesting detail is that there was an innovative experiment conducted.I participated in the "Testing Peer" role in this Voyah FREE winter test event, which is not only attended by media but also by small partners from other fields, such as NIO ES6 owners and founder of NIO Carbon Club, Chen Renwei.
As part of the "Innovation Sharing Plan", Voyah Motors globally recruits "Testing Peers" to invite users, media, consumer opinion leaders and other guests to participate deeply in the birth process of Voyah Motors products. This approach is very "user-oriented". Prior to this high-altitude test, Voyah also held two "Testing Peer" events, including plateau testing and vehicle strengthening corrosion resistance testing. In the future, Voyah will also hold a series of tests including NVH, power durability, collision and battery pack.
This is interesting because Voyah does not conduct "closed-door tests" and allows users to participate, reflecting the openness of the enterprise. This is related to the company's strategic thinking.
This is very critical. Many past failures in reforming state-owned enterprises were due to difficult core changes, heavy baggage, low efficiency, and difficult to move forward in large steps.
On this point, Voyah is somewhat different.
In terms of team architecture, the core management of Voyah is mainly from the Dongfeng system, with CEO Lu Fang as the former special technical director of Dongfeng Strategic Planning Department; Chief Brand Officer He Xin, former executive deputy general manager of Dongfeng Infiniti; Chief Operating Officer Jiang Tao, former general manager of Dongfeng Nissan Dalian Branch; and former Dongfeng Financial Reporting Branch Manager Shen Jun as the Chief Financial Officer of Voyah.
Interestingly, in addition to employees from the Dongfeng system, Voyah has also introduced a group of talents from electric vehicle companies and IT companies. In order to optimize the organizational structure, Voyah has established an independent Voyah Automobile Technology Company separate from any subsidiary of Dongfeng Group. It adopts the OKR goal management commonly used in technology companies and advocates flat and efficient management. The determination for change is undoubtedly firm.
Let the bullet fly a little longer, and Voyah is worth looking forward to.
This article is a translation by ChatGPT of a Chinese report from 42HOW. If you have any questions about it, please email bd@42how.com.