Weekly Index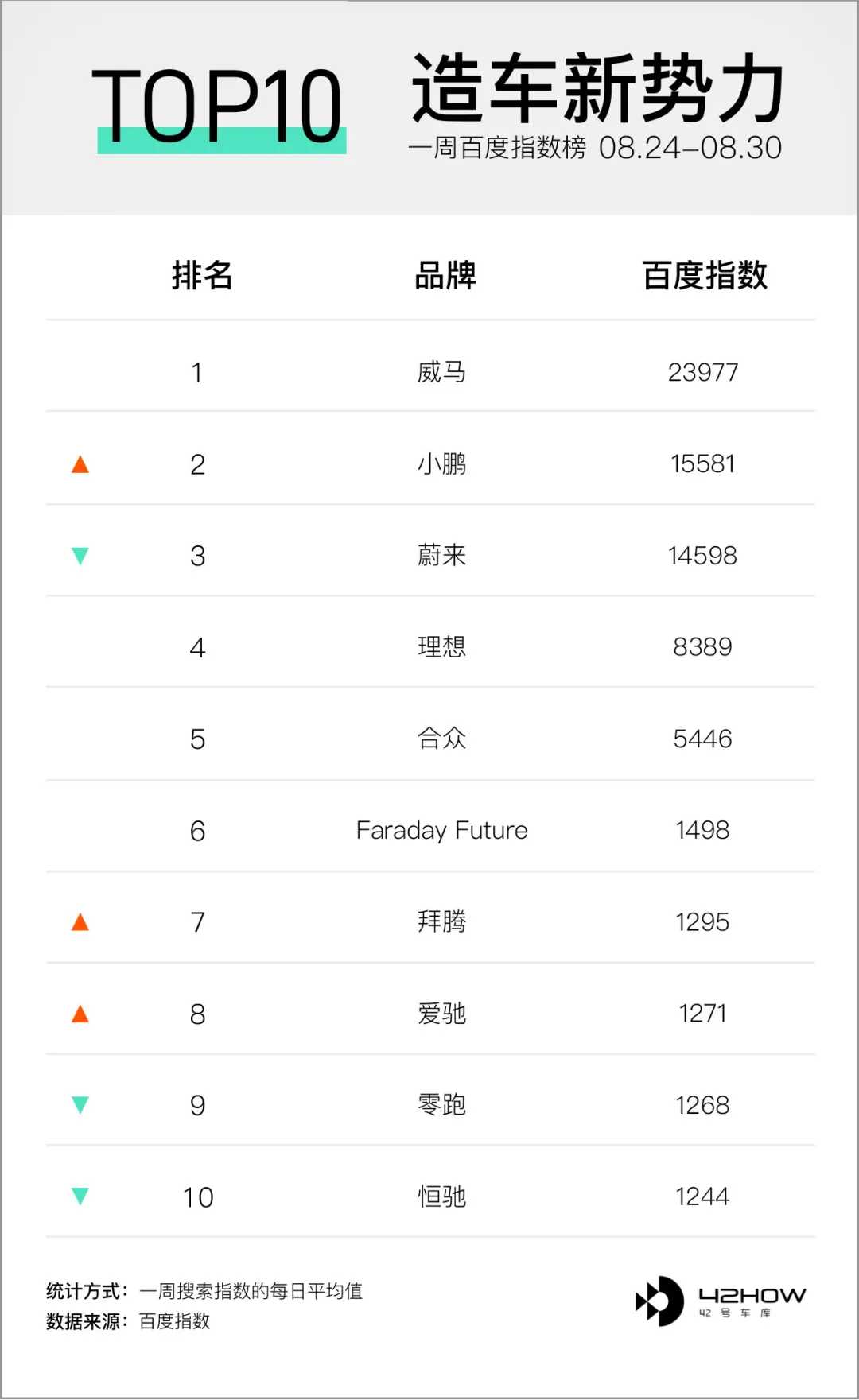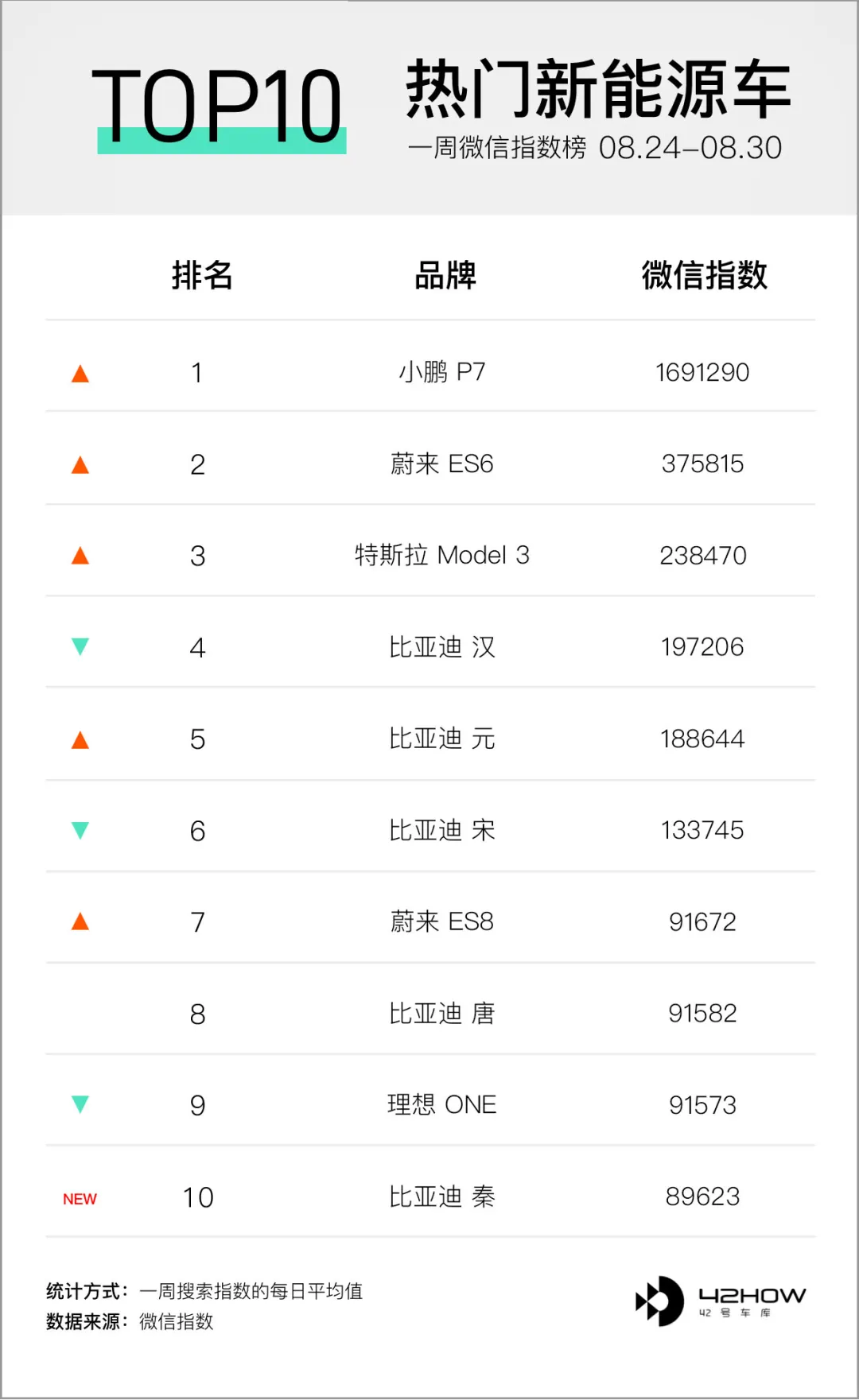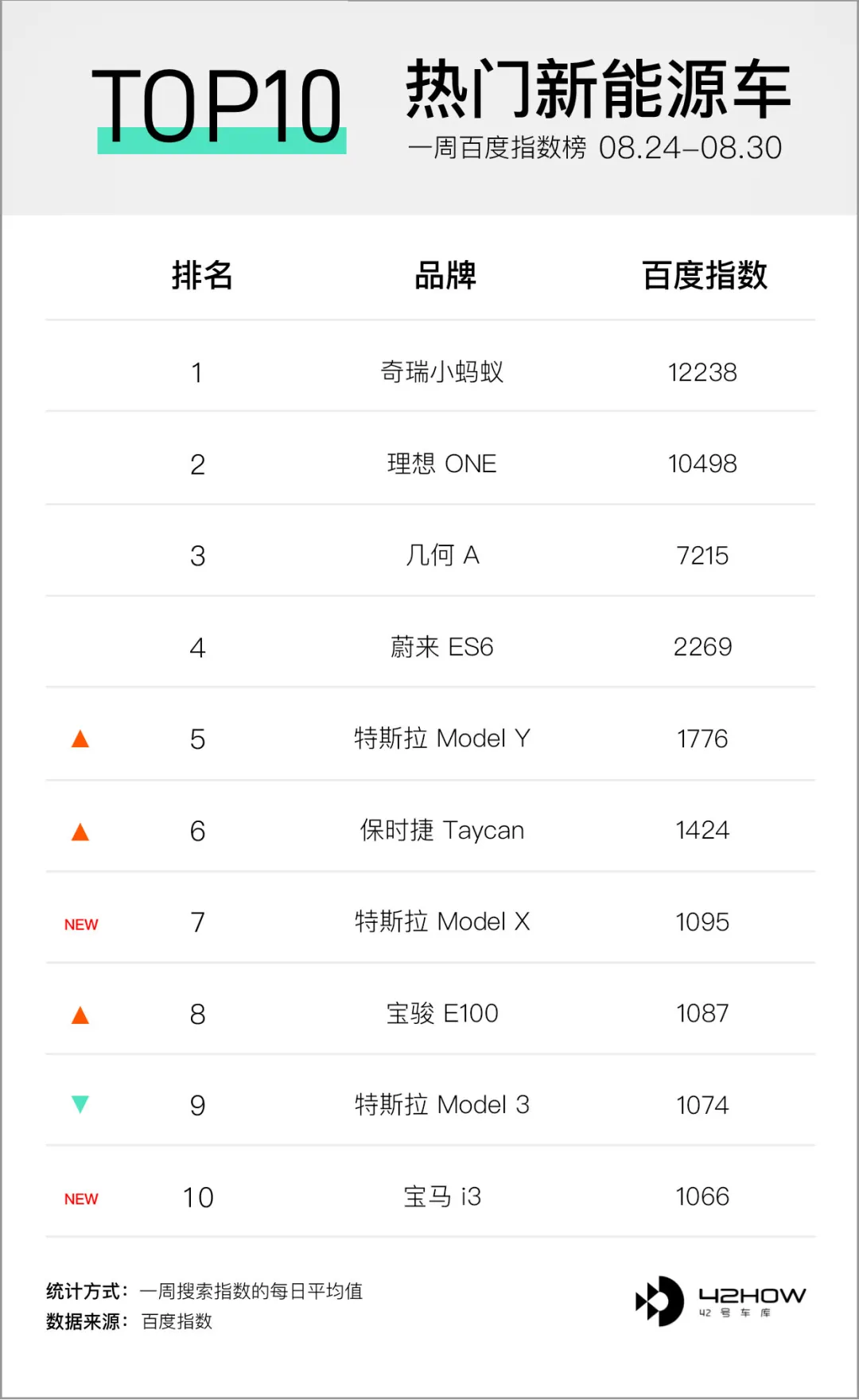 Weekly News
XPeng Goes Public in the US, Raising $1.5 Billion
On August 27th, at 21:30, XPeng Motors was officially listed on the New York Stock Exchange, with the stock code "XPEV". The opening price of the stock was $23.1, which was 56% higher than the issue price. As of last Friday's close, XPeng Motors' stock price was at $22.79, and the market value of XPeng Motors had exceeded $16 billion.
XPeng Motors issued a total of 99,733,334 American Depository Shares (each American Depository Share is equivalent to 2 Class A common shares of the company) at an issue price of $15 per American Depository Share. The total amount of funds raised by XPeng Motors in this offering is about $1.5 billion, exceeding the maximum expected amount of $1.271 billion in the prospectus.
Comment:
After completing the C+ round of financing on July 20th this year, receiving a total of about $500 million capital from Aspex, Coatue, Hillhouse Capital, and Sequoia Capital China, XPeng Motors announced two weeks later on August 5th that it had raised another $400 million from Alibaba, Qatar, and Mubadala, completing the C++ round of financing. From August 6th to August 27th, XPeng Motors released the prospectus and went public, which is quite fast.
Byton Accelerates Restructuring and Establishes a New Company Named "Shengteng"Recently, there is news that the heavily indebted Chinese electric vehicle company, Byton, has applied to register a new technology company named "Shengteng" on August 24th. It is expected to receive a business license by the end of August with a planned financing of CNY 2 billion to accelerate the M-Byte production, which is being actively promoted by shareholders including FAW Group. Earlier, due to a lack of financial support, all of Byton's domestic companies stopped production on July 1st this year and went through internal reorganization. Byton has conducted four rounds of financing totaling approximately CNY 8.4 billion since 2017. However, the unsatisfactory C round financing has hampered the production pace of the M-Byte model. The Nanjing factory and high-end electric vehicle production platform are Byton's high-quality assets, and perhaps can be its biggest Savior.
Quick Comment:
The top three domestic new car manufacturing new forces have successfully gone public, and WM Motor, which follows closely, is making the final push to accelerate its listing on the Science and Technology Innovation Board. Under current circumstances, Byton aims to get rid of its debt with the new company restructuring mode, which is expected to alleviate the financing crisis.
NIO plans to issue 88.5 million ADS in the US
On August 27th, NIO's official website announced the plan to issue 88.5 million American depositary shares (ADS), each representing one Class A ordinary share. NIO intends to grant the underwriters an over-allotment option to purchase up to an additional 13.275 million ADS within 30 days. NIO disclosed in the prospectus that the net proceeds of this issuance are expected to exceed USD 1.7 billion, calculated at a par value of USD 0.00025 per share, which will mainly be used to increase the equity capital of NIO China and the ownership of the company. To further invested in research and development of new products and technologies, the expansion of sales and service networks and an increase in investment in autonomous driving technology.
Quick Comment:
Overall, NIO aims to repurchase equity to secure investor's interests while expanding its layout, sales network, and increasing funding for autonomous driving technology research and development. With Xpeng Motors going public, NIO appears to be attempting to seize the initiative in this segment.
Tesla actions are frequent, and is the domestic-made Model Y on its way?Recently, Tesla's Shanghai super factory has released job vacancies, recruiting technical staff and operators for its new projects and models, with a total demand of nearly a thousand people. Searching for "Tesla recruitment" on WeChat shows that this recruitment is mainly divided into positions for operators and team leaders/technicians, distributed in nine departments, including die-casting workshop, stamping workshop, car workshop, final assembly workshop, logistics department, and boosting station. At the same time, 11 departments, such as die-casting workshop, are also recruiting team leaders and technicians.
Coincidentally, on August 29th, Weibo user @布衣的生活笔记 took a picture of a Model Y test car in transit in Yancheng, Jiangsu Province.
Quick comment: In March of this year, the American Model Y was delivered early in North American markets, and in the past few months, it has gradually become a sales highlight for Tesla. Now that Tesla is recruiting workers on a large scale at its Shanghai factory, it is clear that Tesla is accelerating the production of Model Y in China. We look forward to seeing the actual Model Y at next month's Beijing Auto Show.
Surpassing Tesla, Lucid Air's Range Can Reach 832 Kilometers
On August 26th, the new American automaker Lucid Motors announced that its electric car, Lucid Air, uses a battery pack with a capacity of 113 kWh, instead of the originally planned 130 kWh.
From the currently disclosed information, the EPA range of Lucid Air is 517 miles (approximately 832 kilometers), which is 115 miles (approximately 185 kilometers) longer than Tesla Model S, which currently has the longest range.
Quick comment: Behind the astonishing range of Lucid Air is a 900 V high-voltage battery system, a 113 kWh large-capacity battery pack, and a 0.21 Cd ultra-low aerodynamic drag. I wonder what Elon Musk thinks seeing this range data. With a stronger competitor, we have more expectations for the all-new Tesla Model S.# Lucid Air is to be officially released on September 9, 2020. The specific details and final price will also be revealed at that time. We can look forward to the performance of Lucid Air after actual testing.
NIO 20 kW Home Fast Charging Pile on Sale
On August 31, the NIO 20 kW home fast charging pile was officially launched. Three prices are available, with a price range of RMB 9,800 to RMB 16,800.
Specifically, users who use the first pile rights need to pay an additional RMB 9,800; for users who already have home charging piles, they need to pay RMB 15,800, including charging piles and installation and renovation costs; if you are not one of the above users, you need to pay RMB 16,800, which also includes charging piles and installation costs.
Quick Review:
Currently, after BaaS, NIO has taken the opportunity to launch a home fast charging pile, which is another improvement to the power supplement system. Of course, for users who want to install home charging piles, they must first have the conditions of 380V three-phase power supply and ensure that there is enough installation space.
At the same time, NIO can provide full-process agency reporting services, and for users who want to report by themselves, NIO will also provide 888 points rewards.
Overall, NIO 20 kW home fast charging pile is currently the highest power and fastest charging pile on the market. As for the price, some netizens think it's a bit expensive, but some netizens appreciate NIO's service, which is worth the money.
So, under the premise of having the installation conditions, will you choose the NIO 20 kW home charging pile?
This article is a translation by ChatGPT of a Chinese report from 42HOW. If you have any questions about it, please email bd@42how.com.